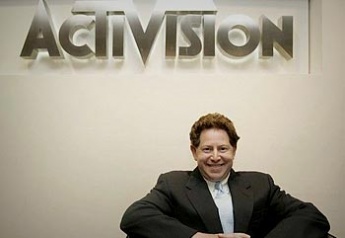 Without making a public announcement, Activision has performed a major restructuring of its senior managment and internal organization. The report comes from an internal memo acquired by The Los Angeles Times.
The memo details that Activision will be divided into four business divisions. One will be specifically for Call of Duty, one for Blizzard Entertainment, one for owned property like Guitar Hero and Tony Hawk, and one for liscensed properties such as Marvel Comics' Spider-Man and X-Men games.
The promotion of Call of Duty and demotion of Guitar Hero comes as no surprise, as Modern Warfare 2 has made over $1 billion in sales and recent Guitar Hero games sales have drastically fallen.
Changes to the top executives in the company include former Activision Publishing president and CEO Mike Griffith being named the publisher's vice chairman and advisor to CEO Bobby Kotick. Former chief financial officer and chief corporate officer Thomas Tippl has been named Activision's first COO. He will report directly to Kotick and have authority over Blizzard president Mike Morhaime. Tippl will also temporarily act as the head of Activision Publishing.
The heads of newly created units will be Dave Oxford, former Activision Value head, as overseer of the liscensed division and Maria Stripp, former executive vice president of owned properties, who will lead the owned properties division.
According to the memo received by the Times, Kotick explained the moves to Activision employees, stating, "This is an important change as it will allow me, with Thomas, to become more deeply involved in areas of the business where I believe we can capture great potential and opportunity."
Activision has since released a statement to the Times regarding the story as well as announcing that the company laid off 15 workers last week.
"We realigned our structure to better reflect our slate and marketing opportunities and direct our resources against the largest most profitable business segments," said spokeswoman Maryanne Lataif.