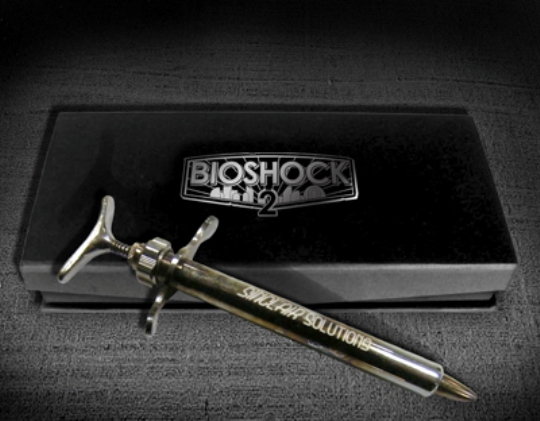 According to 2K's Bioshock enthusiast website, Cult of Rapture, Bioshock 2 merchandise is now on sale, including artwork prints and the always classic syringe pen. Here's the details for each item from the website:
"We have a limited run of each artwork from the BioShock 2 Artist Series for sale on the 2K Store for $19.99. Each print is on 100 pound glossy cover stock and measures approximately 14"x12"."
"In addition to the prints, we have an exclusive, limited edition Sinclair Solutions Syringe Pen for preorder for $34.99. The metal pen is fitted with refillable rollerball ink, is engraved with the Sinclair Solutions logo, and comes in a BioShock 2 gift box. These pens will be shipping out at the end of February, but supplies are limited, so if you want a pen straight out of Rapture, snag it now."