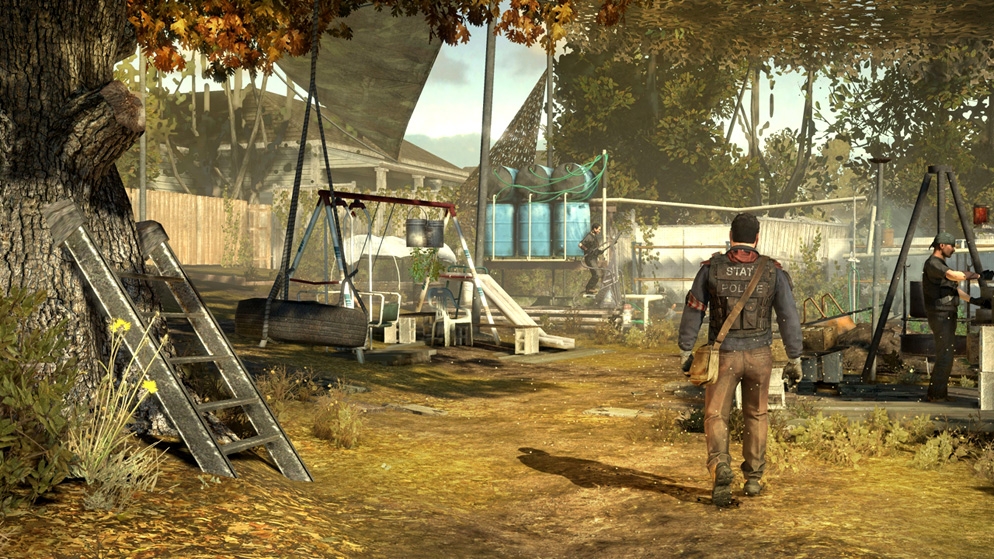 Easily the winner of "Most Extravagant Marketing Ploy" at E3 this year, Homefront looks to contend with the Duties, Companies, and Honors of AAA FPS titles. The crazy part is that it might actually succeed. But before I get too ahead of myself with this one, let me break the game down.
North Korea manages to gain extreme Eastern military power over the next twenty or so years, then they launch an EMP satellite that takes out all electronics in the U.S.A., then they invade the U.S.A. which is nearly helpless to defend itself with the government and military in utter disarray. It might not be the most likely scenario, but it sets up the tagline of the game pretty well: "Home is where the war is."
The E3 eyes-on demo showcased two segments of the game, both sporting the crisp, clear graphics and character models that we've come to expect. The first was described as a "Why We Fight" moment which followed the main character (a civilian turned home-soil-defending soldier) as he toured a small suburban backyard village. Little touches here and there really brought out the story and tension without being too overt, like a sign saying "NO LIGHTS AFTER DARK" and an empty kid's tricycle being kicked into the shade. But before you start thinking Modern Warfare 2 knock-off (though it is somewhat reminiscent), these scenarios especially feel more like Metro 2033 than anything else — also a THQ title. It lasts a good five minutes, causing players to really slow down and pay attention to the emotional punch being delivered by the narrative, as opposed to just being a break in the action. Hopefully these carry effectively throughout and don't cause any pacing issues.
The second segment demoed, on the contrary, was all action. The player and a sidekick were to infiltrate a North Korean makeshift base in the parking lot of a lumber liquidator in order to prepare the way for a full-on assault. Long story short: javelin missile misfire, exploding cars flying everywhere, burning soldiers crawling from the wreckage, mayhem and madness ensue. This was followed quickly by a gun battle involving tanks, a helicopter, and tons more explosions. Action-packed hardly describes this scene, especially given that the whole thing happens while the player at least has control of the camera if not movement and weapons as well. Add in the central design philosophy that the action should always be centered around the player, rather than elsewhere in the environment, and you have one breathtaking rollercoaster ride of a first-person shooter.
Multiplayer is also on tap, apparently in line with other major shooters, but not much else is known. Stay tuned for more on Homefront. If what we've seen is any indication, there's some great gameplay that's yet to come.