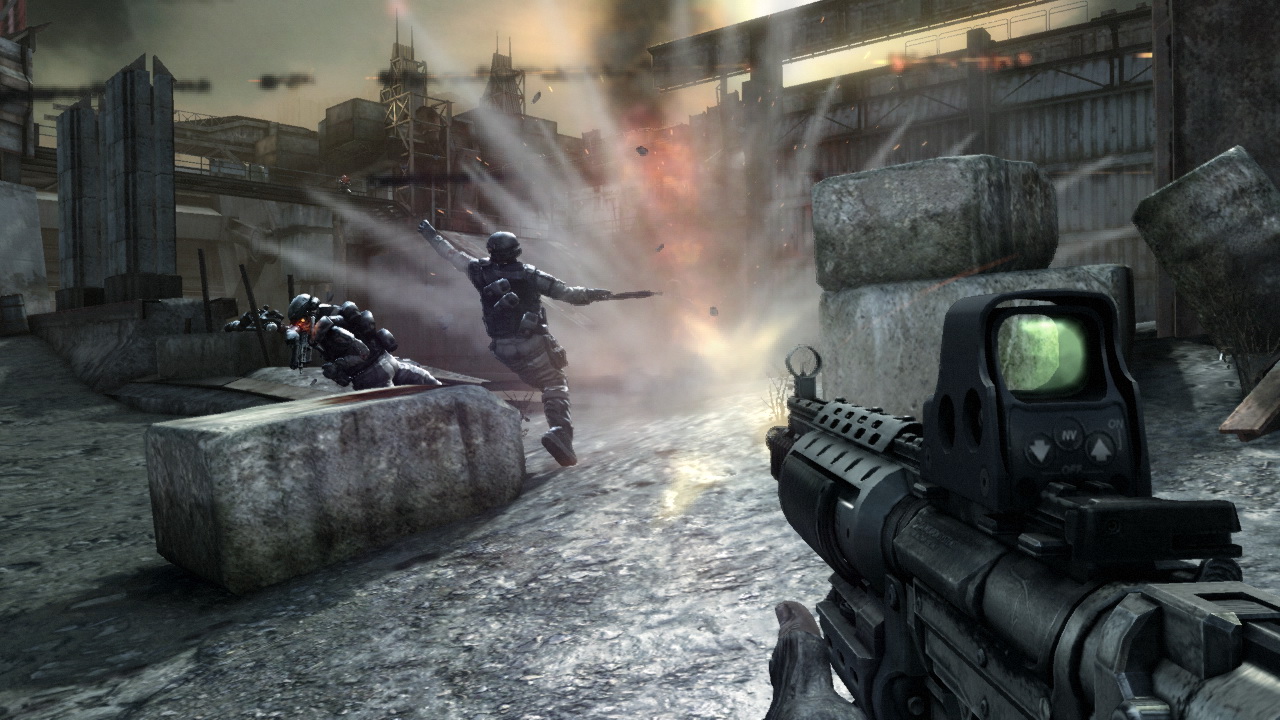 When Sony showed off Killzone 3 for the PlayStation Move in 3D at its E3 press conference, the game was no doubt impressive. The visuals were stunning, the combat looked fast-paced and fun, and the thought of a triple-A title having Move support was certainly intriguing. Months after witnessing the demonstration in person, I was able to try out the Move controls myself and play that same exact E3 demo. After fully exploring the controls and making it completely through, I drew a conclusion. Killzone 3 is impressive; it's Move controls, quite the opposite.
For anyone who hasn't witnessed or heard about the E3 demo, it plops you right into the thick of a battle on an arctic-like base. Your job is to shoot your way through the enemy in order to blow the communications tower with explosives at the end. It's pretty straightforward and allows you to get into the thick of the gunplay immediately.
As already stated, the game itself is very impressive. I found myself just enjoying some of the snow-filled environments for a second or two, taking it all in before getting to the killing. Animations are smooth and seamless as well. Enemy AI is good, but nothing overly impressive. They will switch between cover to avoid getting surrounded or pinned down, but with enough patience and cover of your own, they can be bested with relative ease.
The main focus of the demo, however, was of course Move support, and this is where the demo really disappointed me. While some controls were actually smooth and fluid, such as attaching explosives and stabbing enemies with knives, a lot of them just made me feel nothing but awkward. Because the pointing and shooting does not emulate the feeling of holding a real gun, the experience comes off feeling unnatural. Not to mention that the Move controls are extremely sensitive and it can be pretty easy to miss a target or constantly flail your reticule around in an attempt to hit multiple enemies.
While it wasn't completely horrible, it was nothing that I hadn't already experienced playing arcade games like House of the Dead or Time Crisis. Killzone 3 feels cheaper, though, because in those games you actually held the gun controllers as you would a real weapon. The Move controls for shooting just did not blow my mind. This is something I felt when playing SOCOM 4 at E3 as well. It's not necessarily that it's terrible, but it lacks that wow factor motion controls are going for and just had me missing my normal PlayStation 3 controller the whole time.
By the time I had finished the demo I had easily made up my mind. While Killzone 3 looks like an incredibly impressive game all by itself and something that PS3 fans should keep a very close eye on, its controls with the PlayStation Move were far from it. Anyone looking at the title with the intention to purchase should do so without feeling that they will miss out by not playing it with Move support. If anything, those who do use the Move will be missing out by not sticking with their traditional controller instead.
Killzone 3 will be released on February 22, 2011, exclusively on the PS3.