I honestly enjoyed Machinarium, which, coming from me, is saying quite a bit. I usually detest adventure games. They're frequently exercises in defusing the obtuse logic of the puzzle designers, and, at worst, they devolve into maddening pixel-hunts as you repeatedly click every item you have all over the screen, trying to find anything that will advance the game state. At least in an fps or an rpg or a platformer, I understand the full breadth of the game vocabulary. I know that I can shoot things, get big and break bricks, or use my spells. The puzzles in those games usually require some interaction of the elements that you already understand, which, in the case of a good game, like Portal, can be entirely sufficient for creating an excellent, challenging experience.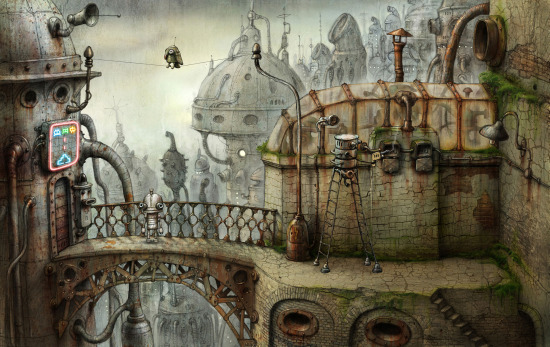 So yeah, I'm full of venom and hate, but Machinarium defies me. The game was so obviously crafted with such love and care, it resists all attempts to dislike it. The music is atmospheric, minimal, and brilliant. The art is sketchy, stylish, and totally effective at being beautiful in a novel way. Your robot girlfriend is really cute, and the little memories of she and your robot playing together really, really make you want to rescue her. Most importantly, the puzzles are actually fairly logical. For once, in an adventure game, I was able to decide what to do with one item in order to acquire another through logic that was wholly reasonable to me. There is a robot cat, but there is no Gabriel Knight cat-mustache incident this time around (google it, it's messed up).
There were the occasional moments of pixel-hunting, but usually the application of a little more thought yielded a solution, and there is an awesome little hint system whereby you can play a short side-scroller sequence in order to access some answers. And that's another thing about this game — it's clear that the developers, Amanita Design, dearly love videogames themselves. You get your chance to play out their little homages to several classic games, among the more common adventure game tropes, like a very tastefully included sliding tile puzzle.
In short, Machinarium is hard to complain about. Amanita Design have set themselves the task of making a small, totally contained, and excellent experience, and they've completely succeeded.