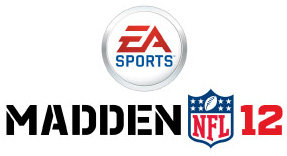 One week has passed since the release of Madden NFL 12, and it's all good news for EA Sports. Over 1.4 million copies were sold in its first week, up 10 percent from last year's opening week sales.
Madden 12 was big in digital sales as well, reaching the number one top paid spot on the Android market and the top 10 on the App Store for iOS platforms. EA Sports Season Ticket has also been a huge success, with fans logging in more than four million gameplay minutes since being allowed early full-game digital access to the title on August 26.
Andrew Wilson, executive vice president of EA Sports, contributed the big numbers with the time of year saying, "With the start of the NFL season only days away, fans are thrilled to get back to football and they're doing so in record numbers through Madden NFL 12. The growth across console and digital shows that the appetite for the Madden NFL franchise has never been bigger."
Madden NFL 12 is now available for $59.99 on the Xbox 360 and PlayStation 3 consoles, $49.99 for the Wii version, or $39.99 for the PlayStation 2 or PSP.