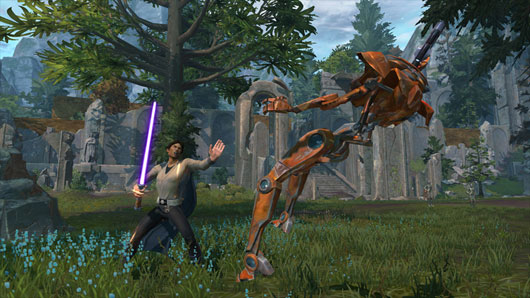 In an investor call today regarding Electronic Arts' fourth-quarter results, the major publisher revealed that BioWare's upcoming MMO Star Wars: The Old Republic may not make its targeted second half 2011 release.
"The launch date, while in our fiscal year (before March, 2012), is not yet certain," stated EA CEO John Riccitiello during the call.
According to CVG, the title was also not included in the company's release schedule. However, Joystiq reports that supplied documentation noted that the game is "expected to launch in either Q2 FY12 or Q3 FY12."
EA CFO Eric Brown seemed to later reiterate all of the above, stating, "While we fully anticipate launching Star Wars: The Old Republic in Q2 or Q3, the low end of our guidance range assumes the outside possibility of a January launch."
Though the two top executives of the company did not give any reasons for the potential delay, EA Games Label boss Frank Gibeau was able to shed some light on the matter.
"We're holding the date for two reasons – first, we don't want to tip off the competition; second, we want more data from the beta test to guarantee a spectacular experience at launch," said Gibeau.
The Old Republic has seen a few delays already. Initially intended for a Spring 2011 release, the window was then changed to "calendar 2011" in February after unconfirmed reports suggested it would be delayed to September.