It's time for another edition of The Sandbox, the weekly feature in which the GamerNode team members reveal what we've been playing over the past few days and what we've got on our plates for the weekend. This week, Steam took hold of our wallets and made sure our PCs got plenty of attention.
Charles Battersby
This week I actually found the time to dig deeper into the 3DS version of Metal Gear Solid 3, and I find it to be a superior version of the game when compared to the console edition. When playing it with the extra thumbstick attachment, it updates the clumsy old Metal Gear control scheme to a modern third-person shooter. The game is set in the 1960s and contains many jokes about the technology of the time, which is even more interesting now that the game itself is ten years old and designed for obsolete tech.
Like many of my cohorts at the 'Node I fell victim to Steam's seasonal mugging. New games on my plate are the entire Batman franchise, and the PC version of everything Alan Wake. They've already gobbled up some of my time this week, but my weekend is already claimed: It's the last Guild Wars 2 beta, so I'll be learning all that I can about the game with a final advance peek.
Dan Crabtree
I've been getting into Max Payne 3 this week. Rather, I've been drinking and Max has been sobering me. What a convoluted mess, this game. Somewhere between the second flashback level and the 1000th murder (for which there's an achievement), I was all, "DAMN, this game is one hyper-violent illusion of control piece." And then Max in his endless inner monologue was like, "Maybe this is just the illusion of control," and then there was a cutscene and he killed someone and then there was bullet time diving off of a boat ramping off of an exploding dock. My biggest mistake was playing this thing on Normal difficulty, because then it's a cover-based shooter like most other third-person shooters. I want to play it again on Easy and jump off of way more favelas and pull off Max's sunglasses mid-air and go WAOOOOOOH.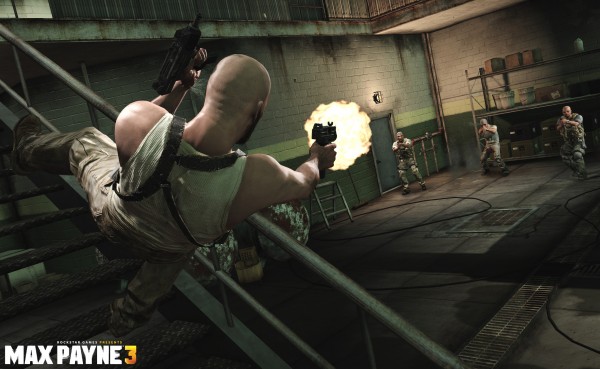 Mike Deas
With The Dark Knight Rises release on Thursday night, I spent most of my week catching up on my Batman comics and movies. When I wasn't doing that I was spending WAY TOO MUCH money on the Steam Summer Sale. I'm not a PC gamer, but I guess I'm going to become one (GTA bundle, Double Fine bundle, LIMBO, Bastion, etc). Tried getting my PS3 controller to run on my PC, but it's super buggy. Hopefully I'll be spending this weekend over-analyzing the end of the Nolan Batman trilogy and digging into my Steam spoils.
Jason Fanelli
Dead Kel is no more.
I got through the "Legend of Dead Kel" DLC for Kingdoms of Amalur this week, defeating Dead Kel and his Hanged Men with relative ease. It was actually a lot easier than I thought, which is a bit of a letdown. Maybe I shouldn't have played "Teeth of Naros" first; that was much longer. Regardless, I liked Dead Kel a lot, but now it's time to get back to the main quest. I'm approaching 60 hours logged, and I'm only halfway through the game.
I also played Dear Esther this week. Whoa. Not sure you can call it a "video game," but that didn't make me like it any less. What a fascinating experience.
This weekend I'm getting my stealth on with Metal Gear Solid HD Collection on the Vita. Best part is, I'm taking my save from the PS3 version and picking up right where I left off. How cool is that?
Eddie Inzauto
Hey guys! I promise I'm actually playing the games I keep telling you I'm playing:
And like the others, the Steam Summer Sale has bitten me, too. I was sucked in by the Thief franchise, but have yet to play the games.
Anthony LaBella
Despite the fact that my current PC is slowly dying, I took part in the unavoidable Steam sale by purchasing The Walking Dead for $15. I played through the first two episodes on Monday and was thoroughly impressed with how the game makes player decisions such an integral part of the experience. And let me say, there are some tough decisions to be made, including ones where I end up second-guessing myself. Now I have to play the waiting game for the third episode, which comes out in August, but I have a feeling it'll be worth it.
The rest of the week didn't leave a whole lot of time for gaming, though I did manage to pick up where I left off in Max Payne 3. I should really buckle down and try to finish it this weekend. The only problem is I went to the midnight screening of The Dark Knight Rises, and now I feel like playing through Batman: Arkham City again. So don't be surprised if that game pops up in next week's Sandbox.
Dan McKenney
Thanks to the Steam Summer Sale, I've picked up Terraria, The Binding of Isaac: Wrath of the Lamb, and the Thief Collection. I'm going to start off with Thief. Hopefully I can get through that by next weekend!
Otherwise, I'm diving down into the mines of Spelunky yet again. I came this close to reaching the City of Gold before being impaled by a sliding block trap! I'm losing my mind trying to reach this infernal city… and when I do, there's another area even harder to reach! AGGGGGGGGGGHHHHHH SPELUNKY I WILL NOT DIE WITHOUT COMPLETING YOU.
Aled Morgan
How about that new Mass Effect 3 DLC, eh? One of the new classes is an infiltrator with a sword. Have you ever been cornered and promptly executed by one of those pesky Cerberus phantoms? Well now you can slice and dice until you've had your revenge. Cathartic!
In addition to the usual sequential execution of Commander Sheppard's enemies, I've been getting all armchair general in Sins of a Solar Empire: Rebellion, which I'm playing for review. As someone who isn't quite as versed in the RTS genre as others, (I enjoyed a whirlwind romance with Age of Mythology a while ago, but then I stopped calling) it's been fairly tough going with Sins. Building a galactic empire that encompasses entire star systems, all tangled up in an intricate and complicated web of alliances, treaties, and the numerical equivalent of suspicious stares, is difficult to get to grips with, but there's an undeniable satisfaction to be found in the depths of space. This is far removed from my past RTS strategy of "build fifty fire giants and then cook everything not my color."
This weekend I'll be settling down for a few matches against real, human opposition in Sins. By Sunday I fully expect to have been wowed by just how ruthless and cunning the playerbase is, or perhaps I'll surprise myself, and by Monday you'll see me in headlines, instigating a successful galactic takeover of my own.
Under my glorious new regime, the Cerberus phantoms will be the first to go.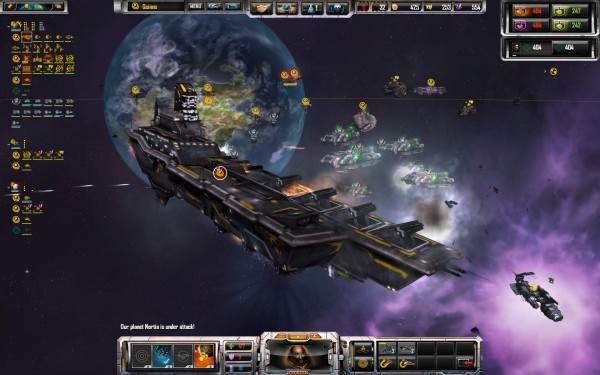 Mike Murphy
The Steam Summer Sale has hit me in full force this week. As a longtime fan of the Star Wars Jedi Knight series, I couldn't pass up the opportunity to purchase all five titles in the franchise's bundle for just $12. During my high school and college days, I put away hundreds of hours into Jedi Outcast and Jedi Academy, joining clans and learning to master its lightsaber techniques through dueling. Now I've finally gotten the chance to play the other three titles: Dark Forces, Dark Forces II, and Mysteries of the Sith. I've begun on Dark Forces, obviously, and am about four missions in. It doesn't age all that well, but being able to experience Kyle Katarn's journey personally by playing the games myself is satisfaction enough.
A second title I've gotten my hands on for a bit is the beta for World of Warplanes. The game is fun and fast-paced, making it apparent why World of Tanks has been such a success. To get all my impressions and details on what's included in the beta, be sure to catch my preview of it for the 'Node, which will be landing once I get a little more air time with it this weekend.
Speaking of this weekend, World of Warplanes isn't the only beta I'll be playing. It's the final Beta Weekend Event before the release of Guild Wars 2, and you'd be silly to think I won't be diving into it. Though my human thief from the first beta has been wiped, the asura and sylvari are playable for the first time ever. You can expect me to roll at the very least one of those tiny, arrogant little magic and golem savants and give my thoughts in yet another 'Node preview.