What am I doing here?
That's one of the questions I kept asking myself as I made my way through The Starship Damrey's intriguing little tale. How did I end up on this ship? Why am I trapped in my life support capsule? Most importantly, how do I get out of here?  Through simple but fun puzzles and a few interesting twists, Starship Damrey will answer every question, but not without a few slip-ups along the way.
The Starship Damrey has a refreshingly old-school approach: drop a player into a situation, offer no tutorials or guides, and make him or her figure it out alone. There will never be a sign pointing in the right direction. The game will never provide a compass arrow or highlighted objective. The game just sits back and says "have at it." No sooner did I pressed Start than I found myself locked in my capsule, staring at my own two feet. In an age where game developers seem obliged to hold our hands throughout a game, being left to my own devices was a welcome change.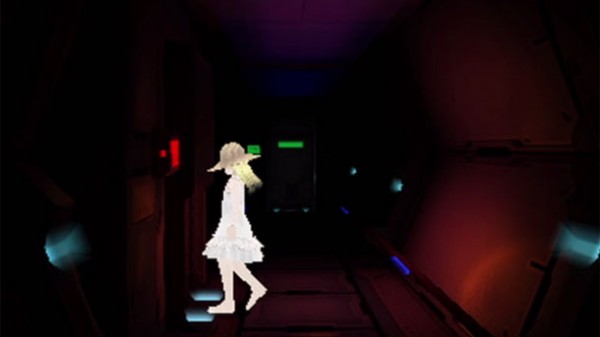 Of course, this lack of help can make for a frustrating experience. Some puzzles are incredibly easy, while others have obscure solutions that some may not think of in the first couple of tries. Stress and The Starship Damrey go hand in hand, mostly from being unable to figure out what eventually turns out to be a simple solution.
The atmosphere of the game doesn't exactly help matters, either. This is a derelict ship with long, dark, narrow corridors lined with doors to various types of rooms. Every space in this game has a "holy crap stuff could jump out at me at any second" air anout it, but only a few times will the game cause a jump. What seems like a horror game isn't that at all; the point of the game is to teach the player to figure things out alone, and adding a ton of spooks along the way could be counterproductive.
While the game's surroundings provide some tension and atmosphere, the game itself is a bit underwhelming. One playthrough clocked in at a mere two hours, making it seem like the adventure flew by. I blinked, and it was over. Granted, the twist at the end made for some interesting inner monologue after finishing it, but once the title screen showed up after the credits I couldn't help but wonder why it went by so fast.
The Starship Damrey is the perfect game for those who don't have a lot of time to play games: it lends itself quite well to a "pick up and play" type of approach, completing one or two puzzles at a time before saving and quitting. Even with that prolongation, the game is over way before it should be, leaving us with a promising twist ending and a cliffhanger that may never get resolved. For all of the questions that I asked of The Starship Damrey while playing through it, my last question is the most disappointing of all:
That was it?!