The road ahead is shocking, lonely, infuriating, and empty. It demands that you act coldly. It begs you to offer comfort. It forces you to feel weak, but requires that you remain strong.
The desperation of surviving the zombie apocalypse is real, thanks to Telltale Games' The Walking Dead. In the season's third episode of five, Long Road Ahead reaches an emotional apex that tests one's resolve in the face of hopelessness. This primal connection with the player permeates the experience, and lasts well beyond "To Be Continued…"
Even now, three days after rolling the episode's credits, I still feel the impact of the game's events, relationships, and choices, and sit on edge, awaiting the next installment.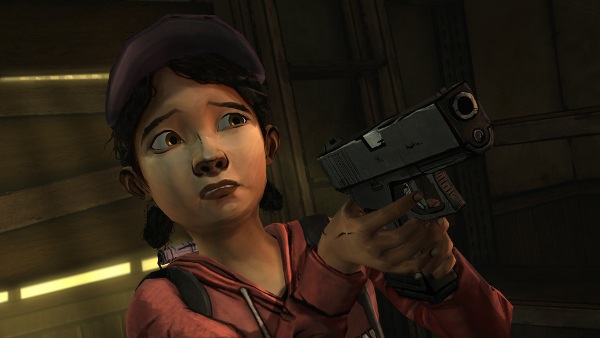 This first season of The Walking Dead game series has already proven that diverging narrative events can be threaded into a cohesive and adaptive storyline, making player choices truly consequential, and satisfying the need to feel like what one is doing actually matters. In episode three, however, the midpoint of this five-episode season, Telltale bears down on the player with tragedy, and for the first time, the weight of apocalyptic circumstance feels nearly heavy enough to crush a player's will to continue.
Previously, lead character Lee's choices impacted those around him; even early in Episode 3, looking down the scope of a rifle, the player's quick decision seals the fate of a lone survivor, and, just as before, causes either further suffering or merciful relief. Later, however, the luxury of control is revoked, and, at least once, the ground is pulled right out from under the player. Living with the consequences of your choices, however just they may seem, can have a strong emotional impact, but actually becoming the victim of another's completely uncontrollable actions treads much more closely to emotional exhaustion.
This is the difference in Episode 3. A New Day cast Lee as warden and Starved for Help as hero, but Long Road Ahead finally casts him as a true survivor: a man beaten down nearly to the point of resignation, knowing he must persevere in order to survive, first conquering not the world surrounding him, but his own urges to surrender. What makes The Walking Dead great is that its simple point-and-click mechanics, exemplary writing, strong character development, and natural pacing scribe the player directly into these roles, accompanied by all the feelings associated with each and every moment of the adventure.
The Walking Dead shows no signs of relent as the season draws nearer to its end, and I eagerly anticipate the emotional and physical struggles that lie on the long road ahead of Lee, Clementine, and company. Telltale Games has impressively engaged players via the most fundamental elements of human experience, intimately involving them in the lives and events of the Walking Dead story. The result has been, so far, one of the finest games of the year… and there's still more to come.