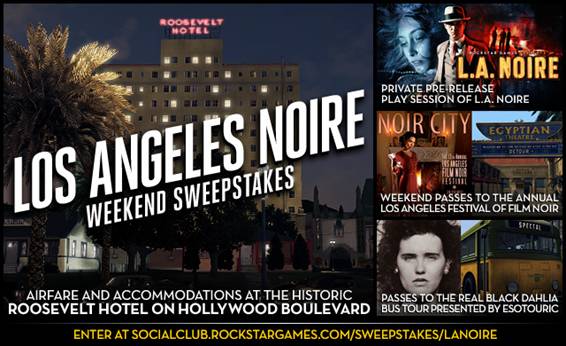 Rockstar Games is giving gamers a chance to win a weekend getaway trip to Los Angeles in honor of their upcoming crime drama L.A. Noire.
Announced today via press release, the trip will last from April 14 to April 18 and entry is as easy as signing up to the Rockstar Games Social Club and filling out a brief entry form.
The grand prize winner will receive these rewards:
– Round-trip airfare to Los Angeles, and accommodations at the historic Roosevelt Hotel on Hollywood Boulevard.
– Weekend Passes to attend the prestigious 13th Annual Los Angeles Festival of Film Noir held at the beautifully restored Egyptian Theater in Hollywood (a theater which makes an appearance itself in a scene in L.A. Noire).
– Passes to The Real Black Dahlia bus tour presented by Esotouric on Saturday April 16, where the winner will explore the sites and notorious locales related to the original haunting case.
– Be one of a very select few to get their hands on L.A. Noire and play it a full month before release as a guest during a special private hands-on session.
There will also be a prize for 10 runner-ups: a copy of the Criterion Collection DVD release of the 1948 film noir classic "The Naked City" and an official L.A. Noire T-shirt. The film is the basis of one of the game's exclusive pre-order bonuses that shares the same name.
L.A. Noire is set for a May 17 release on both the Xbox 360 and PlayStation 3.