Wargaming.net struck gold when it released World of Tanks, a massively multiplayer online game based on battles with classic tanks of the mid-20th century; servers now collectively number in the millions of users. Seeing the success that their ground-based, freemium-business-modeled title enjoyed, the developer has decided to take the fight to the skies with World of Warplanes. Now players will be able to engage in virtual dogfights with players from around the world in what Wargaming.net CEO Victor Kislyi calls, "Counterstrike with warplanes."
The first thing that players will notice when jumping into one of World of Warplanes' approximately five-minute, 15 vs. 15 match-ups is that they are almost immediately throw right into the thick of battle. There are no take-offs or landings at a base, no flying aimlessly for minutes while getting a mission briefing. Once entered into a session, opposing fighters will come into view within seconds. Players will then spin, strafe, dive, and shoot their way to survival until only one team is left with fighters airborne.
It's a pretty simple and straightforward concept for combat, and that's exactly how Wargaming.net is hoping the game's controls will feel, as well. Having found a balance with controlling tanks in the studio's previous title, the developer believes that it has found that same equilibrium with World of Warplanes. With the WASD keys and the mouse controlling movement and weapons, the game looks to make keeping these war birds from crashing easy and manageable. As a result, both the casual and hardcore should be able to quickly master moving fighters through the sky without frustration.
Regarding the planes themselves, players will have access to several American, Soviet, and German warplanes ranging from the biplanes of the 1930s to the jet fighters active in the Korean War during the 1950s. Though Wargaming.net has not officially decided, the developer is looking into including both British and Japanese fighters in order to expand the game's variety. All planes featured have been divided into three types: single-engine fighters, heavy fighters, and bombers. Their use will be determined by the game type and objective for each match.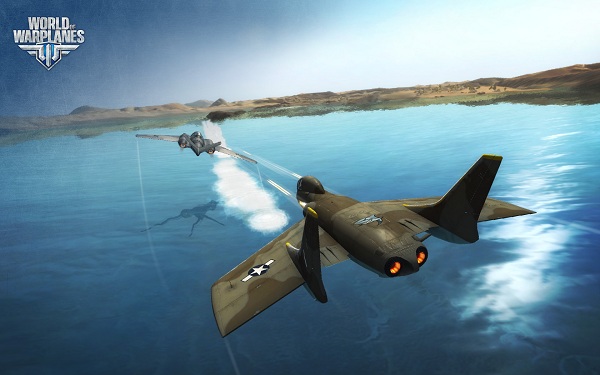 Not all planes will be available when players first create their accounts – that's where the RPG element of World of Warplanes kicks in. Each game will garner the player experience based upon performance and outcome, which can be used in the game's branching level tree to unlock more fighters. But perhaps even better than using experience to unlock more planes is to instead use it to level in World of Tanks and Wargaming.net's next title, World of Battleships. Based upon a linked experience system, players will be allowed to accrue experience from one game to use in any of the three in the event that they favor playing one over the others.
In addition to sharing experience, clans will be able to share their successes across the three titles, as well. If a clan that belongs to all three games wins a battle in World of Warplanes, then it will get a special benefit like AI air support during its next match in World of Tanks. Similar benefits will work vice versa, and with World of Battleships. It's a system that looks to unite the Wargaming.net community as a whole and allow players to enjoy whatever title they prefer most while still enjoying the benefits of the others.
When you take a look at what Wargaming.net is planning to offer with World of Warplanes – cross-game experience/rewards, little to no in-game downtime, and a huge variety of fighters to choose from – it sure looks like the company is in for even more MMO success. And this is in addition to the game's target-lock camera, impressive graphics, non-mandatory microtransactions, and the research the developer has conducted in order to be as historically accurate as possible with its fighters. Dogfight fans and military history buffs may want to keep an sharp eye on World of Warplanes as it continues toward beta and eventually its final release.