For the most hardcore PC gamers, multi-monitor, ultra-high resolution display environments are not out of the realm of possibility. In fact, such setups might fall more suitably under the category of "everyday use" for enthusiast videophiles. Reaching that level of gaming immersion requires the proper tools, however, and Accell's UltraAV DisplayPort to DVI-D Dual-Link Active Adapter is tops for outputting high-definition visuals from a DisplayPort-equipped computer to standard and 3D DVI monitors and HDTVs.
Supporting both DVI Single- and Dual-Link, with resolutions up to 2560×1600 on 60Hz displays and 1920×1080 on 120Hz 3D panels, the UltraAV adapter is well-suited for the most advanced gaming screen setups a gamer might seek out. This active adapter is specifically designed for use in demanding display environments such as AMD's Eyfinity and nVidia's Vision Surround in both standard and 3D modes, and Accell's AMD ecosystem partnership means that this DisplayPort to DVI-D adapter comes fully reccommended for use with ATI graphics cards, with few alternative options available to achieve the desired end result.
The device itself is more than just a cable, and therefore makes for a slightly bulkier connection. It features a 2.5″ by 3.5″ box with a USB cable and a DisplayPort cable extending from one end, opposite a standard DVI port on the other side. The unit's build quality is evident immediately: all-metal construction on the body, with a locking mechanism on the DiplayPort connector to ensure a snug fit that won't be dislodged with movement. The latter also helps to secure the included Mini DisplayPort size-down adapter for computers that don't have the full-size port.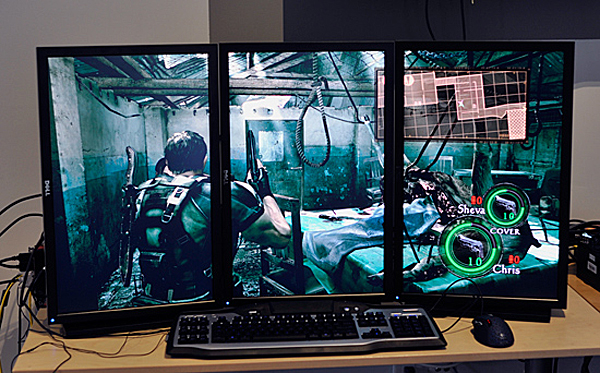 The aforementioned USB cable provides power to the unit. Wheras passive (unpowered) adpters appear to include the necessary components to transmit the proper data from the computer's GPU to the display, and will work fine for simple destop extension and mirroring, Accell's USB-powered active protocol converter provides the data throughput (10.8Gbps) to achieve the necessary pixel clock rates (330MHz maximum) for multi-monitor gaming applications. Rather than powering the UltraAV with a typical AC adapter that plugs into the wall, this USB-power solution is more elegant and streamlined.
Users will also be pleased to discover that Accell's adapter does not ship with, nor require, any dedicated software. The unit operates in conjunction with existing graphics drivers, and is easy to set up via the graphics card's control panel. In our experience with the unit, ease-of-use has been exemplary. The only drawback of note is Accell states that the UltraAV is "not recommended for Blu-ray 3D applications." This means that a 3D Blu-ray disc, played via the computer's Blu-ray drive and output through the adapter to a 3D-capable external monitor, is not expected to function properly in 3D as it would through standard a Blu-ray player connected to a 3D HDTV (but as a gamer, that's what my PlayStation 3 is for, anyway).
For the $109.99 price of admission (Buy it here), the biggest question surrounding the Accell UltraAV DisplayPort to DVI-D Dual-Link Active Adapter is whether or not you need it for what you aim to do. Odds are that if you're researching this device in the first place, you likely have some intense, multi-monitor gaming in mind. If that's the case, Accell's unit is the way to go. It works, and it works well, providing the options one needs for extra-large gaming. AMD recommends it, nVidia supports it, and GamerNode endorses it. Just don't forget which is the real world and which is the game world when you're surrounded by multiple 3D displays.