When Ubisoft announced the American Revolution as the setting for Assassin's Creed III, fans of the series were thrilled. The first trailer hinted at a wild frontier, large-scale battles, and more of the same great assassin action gamers have come to love. What we didn't know, however, is just how fitting this setting would turn out to be. Ubisoft is looking to revolutionize Assassin's Creed with the third installment, and the trio of demos they brought to E3 highlight some of the brand-new things assassins can do.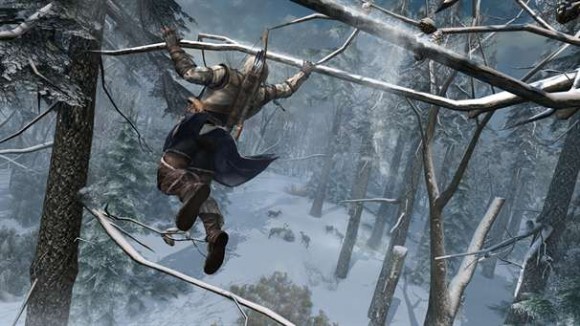 The first demo, shown at Ubisoft's media briefing, shows off the beautiful and expansive area known as the Frontier. Connor swiftly leaps from tree to tree, no matter what size or shape the branches are. This shows the first revolution of Assassin's Creed III: anything and everything can be traversed. There are times when two branches jut out from one, leaving a tight v-shaped space, yet Connor perches himself in it with relative ease. Eventually Connor finds a pack of wolves, which he must kill and obtain meat for a side-quest in a nearby camp. The scene then shifts to an infiltration of an enemy fort nearby, where the revolutionized battle system is highlighted. The AI is much more aggressive than before, sometimes attacking quickly with two or three at a time. Some soldiers will run to alert reinforcements, and Connor will have to give chase and kill the scout in order to keep a low profile. Most impressive are the moving kills, allowing Connor to assassinate enemies while running, with no momentum lost.  The demo finishes with an impressive leaping kill of the target with a bayonet, the environment slowly fading to the Animus as in previous games. Everyone in attendance at the Ubisoft conference wanted more, but they wouldn't have to wait very long.
The second demo debuted at the Sony press conference, showcasing the newest way to battle enemies in Assassin's Creed III: naval combat. Connor is the captain of an American ship in the Caribbean, engaging British ships also patrolling the area. The ensuing battle is fierce, forcing players to navigate the stormy Caribbean Sea while aiming the ship's multiple cannons. Cannon fire is loud and intense, tearing through British ships with impressive realism. Connor's ship even takes a hit, showing the realistic damage up close with fire-streaked wood and billowing smoke. This demo ends with Connor and his army invading the enemy's ship, alluding to ship conquest via hand-to-hand combat on the open seas. With these two excellent E3 demos shown at two different conferences, Ubisoft could have stopped right there and fans would have been thrilled. Luckily for all of us, they weren't done yet.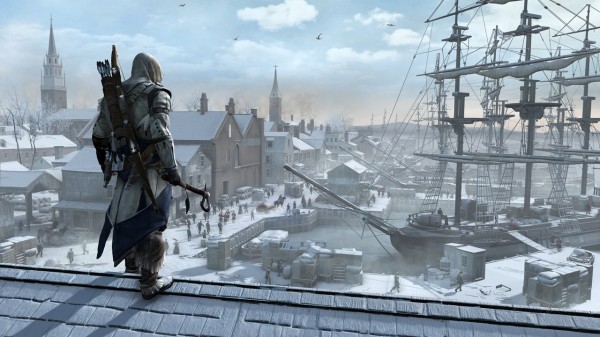 The third scene is set in Boston, giving E3 attendees a tour of the revolutionized city landscapes in Assassin's Creed III. For the first time, hay bales may appear on moving carts, allowing Connor to stay mobile while hiding. If a guard should approach the cart, he can still be assassinated while the cart is in motion. Should Connor alert any guards during his time in Boston, he has a new method of escape at his disposal: passing through buildings. If a window is open, Connor can run right through it to the other side of the building. Should the guards see him doing this, the AI will automatically circle the surrounding area, making sure they can try to catch you coming out the other side. These new features will make traversing the new urban landscapes easier than ever, giving players multiple options when tackling them.
Assassin's Creed III brought three separate single-player demos to this year's show, and all three of them merely whet our furious appetite for more. From the frontier to naval combat to the city of Boston, the game looks to challenge and impress in ways that previous games could not achieve. As I said in the beginning, there's no better word to describe Assassin's Creed III than revolution, and this one begins on October 30th.