Without a villain to conquer, there can be no hero. However courageous and bold, a character can never be heroic without reason, without motivation, and without emotional foundation. With no villain and no hero, the tale is empty and insubstantial. This is a primary failing of Cabela's Dangerous Hunts 2013.
Dangerous Hunts 2013 is by no means a hunting game. It is a first-person wilderness survival game – a conglomerate of elements from the hunting, horror, thriller, and action genres – that proves to be underdeveloped in most of the areas it aims to pull together. The blend establishes a clear goal early on, yet fails to deliver upon its self-made promise.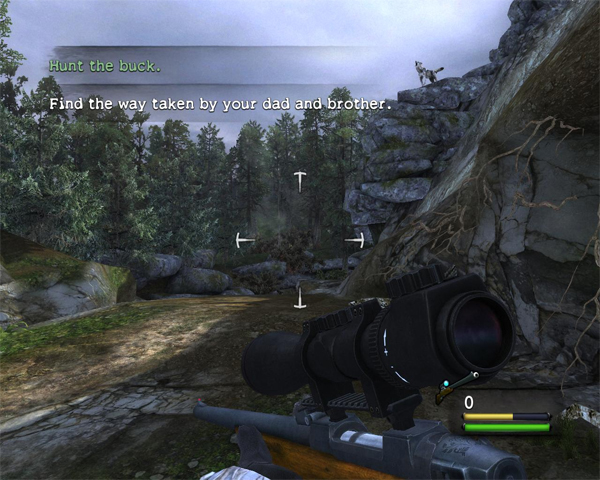 It's man vs. wild in Dangerous Hunts 2013, as a cardboard protagonist ventures first to stop, then to save, his psychologically simplistic brother on an African hunt that serves as the latest stop on a vengeful tour of duty spurred by the death of their father at the hands of a wild animal, many years prior. Presented as it is, Dangerous Hunts is an excellent example of why gamers prefer to kill monsters (of any variety – men, beasts, mutants) in their virtual crusades over anything else. The problem is that the animals in Dangerous Hunts are not evil. Although they are positioned as the "enemy," they are never appropriately portrayed as villains. The audience doesn't see them attack innocents or behave in a crazed manner. The closest the game offers to that is narrative hearsay, aside from the attacks made on armed gunmen intruding upon the animals' territory. It's a great challenge to identify with a hero who fights no villain, and motivation while playing Dangerous Hunts 2013 suffers as a result.
An attempt at immersion exists in the form of the Top Shot Fearmaster controller, a rifle-shaped, motion-sensing device that claims to monitor heart rate and translate the data into Dangerous Hunts' play mechanics. The novelty of holding steady, controlling breathing, and lining up a perfect shot is engaging, if ultimately less reliable than the equivalent click-button-to-hold-breath equivalent on the traditional game pad. By the end of my trek through the jungle, I found the numbers and resulting effects to be almost arbitrary in practical execution. There is also a degree of inconsistency in the rules of the game: while a vital shot ends a confrontation instantly throughout the majority of the adventure, specific encounters multiply that heart-shot requirement by tens and twenties. Implemented similarly, but surrounded by different design goals (perhaps in Cabela's other recent offering, Cabela's Hunting Expeditions, which made nominal use of the Fearmaster controller), the rifle-shaped peripheral could significantly aid in immersion. As it is, its inconsistencies and questionable reliability make it equal parts fun and frustration.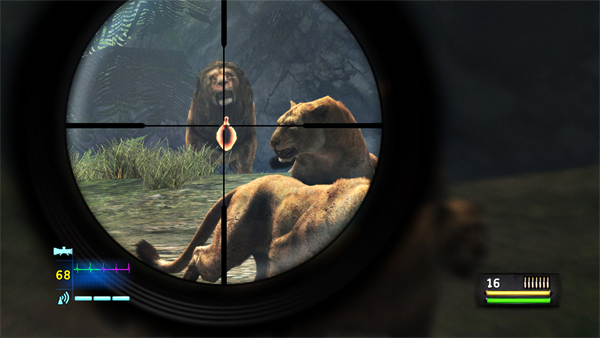 What makes the most sense in Cabela's Dangerous Hunts 2013 is neither its story mode, nor its Maneater mode – a horde-style single- or multiplayer trial, where players must eliminate all antagonists and complete minor goals before time runs out – but its simple Shooting Gallery mode. Placing players on rails and eliminating an extraneous aspect of control with the Fearmaster brings out the pleasure of aiming and shooting with the peripheral… with no flimsy, dubious narrative to get in the way.
Cabela's Top Shot Fearmaster has real potential, but the ambitiously imagined, yet underachieving, Dangerous Hunts 2013 fails to fully capitalize on its design. More importantly, Dangerous Hunts 2013 provides very little outside of that novel interface for players to connect with, thematically. Without a compelling reason to kill, I question why I should do it at all.