In Darksiders II, I reveled in the violent splendor of tearing enemies apart with razor-sharp blades and colossal hammers. Death's ominous presence and foreboding demeanor made the experience all the more fitting, creating a game in which the player's own illusions of grandeur were just as important as the color-coded loot we've all come to love. Isolating those elements isn't exactly a recipe for disaster, but it does explain the missteps with the game's new DLC, "Argul's Tomb."
Sidequests in Darksiders II functioned as a way to collect more gaudy equipment and deliver justice to bloodthirsty foes, but they also blended seamlessly with the collective world the game was presenting. Here was this seemingly massive environment in which players could choose what regions to explore and what tasks to undertake. The sheer number of sidequests was the defining trait, not the excitement and visual spectacle on a mission-to-mission basis.
With that being the case, DLC that plays like a glorified sidequest is a hard sell. "Argul's Tomb" promises new items and dungeons, a "shooter style level," and unique boss battles, but it all amounts to a hollow experience. Not once did I pick up an item that was better than anything I had currently equipped, the separate dungeons were small and linear, and the shooter level wore thin despite an admittedly awesome explosion cannon. The final boss in "Argul's Tomb" looms over the player for much of the runtime and the eventual encounter is satisfying, but beyond that there's little in the way of redeeming moments.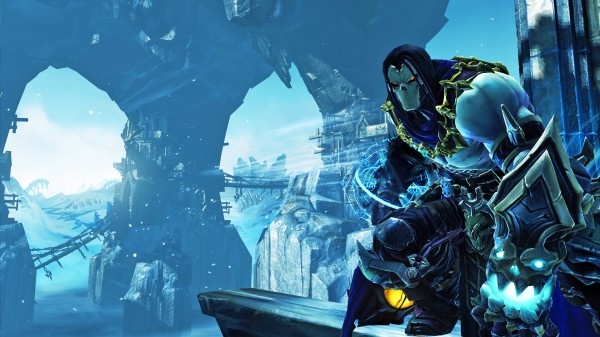 The biggest problem with this new piece of DLC is its confinement from the rest of the Darksiders II experience. There's no tangible connection between the Darksiders II world and the new icy tomb that Death discovers, the backstory is minimal, and there's practically no narrative momentum throughout the course of the 90-minute quest. To sum this up as an inherent problem of DLC would be misleading considering how games like Alan Wake and Mass Effect 2 effectively doled out content that felt strong on its own and additionally tied back into the structure of the main game. "Argul's Tomb" just falls short – plain and simple.
The question that should be on the mind of gamers who are considering purchasing "Argul's Tomb" is a straightforward one: Do I love Darksiders II so much that I'd be willing to pay $7 for a slightly larger sidequest? Die-hard fans will likely purchase it no matter what, but the rest of the gaming population can sleep easy knowing they didn't miss out on much.