Disney Infinity REALLY wants me to get involved.
They want to fill my shelves with their figurines and monopolize at least one of my consoles with their game. Why else would they introduce Marvel superheroes into the game, allowing me to collect and take control of some of my favorite Marvel characters? Well yes, it's a brilliant business decision, but it's also too alluring to ignore, damn it!
What's worse, E3 2014 has allowed me hands-on time with the new Disney Infinity 2.0: Marvel Super Heroes, and now I really understand why this game is so popular. During my half hour with the game I tinkered with the Spider-Man playset, the Avengers playset, and the ultra-popular Toy Box mode that all of the kids love. Playing through the two playsets reminded me a lot of the Marvel Ultimate Alliance games, only I could switch my hero at any time by switching a physical figurine. The game is very much made up of "go here and complete this mission," which isn't a bad thing at all, but I had anticipated a bit more.
The variety I suppose exists in the figurines, where I quickly found a favorite in Nova. Nova can fly around the map at fast speeds, which makes getting around far easier than hoofing it like I had to with Iron Fist. Once I got to my objective, Nova's quick pulse attacks and maneuverability made it impossible for those symbiote jerks to lay a hand on me. Again, it was way easier to take on the enemies as Nova than it was as Iron Fist…maybe Nova is just overpowered.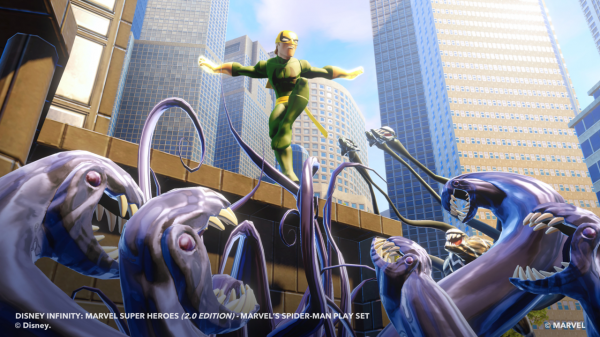 The Avengers playset wasn't as open as Spiderman's, only giving me the opening level in Stark Tower and tasking me with overriding the security so I could get out of there. I played the majority of the demo as Thor, who is ultra powerful and also can fly, though flying didn't really have any advantages in those tight quarters. Toward the end of the level, Thor wasn't doing it for me anymore, so I quickly switched to the Hulk and SMASHED my way through the last remaining enemies. Hulk is crazy powerful but a bit slow, and I sincerely doubt he'll be able to fly even though I didn't try it. The big green dude is better for those who like to be up close and personal.
Toy Box mode is completely different, and it was easily my favorite part of the demo. For those unaware, Toy Box mode is, as it's named, a giant virtual toy box. You can build levels, fill them with scenery and obstacles and enemies, then press start and see how long you last. In my Toy Box run I built I mini replica of Agrabah in the middle of Central Park, filled it with palace guard enemies, placed a mini Elsa from Frozen at the top, and battled through the guards to save her with Iron Man. Maybe it's just me, but that was an awfully cool little scenario. What's more, Toy Box is the only mode that will allow you to bring your current figurines into 2.0, so don't expect to be fighting symbiotes with your souped-up Wreck-It Ralph in the Spiderman playset; you'll have to do it here in Toy Box.
I now see the power of Disney Infinity thanks to the Marvel super heroes. Will I be investing in the current game to get caught up? That remains to be seen, but for now I'll keep a close eye on Infinity…and beyond.