Inelegance is a terrible thing to be stricken with in platforming, both for a gamer and a game. In a second, the poorly timed shift in weight from a directional key to the "jump" key can change everything. Such is the case, too, when the reactionary synapsis of choosing an execution, keeping your eyes a slim measurement ahead of your character, planning, is tarnished by dulled controls.
Every so often, though, a game like Dustforce comes around and reminds us why platforming can be a breathtakingly stunning, near incorruptible, form of fun.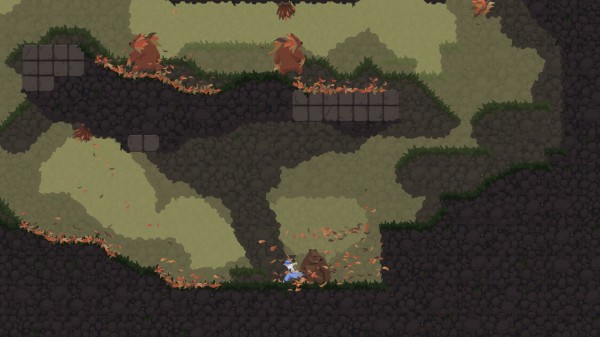 Muck has virally spread throughout a carved-up world. The land is splintered into four areas afflicted with this "dust," which takes many different forms: leaves; greyish smoke; green slime. On the roster are four custodial type characters equiped with brooms, vacuum rigs, and pom-poms. Get at it.
Ridding the world of dust is a learning process, but only because it self-assesses. Unfairly timed jumps are rare and "cheap" boss battles don't exist. Every level is, in fact, easily passable. The challenge comes when the game dares us to play as swiftly and neatly as possible. When it nudges us to sharpen our skills and trim the fat, Dustforce becomes tantalizingly taunting.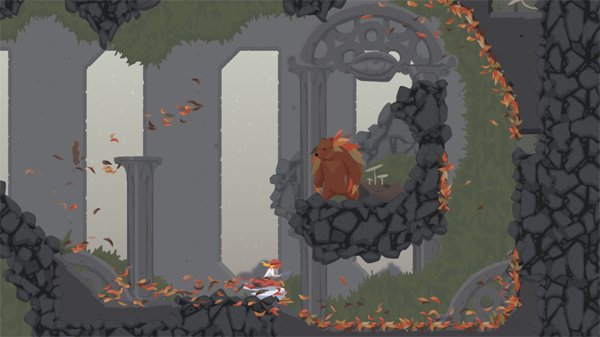 Grades are given at the end of each level for how well it was played. The constant comparison between your scores and those of other players, which are also displayed after each level, becomes maddeningly addictive. The top players' numbers proudly stare you down, egging you to give another go and maybe meet the shadow of their enigmatic scores, then nod with admiration and silently fade away.
The self-motivational nature of Dustfore is ungrudgingly consuming. Without story, dialogue or development, the plain, sharp rush is infectious. There are barred doors in the overworld, originally wrapped in locks and chains, that open as your momentum builds and skills hone. More levels are unveiled, and there are more times to shorten, more walls to scamper up at a mad pace, and more fun to be had.
The game's music should also be noted for its uncanny ability to quell my blinding rage-quit threats in a way I haven't experienced since Stickerbrush Symphony. The synth bleeps do well to sooth.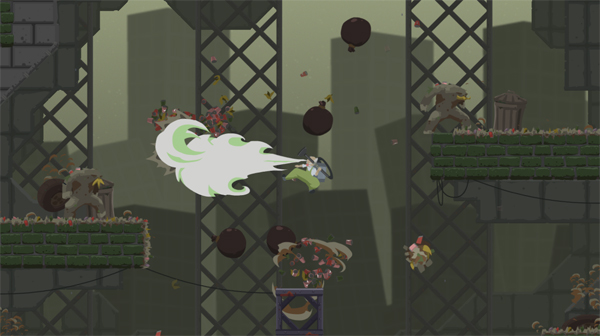 It's a welcomed asset too. The hair-trigger maneuvers are, at times, infuriatingly difficult to tame. Simple wall climbs or dash jumps between platforms can be anything but. And the default control scheme is poorly laid out. The barrier to entry is polarizing, but not stubborn. Spend a few hours with Dustforce and tweak things here and there; it'll eventually sweat out the awkwardness.
Inelegance is a terrible thing to be stricken with in platforming. Dustforce has little to regret. The brazenly powerful movements of the characters pulverize each level. Sometimes it seems like they never even touch the ground. They just plow through each environment, cleansing a faded world with obtainable vigor. Wielding that power is left to you.