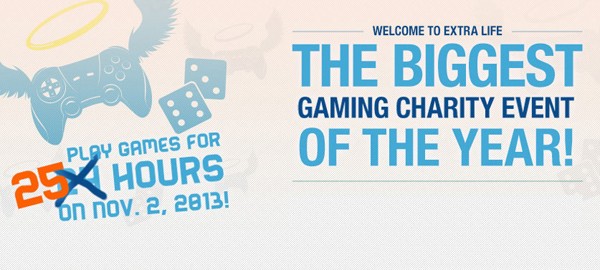 GamerNode is on a mission to save kids through video games, and we need your help… and maybe a little backseat gaming, too. Mike, Eddie, Jason, Josh, Anthony, and Dan, along with GamerNode's compadre Drew, will be marathon gaming for up to 25 HOURS EACH this week as part of  Extra-Life.org's yearly charity event to benefit Children's Miracle Network Hospitals across the country. We'll be live-streaming on our individual Twitch.TV channels, too, and we welcome you all to come watch, chat, and show your support for the GamerNode staff and for this worthy cause. You can also get in touch with us throughout the game-a-thon by tweeting @GamerNode or using hashtag #GNGameAThon, by posting on GamerNode's Facebook page, or by commenting right here on this page! And if you're extra-awesome, donate a few of bucks on our team fundraising page. You can select your GamerNode team member of choice from the GamerNode & Friends team page.
Thank you for caring for our kids and for hanging out with us during this epic charity gaming adventure! It's so important that we give them all a chance to turn a wonderful childhood into an even better life. They're our hope for the future.
Individual Live-Stream Pages and Times!!
Pages:
1
2
3
4
5
6