Tonight, at 9pm EST, Mitt Romney and Barack Obama will partake in their final presidential debate before the people of the US decide its leader on November 6. For all you gamers out there watching, we have a special game we'd like you all to play with us. And what kind of game is fun without some prizes?
As you watch this debate unfold, we'd like you all to take to Twitter and do one of two things:
1) Take a current game title and use it to describe how the debate is going.
2) Same as #1, but come up with a creative parody game title.
In addition to your title (real or parody), make sure to follow us (@GamerNode) and include the hashtag #nodedebate2012 in your Tweet for your entry to be considered.
Now, did we mention something about prizes? That's right! We're going to be giving out a first, second, and third place prize to the most creative and entertaining entries.
As far as what we're giving away, we figured to go in the spirit of the debate topic itself: Foreign policy. These prizes all center on games where interacting with foreign powers in a combative nature is one of their focal points.
First Place: Halo 4 "Make Your Voice Heard" T-Shirt and Poster.
Second Place: World of Tanks game disc (includes code for 2000 in-game gold), combo invite code (includes 2100 in-game gold) and 1-month Premium Access code, three buttons, and a pair of World of Warplanes aviator sunglasses.
Third Place: Hawken pullstring backpack, trucker hat, T-shirt, and iPhone 4S/4 cover.
Want to see exactly what these goodies look like? Check out the image below and feast your eyes upon them!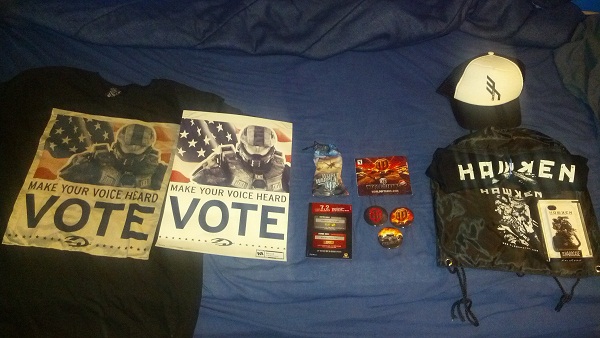 Best of luck to everyone and may the best title (real or parody) win!