This November, Spartans everywhere will battle to infinity and beyond as Microsoft reveal details on Halo 4's new "Halo Infinity Multiplayer."
According to today's press release, the multiplayer modes will be centered around the UNSC Infinity, billed by Microsoft as "the largest starship in the UNSC fleet". This hub will be where players will customize their characters and access multiplayer matchmaking. Halo 4 will feature cooperative multiplayer, known as "Spartan Ops," and competitive, called "War Games."
Spartan Ops will continue the story of Halo 4 through weekly episodic content. Parties of up to 4 players will assume the role of a new group of Spartans, known as Majestic Team, as they explore the Forerunner world of Requiem and try to learn more about it. Every week, a new cinematic episode of "Spartan Ops" will play on Xbox Live, and the missions in Halo 4's Spartan Ops mode will be based on that week's video. Microsoft did not expand on the War Games half of multiplayer, instead choosing to reveal more information "at a later time." E3 2012, anyone?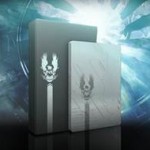 Microsoft also revealed the Limited Edition of Halo 4 (left). Priced at $99.99, this collector's box will contain nine multiplayer maps, released as three packs of three; six customization "Specializations" on Day 1 while others have to wait; the UNSC Infinity Briefing Packet, a physical packet on armor schematics and ship blueprints; unique weapons skins and Avatar items; and "Halo 4: Forward Unto Dawn Special Edition," a extended cut of the live-action digital series set for October. The 90-minute film will set the stage for Halo 4, delivering all the background info players will need to get going.
That's a lot of Halo 4 information to absorb, but two things stick out: Spartan Ops' weekly content updates sound very interesting, and the collector's edition actually sounds worth the $99 tag. Those three map packs alone will probably total $45 on the marketplace, which means springing for the Limited Edition will save players $15 in the long run.
What say you, Spartans? Ready to rejoin Master Chief and the UNSC?