Harvest Moon 3D: A New Beginning is the series' 30-somethingth installment; what could possibly be so "new" about it. As I saw at Natsume's happy little booth on the show floor at E3 2012, a few key additions do appear to freshen things up around the virtual farm for franchise fans. It all looks delightful.
The first thing one will notice about A New Beginning, and what the Natsume representative said has always been a common request for Harvest Moon games, is the level of customization allowed in a player's character and his or her little world. This time, besides simply choosing whether to play as a boy or a girl, players can choose from a number of outfits, skin tones, facial features, and hair colors and styles, even changing some of them over the course of the game. New crops and shops like cotton, the town tailor, and a stylist make this possible.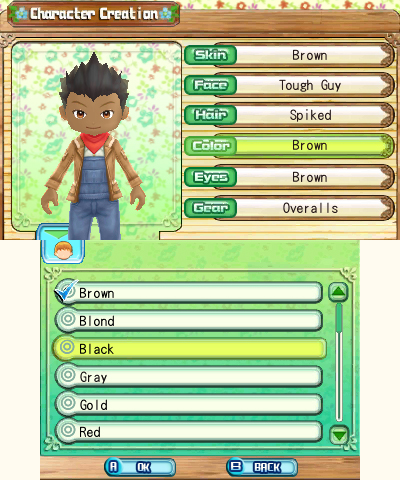 On the farm, players can enter into an edit mode at any time, which allows every structure, including those pesky wells, to be rearranged on a grid like a dungeon crawler's inventory box. This will give players more freedom to personalize their farms, and perhaps most importantly, limit the amount of time spent running back and forth across screen after screen while doing menial tasks. I'll definitely be moving my wells every time I water a distant patch of veggies.
The same goes for the Harvest Moon 3D town; buildings can be moved to make shops and the player's five love interests more accessible, or simply for aesthetic purposes. This means more time doing the things that make the game fun, and less just running around like Forrest Gump.
Town can also be improved by talking to the Mayor, who exists to give players simple missions – all related to making the Harvest Moon town a better place, from what I could tell from the demonstration.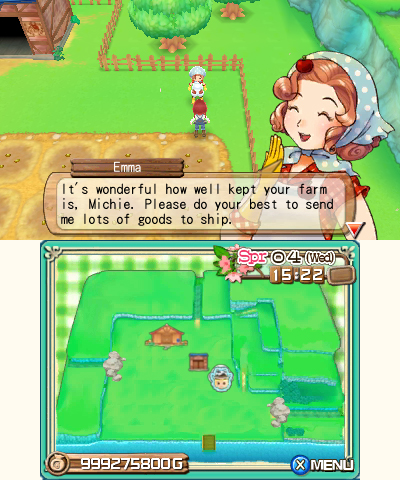 And of course: crops and animals. There are over 25 animals, including the new llama and yak, that players can raise on the Harvest Moon 3D: A New Beginning farm, and a bevy of crops, from the traditional edible plants to the aforementioned textiles. Add to that a new blueprint and construction mechanic for buildings and items like the fishing trap, and A New Beginning really does look like something new for the Harvest Moon franchise.
Coming to the 3DS in Q4 of 2012 players can expect to work the farm, beautify the town, and find cutesy love this winter.