Valve has become chagrined with the "lack of innovation" displayed in the computer hardware realm and is officially throwing its hat into the ring, according to a job listing on the company's website.
The open position is for an industrial designer. Valve is looking for the winning candidate to bring "expertise in product design and manufacturing, ergonomics, usability, aesthetics, and surfacing to our team."
"Valve is traditionally a software company," reads the listing. "Open platforms like the PC and Mac are important to us, as they enable us and our partners to have a robust and direct relationship with customers. We're frustrated by the lack of innovation in the computer hardware space though, so we're jumping in."
Going a bit further, the post briefly explains just what has the company so disappointed. It claims that the keyboard and mouse "haven't really changed in any meaningful way of the years."
"There's a real void in the marketplace, and opportunities to create compelling user experiences are being overlooked," the job description continues.
No slouches should apply for the job, as Valve is looking for someone with a hefty resume to fill the position. Among the desired qualifications are "6+ years of professional experience shipping world-class, high-tech hardware products," and "confidence with 2D and 3D design visualization tools."
Rumors of Valve hardware hit a fever pitch back in March, when reports that the company was working to create a console known as the Steam Box arose. The device was believed to feature Steam games and other PC titles with a proprietary controller and various other USB attachments. Those rumors were eventually shot down by the company's Doug Lombardi, though the marketing VP did not deny the possibility of Valve hardware happening in the future.
The job listing can be viewed in full below. GamerNode has reached out to Valve for comment regarding the story and will update here if and when we receive any additional information.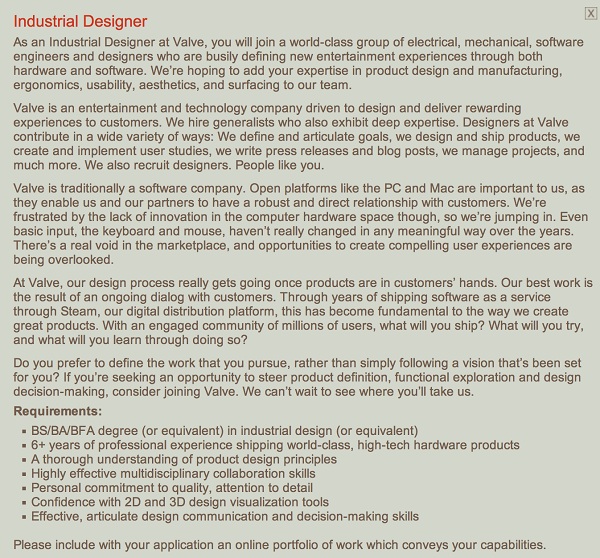 How do you feel about Valve expanding from software over to hardware? Do you believe the company can rival either the current or fast-approaching next-gen consoles? Sound off in the comments section below!
[Valve]