We've all heard John Kassir's voice at one time or another. He's been featured in cartoons like Nickelodeon's CatDog, video games like Shadows of the Damned and the upcoming Metal Gear Rising: Revengeance, and motion pictures like Disney's Pocahontas (he was Meeko the raccoon!) and Jack the Giant Slayer, due in theaters on March 1st. I spoke to Mr. Kassir over the phone recently, where he shared some incredible insight on being an actor, both on-camera and voice-over. Here's what he had to say:
GamerNode: After taking a look at your body of work, I see that you've done live acting and voice acting. Do you have a preference, or is it really all the same?
John Kassir: They almost feel like different jobs. I came up the ranks as a theater actor and bridged into TV and film through stand-up comedy. I was doing funny sketches as part of my act, which probably led to my voice acting career. Voice acting allows me to use skill sets that I don't get to do on camera very much. As a character actor, I do get to "transform" a lot, but I'm still limited by how I look. With voice acting, I can play characters not normally suited for me, like a big burly superhero named Deadpool, or the rotting corpse known as the Cryptkeeper, or even Buster Bunny. I get to play things I'd never get to do on camera, which is a lot of fun.
Obviously, there's a lot less pressure in terms of preparation in the voice-over world. A lot of the guys and gals I work with in voiceover are a lot more relaxed about their jobs. It's certainly competitive, but it seems like we're all in a fraternity of people that have been there for a while, which makes us very comfortable with one another. It becomes a fun day of reader's theater with a bit of competition, like who can do the best George Takei. There's a lot of imagination involved, too, as you don't have a lot of the things around you that will end up in the movie or video game.
GN: In the same vein, you've done a lot of movie voice acting and video game voice acting. Is there a big difference in your approach to each role, or is movie voice-over the same as game voice-over?
JK: It is very different, but it also depends on the role. Some game scripts do read like a movie script. The Raiders of the Lost Ark-type of action adventures have a different type of feel to them than the games that are "point A to point B, if you make this choice, here's what is said." A lot of being killed and killing too, which is fun but a bit vocally stressful.
GN: So you do a lot of death cries?
JK: Yes, like this: *unleashes spot-on death cry*. I just did a lot of that in a game I can't talk much about… but guess away! Playing various thugs and bad guys in a game like that, it's a lot of fun. They're all really momentary things, they don't really have an arc to them like other games where there's more of an arc toward character development and I can use more of my acting skills. Obviously, being on-camera or doing motion capture is a whole different ball of wax, as I was in Jack the Giant Slayer, where I'm forced to rely on the skill I've been developing since I was a kid.
GN: Did you don the motion capture suit?
JK: Oh yeah, the whole thing: bulbs, helmets with multiple cameras capturing my face, the whole thing. For Jack the Giant Slayer, they had to put Bill Nighy and I together into one person, since we're playing a two-headed giant. When Bill and I were on the set working, it was like performing for NASA: hundreds of people behind computers, you're being recorded virtually and visually and digitally all at the same time. In one sense, you have to create everything around you; in our situation, I had to mirror Bill's body movements while acting separately with my head and my right arm. Once you put all of that together, it's your performance, but these geniuses are layering stuff on top of you and putting this stuff together. The staff I worked with designed Gollum from The Lord of the Rings, and most of those that put the finishing touches on my performance worked on Avatar as well.
GN: So not exactly amateurs; these are the top of the line guys, right?
JK: Exactly, these guys are amazing, and I got to entertain them. If you're doing a good job, you can tell because they're like you and I – they love this stuff. They know what it's going to end up looking like, and they say things like "I can't WAIT to see how this turns out!" They get really excited about it.
Not all actors like motion capture work, as it can be painstaking. You're not actually in armor, but you have to act like it. You're not a giant, but you have to be bigger than everyone else. Instead of being in a giant throne room of a castle, you're in a big gray "volume" with boxes and string that are supposed to be a balcony. I had a great time working with Bill because he has a great facility for this type of thing. We were a vaudeville team by the time we were done.
GN: This is a two-headed giant the two of you were playing, so how did they go about filming you? Were you attached, or just standing really close to each other?
JK: Since we were using Bill's body physicality, I'd have to have a third eye that was mirroring him, picking up on all of his physical rhythms, while acting separately with my head and right arm. It was a fun process for us; we'd both keep our energy up and entertain the crew until it was time to go. Not all actors are used to that; normally it's, "OK, put the book down, it's time to do this." "Oh really? OK…" Meanwhile, Bill and I are having a good time.
It's a neat process, but it's much more involved than what's used in the games, only because they can afford to. Once post-production starts rendering all of these camera angles, it becomes $60,000 to $80,000 a shot. They also had a tough job in that; unlike Avatar where most of the motion captured actors were in a motion captured world, we had to match real-life people with the giants, real nature, AND created nature, and make it all look like it was one natural world. No easy feat. It's really astonishing stuff, especially in 3D and IMAX. You'll feel like you're standing amongst the giants, or that you are a giant looking down. You'll experience the inertia of being in that situation, and I can't wait to see it for myself.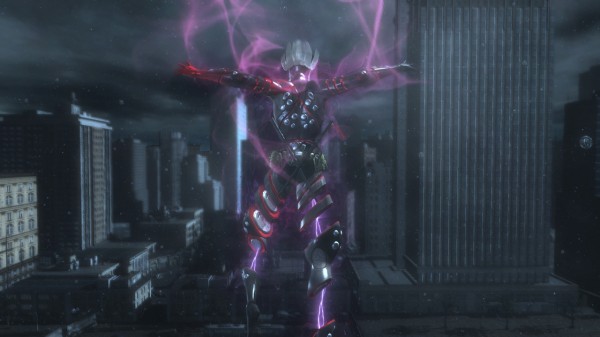 GN: You feature in Metal Gear Rising: Revengeance, playing a boss character by the name of Monsoon. For those who are interested in the game but have no idea who Monsoon is, explain who he is. What kind of approach did you take to this character?
JK: Monsoon has a lot of very unusual fighting powers, he's an unusual character. It almost feels like some of those metaphysical movies they used to make when guys could walk on their fingers up cliffs and creepy stuff like that. He's a major nemesis in this, and sometimes you like him, sometimes you don't. Unfortunately, I'm not always privy to the story in these games, so at times I don't get to see where my character fits in until I get the final product. Sometimes I work without even knowing the final title, and when I hear it I say, "Hey, that's a popular game!" In this case, I knew it would be a Metal Gear game, even though I wasn't allowed to say it, but I didn't know the focus.
I got to work with some people I'm familiar with on the project, which helps. When I did work for Afro Samurai, being in the room with Samuel L. Jackson, it raises your acting game. You don't always get to do that. Sometimes I just go in and reel off a bunch of lines. For Metal Gear, a lot of my scenes were with Quinton Flynn, who plays Raiden, and we had a really good time playing off of one another. There's one showdown in particular where the characters really show the energy we had together.
GN: I've always wondered how the recording of voice acting works. Most of the time, when I watch behind-the-scenes footage, it's one actor reading lines in the booth. I always thought it'd make more sense for the two actors to record dialogue together and play off of one another.
JK: It's different every time, really. I love the cartoons I've done, where the schedule was recording every Tuesday with as much of the cast as possible, and we're laughing our asses off while recording. These games have a lot of dialogue, and they have to record it as quickly as possible. Sometimes some of those involved, like the on-camera actors, aren't always available. There's a lot of reasons why you won't have everyone you'd like to have together at the same time to record. This particular time, Quinton and I were together for all of our scenes, and it was really a lot of fun.
GN: Are there any other video game projects in the pipeline after Metal Gear Rising? Where can we hear John Kassir next?
JK: Unfortunately, I can't talk about future projects due to the NDAs I've signed, but I've featured previously in Skylanders Giants, Shadows of the Damned, and Marvel Ultimate Alliance 2. I've auditioned for some more, I have some every week, but it's a really saturated market these days, and I never know where I'm going to end up working.
GN: That actually leads into my last question: what would you say to someone looking to get into this line of work, the aspiring voice actor?
JK: If you have the ability to build your own projects, like the Robot Chicken or South Park teams, do it. It's a very tough market to break into because you're competing with prominent on-camera actors, as well as those who have done thousands of voices throughout their careers and aren't getting paid more than anyone else. There's certainly enough money to make a living, but it's all based on scale: if cartoons are re-aired or games sell for a long time, there are residuals to be earned. I used to do a lot of stuff for Disney – mostly animal noises and stuff like that – and it's a lot of fun. My suggestion is this: if you can corner the market on something completely unique, that's a good place to start. That will automatically put you in a good place. Believe in your talent, create your own reel doing a bunch of different voices, and put it out there. There's the world of commercial acting, even in local markets, that could provide a solid living without even leaving your local market. A lot of the animation stuff is done in LA and New York, so expect to head there for the big jobs. If you can get a solid body of work, put together a reel, and send it out, you'll be set.
We thank Mr. Kassir for taking the time to talk with us here at GamerNode, and we look forward to seeing him in all of his upcoming projects.