It's incredible to sit back and realize that the Madden NFL franchise has been bringing virtual entertainment to gamers for 25 years. The quintessential football franchise, which began with 1988's John Madden Football, made that realization an easy one by naming this year's installment Madden NFL 25. Despite the series' longevity, one of the constant gripes it garners from fans and detractors is that its annual release schedule has seriously hindered significant development. While that may be the case in the presentation department, this nostalgic version of Madden has provided some game-changing mechanical innovations that make it one of the most strategic editions in its history.
It's thanks to EA Tiburon's desire to push the series' gameplay into the future that makes Madden 25's on-the-field analytics and critical thinking more important than ever before. Last year's Infinity engine has been completely cleaned up so that gamers get all the intense, unique hits with none of the flopping limbs or awkward trip-ups. Taking full advantage of these improvements is the game's precision modifier, a new running mechanic designed to help players better dominate the offensive side of the ball.
When timed right, gamers can juke, truck, spin, hurdle, and even dive over and around defenders with ease and flare. Though it may sound game-breaking at first, gang tackles, careful pursuits, and proper play calls from the defense can keep things fair. In a one-on-one situation, it's all about knowing when to attempt the tackle on one side, while knowing just when to recognize and avoid it on the other.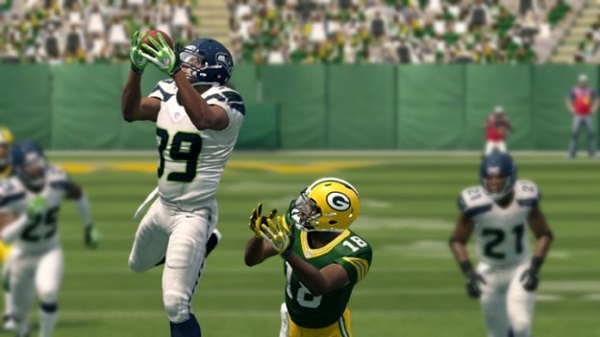 But the precision modifier isn't the only mechanic putting an emphasis on intelligent play. Madden 25 sees the return of ball hawk, which does so just as effectively. Ball hawk still almost always leads to an interception if the player is close enough, thanks to its auto-assist nature. This can get quite irritating as the one slinging the passes, but while its simplicity may not suggest a strategy enhancement, it actually causes the opposition to sharpen their offensive minds.
In my several hours testing out this new mechanic, I learned that any deep pass where there is little to no separation between the defender and receiver will almost always end in a pick or broken play. As a result, I adapted and spent a lot more time reading the defense at the line of scrimmage, knowing my receivers' routes, and figuring out when it was appropriate to audible or look away from my main target to someone on an underneath route. In effect, a defensive mechanic made me a smarter, better player on offense, and should do the same for several other Madden gamers.
Despite the updates in gameplay, Madden 25's presentation hasn't gotten much of a face lift. That's not entirely a negative, because Madden 13 featured the best presentation for the series to date. The problem is simply in this edition's failure to improve upon it even further.
Jim Nantz and Phil Simms return for some quality, though eventually repetitive, commentary complemented by nifty sideline analysis from Danielle Bellini; but it's the visuals that earned the majority of the gripes. Every stadium has the same exact introduction scene – it gets old quick – while Nantz and Simms themselves don't look as sharp as I'd hoped in their pre-game scenes; their movements sometimes make them eerily resemble puppets.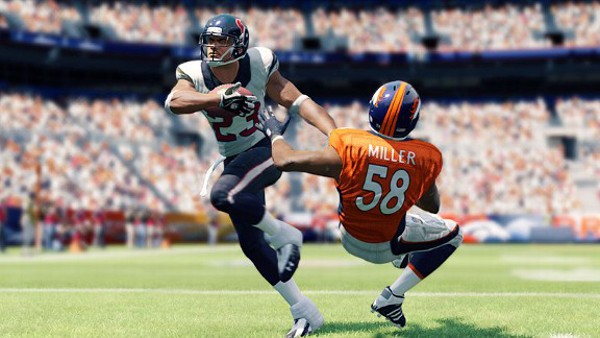 Madden 25 gives players loads of content in numerous game modes. In addition to a standard versus mode, Madden Ultimate Team now has online head-to-head seasons where players can compete to make the playoffs and win the Super Bowl to earn coins, packs, and ranks. Those who don't want to play with others can take on solo challenges that also feature coin and pack rewards in addition to collectibles.
Not wanting things to get stale for its hybrid video/card-game mode, EA updates Ultimate Team through weekly solo challenges, collections, and Coin-Up challenges. Coin-Up consists of a two-game challenge featuring two teams in a real-life marquee football matchup for the coming weekend. Should gamers complete it, they get a nifty collection card representing a player from one of the teams. If that player scores touchdowns in the real-life game, those gamers will earn bonus coin rewards from that card when sold. It creates a deep level of replayability sure to hook team-building football fanatics while also getting them more invested in the sport itself.
Another mode sure to bring fun to the Madden masses is the improved Connected Careers mode, now titled Connected Franchise. Similar to NHL 13's GM Connected, Connected Franchise allows friends to get together and create leagues as owners, coaches, and players. In this new owner mode, players control everything from jersey and ticket sales to staff and scouting. Owners can also play the games, so long as no one else in the league is a coach or player for the teams involved, and the news and Twitter feeds return from Madden 13, too.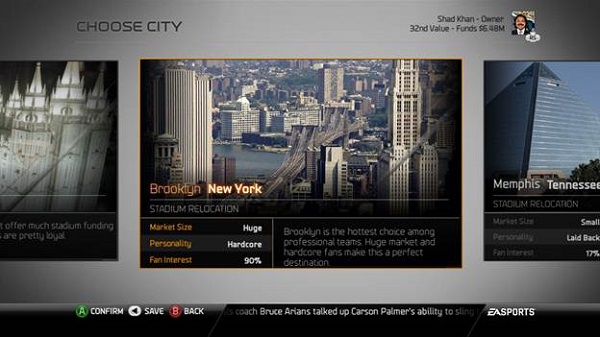 Owners can answer media questions that will affect fan happiness, ticket sales, and other aspects of the team's operations, as well. Sadly, this is not an aspect of Connected Franchise that carriers over to coaches and players, though it would have been excellent if it had. Still, the expanded mode and inclusion/return of the series' owner mode is something that I missed and am glad to see back.
Though this is the series' silver anniversary, there isn't exactly a ton of content that celebrates Madden's past. Waves of nostalgia washed over me as loading screens showcased images and facts from previous titles, while a new Madden All-25 team has been created for play in certain game modes. This team features the deadliest of players in Madden game history, each with their most dominant stats of all time. There's also a Madden NFL 25 collection in Madden Ultimate Team that rewards players bold enough to chase it with a special Barry Sanders card. However, this is all that the game does to honor where it came from. It's a bit of a disappointment, especially since EA named the game after the series' achievement.
Madden's 25-year milestone may not be hugely represented in Madden NFL 25, but the game has enough improvements and innovations to be yet another strong and satisfying addition to the legendary series. Like I did, players will need to use their minds on the gridiron more than in any Madden game before. And though the presentation shows its follies in its second go-around since Madden 13, there's far more to like than dislike here. Anyone who didn't pick up last year's game should procure this one, and those who did may still want to give it reasonable consideration. Happy anniversary Madden, and thanks for another satisfying entry.