I stand alone on a beach, landmasses sprawled on a blocky landscape before me. Cows moo on the nearby cliffsides and in the water. I punch at the dirt, digging a single cube out of the cliff and claiming it as my own.
I have mined my first resource. Let the madness begin.
Some time later, I've built a small fortress for myself made from dirt and sand. I leave myself a sunroof to survey my surroundings. Night begins to fall and I realize I have no light source. Should the sun set on this quaint little piece of the world, how would I see? I scurry to a nearby tree, knock out a few blocks of wood, and carve them into sticks. Soon I'll have my light!
I have picked a terrible time to forget that I need coal to light a torch. Darkness has fallen over this peaceful land. A silent "ssssssssss" echoes behind me. Before I know it, I'm back on the beach, my inventory emptied, my experience reset. This time, the darkness remains, and with it the dangers.
This was my first experience with Minecraft Xbox 360 Edition, and by extension my first experience with Minecraft itself. I had heard tales of the game's enabled potential and seen plenty of evidence in my daily internet travels, yet I had never experienced Mojang's creation myself. I would dive headfirst into the world of Minecraft Xbox 360 Edition fresh, with no previous version's influence to sway my opinion. I presume a player like me was the reason an Xbox 360 edition of Minecraft was deemed necessary: the mission was to pull the non-PC crowd into the pure insanity that this game offers.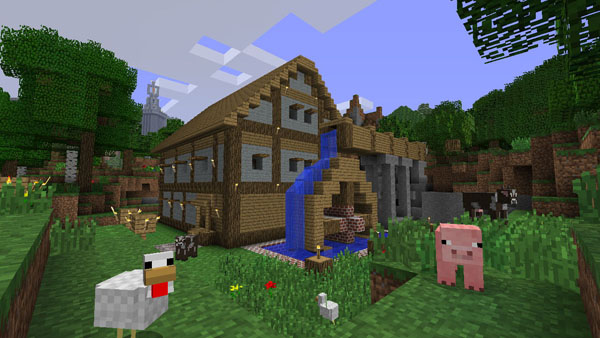 If Minecraft is a sandbox, then imagination is a shovel and pail. My mind is my only limit as I traverse this huge world looking for things to do. The magnitude of Minecraft is intimidating at first, but after some time I acclimate to this world of blocks, bending it to my will through mining and building. This world is MY masterpiece, I realize, and I can paint any landscape I wish; tunnels, houses, mansions, even a giant statue of myself. This world provides me the ingredients, and I stir them together.
Playing alone, I am able to create the world I want, but having friends join me online allows me to show off my creations. I treat my world like an artist treats his or her gallery, all of my works of art prominently on display. When the presentation is over, my new Minecraft companions and I set off together to build even more, using our combined manpower to build something that leaves us in awe. Building something alone is fun, but sharing the experience with a friend can be a bonding experience unlike any other offered in gaming.
Despite the potential for artistic excellence, Minecraft does have its faults. As a new player, I hope for some kind of guidance, a tutorial explaining how this magnificent and ever-changing world works. While there are pop-up messages that offer assistance, they're not nearly as helpful as I'd hoped. I feel like these messages are meant for the initiated, leaving out the legions of newcomers bound to have their inaugural experience on Xbox 360.
Furthermore, without an adequate teaching system, those legions may just find themselves wandering the world as I did at the beginning of my playtime. I knew I had to mine materials, but didn't know how to combine them. What materials do I need to make what I want? I eventually found these things in the menus, but without this knowledge at the start I spent my time wandering aimlessly, looking at the sprawling 8-bit landscapes and its inhabitants.
When the first night fell, I died from the first Creeper I found, and everything I'd harvested was gone. I felt like my time was wasted, and that's never a good thing coming from a video game. Once I concocted a game plan and followed it, my time in Minecraft went more smoothly, but that initial experience, one so important to a majority of the gaming public, could have turned me off completely if it was the entire basis of my judgment.
Minecraft: Xbox 360 Edition knows that it comes with an established pedigree. It knows that it's succeeded on other platforms, and it expects you to know as well. Though the initiation can be rough, the game offers an experience more addicting than anything else available. Minecraft can make players feel like the Ancient Egyptians building the Pyramids or Leonardo Da Vinci working on his latest masterpiece, but it expects those players to know what they're doing, lest they become Adam and Eve after their expulsion from the Garden of Eden.
Minecraft has arrived on Xbox 360, and it's as excellent as ever. Just make sure to know what's coming before jumping in.