It's a true shame that for the third time in just 18 years, the National Hockey League has decided to lock out its players in the midst of a heated dispute over a new collective bargaining agreement. The current rift between the NHL owners and players is so wide that distraught, unhappy, and (in some cases) irate fans don't know how much of a season they'll have – if they have one at all. With that in mind, it's relieving to know that once again the EA Sports NHL series has improved the winning formula big time with NHL 13, creating the most authentic in-game hockey product to date and allowing those of us pained by the threat of another lost season to distract ourselves from no-hockey with hockey.
NHL 13's biggest change to the series is the entire revamping of its skating engine. With the introduction of True Performance Skating, momentum and speed are finally taken into account for turning, stopping, and maneuvering about the ice. As someone who played hockey for 12 years, I say this: Finally!
Too many times in previous NHL titles have I watch players turning on a dime while going full-speed and defenders who were caught flat-footed able to catch up with forwards on the breakaway. It isn't the way real hockey plays, so it's a godsend that EA Canada has officially taken care of this aspect of their game. Now players will take wide turns when going too fast, get caught out of position and get burned if a half-step is taken in the wrong direction. Players can reach top speeds faster than opponents who are slower or without as much momentum and stopping can be tactically wiser than turning, creating an on-ice atmosphere that just oozes reality. It's about time.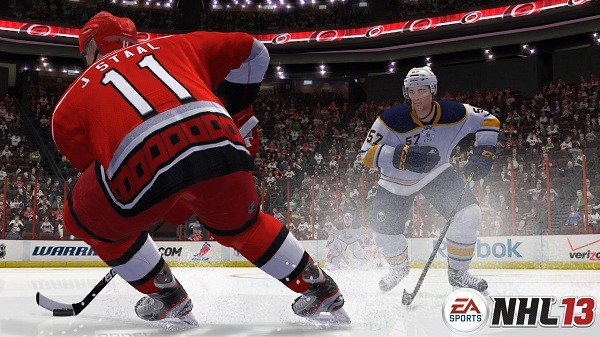 Another aspect of this longstanding series that has always bugged me to the point of shouting at my TV is the goaltender AI. Its inability to read one-timers, and the lack of ability to make incredible sprawling and diving saves that you see all the time in reality aren't just frustrating – sometimes it's game-breaking. It seems like EA Canada finally had enough of it too and decided to make the smartest goaltenders in the series. Now netminders can read odd-man rushes, cover more ground, make those eye-opening stops, and pay attention to most everything around them instead of just the guy with the puck.
But NHL 13 doesn't stop there, as teammate AI has also been vastly improved. Defensemen will now read a rush and know how to properly engage the oncoming attack. Forwards will know when they have a chance for a good pass and will cut up on breaks. This means that not only do the game's physics work well enough to make the game look real, but the players around you act like it as well. These are welcome and praise-worthy changes.
Despite the big advancements in these areas, the game isn't necessarily a four-game sweep when it comes to gameplay. The passing system may be in need of another advancement next year, as there were plenty of occasions where I would use my directional to pass the puck to an open player only to see it bumped over to some unconcerned party. This caused several killed rushes, maddening swings in momentum, and even points going the other way. It's a frustrating thing to see, especially when it can actually cost the game.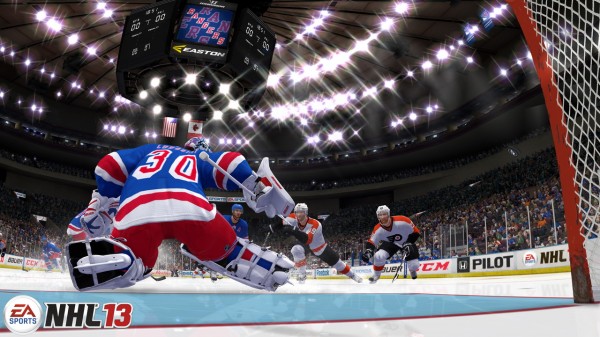 Off-ice action is as robust as ever this season, with new game modes introduced alongside all the game types from NHL 12. The most involved new mode in NHL 13 is GM Connected, which allows gamers to take the role of a GM, coach, and/or player for all 32 teams in the league. GMs will deal with the business side of the sport (contracts, trades, free agency, moving players down to or up from the AHL, etc.), coaches handle team strategy and line combinations both on and off the ice, and players will compete in the games as a hand-picked skater or goaltender. It's an interesting mode as a person acting as a player can get traded by his real-life GM from one team to another and suddenly have a whole new GM, coach, and group of teammates to adjust to.
Those who don't want that level of socialization can also tone it down to just have the GMs do everything, essentially creating an online GM mode. Overall, GM Connected is a great system, but one that relies on the patience, dedication, and respect for the other participants. Unlike Hockey Ultimate Team and EA Sports Hockey League, there is no Did Not Finish penalty; if you're winning 5-1 and your opponent decides he or she doesn't like that outcome and quits, you must either play the person again or hope your AI team can win when the commissioner forwards the schedule. Also, the loading times for the mode's menus can be like watching ice melt, figuratively.
Taking a cue from Madden, NHL 13 has implemented NHL Moments Live, a mode that allows players to take the role of a player or team during memorable points of both the regular season and postseason with the task of either recreating or remaking history. As a bonus incentive, completing these moments gives a reward in EA Pucks that can be used in Hockey Ultimate Team to buy new packs. The Pucks received aren't as much per challenge as I'd like, but it's an engaging way of trying to relive great moments from the '11-'12 season. EA even promises that – in the hope that the '12-'13 season actually happens – new NHL Moments will be added as they happen for free, adding even more replayability to the mode and game overall.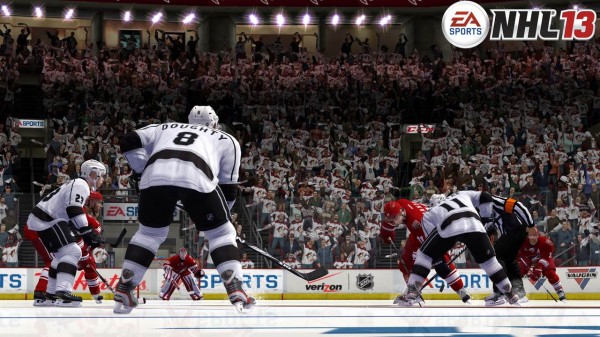 All the other usual suspects return to the series as well, including yet another recreation of the glorious event that is The Winter Classic. While several of them have been kept exactly the same from last year, Hockey Ultimate Team has seen some new tweaks for better and worse. The new line assistant has the game's AI take your roster and put the lines together as best as possible, but this can create lineups that range from genius to unreasonable and silly.
Training cards now function differently, with effects only lasting one game and no longer providing permanence. It's nice in the sense that you won't ever pick up a tainted card in a trade, but annoying in that you need to constantly input training cards to boost the stats of the players in your roster. A clear-cut positive in the changes to HUT and training cards, however, is the addition of captaincy cards, which allow you to assign a team captain and alternate captains that give those players a permanent plus-one or plus-two stat boost across the board for as long as you keep the C or A on their jersey.
Hockey fans stewing in anger and sadness (i.e. me) over the looming threat of a lost season should be happy to know that there's plenty to love about NHL 13, so much so that it provides a great distraction from the ongoing drama plaguing our beloved sport. The depth in options for gameplay and replayability is even deeper than its predecessors and the new enhancements to AI and skating make it another winning and worthwhile installment in the high-profile sports franchise. Don't let the aged passing system or sore losers in GM Connected deter you from what will act as a great hockey fix in the interim of the real deal.