For about a month, my ears have been experiencing the pleasure that is the Plantronics RIG gaming headset. This $130 setup is more than a simple gaming headset, but rather a modular kit with an innovative mixer to allow players maximum versatility with their game, phone, and conceivably any other audio source.
While clearly designed for different purposes, much of my basis for comparison comes from the sound and build quality of Beats by Dre headphones. I find the Plantronics RIG to be comparable in many respects, which, if you've ever ridden the NYC subway (or walked around anywhere there are lots of people detaching themselves from the outside world), you'd know is a fairly high honor. As with most electronics accessories, however, the RIG does have its flaws, one of which may even be critical.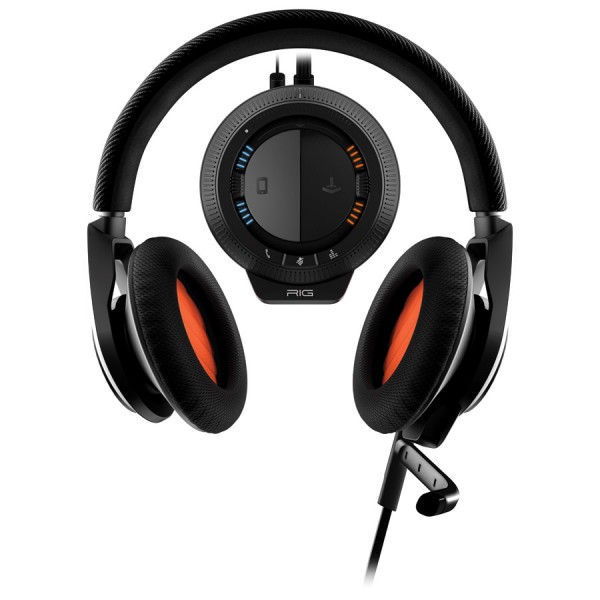 The headphones have large, well-padded, and slightly articulated earcups, and the adjustable headband is padded for comfort, as well. The headset is bulky, but it's very comfortable to wear, at least to start. After extended gaming sessions, however, I did find that I felt the need to remove the RIG and give my mildly sore ears some relief. Perhaps the earcups are too large, and the full envelopment of my ears isn't preferable to the alternative of smaller padded headphones resting directly against them. Or perhaps the RIG earcups are too small to provide enough space for my entire ear, but to make them any larger would be borderline ridiculous, especially considering they only swivel to flatten their profile, as opposed to collapsing inward for storage.
The other primary flaw — and this is a big one — also has to do with build quality. The Plantronics RIG has two swappable microphone cables. One is a sturdy, non-adjustable boom mic, and the other is an in-line mic with a single button on it for smartphone control. Both setups employ a ribbon-style cable — like a long, black strand of linguine. Compared to other headsets I've used, this cable is far more rigid, and the flat design means that it only bends, unstressed, in two directions, as opposed to having 360-degree freedom. Whether it was because of this design or not, the smartphone cable included with my RIG began to have connection issues — my incoming audio cuts out frequently and people on the other end of the call suffer from my failing, intermittent microphone — making the headset, with that cable module, nearly unusable. And that's a shame because I found the Plantronics RIG to be a great walk-around headset for music and phone calls before this crippling flaw reared its ugly head.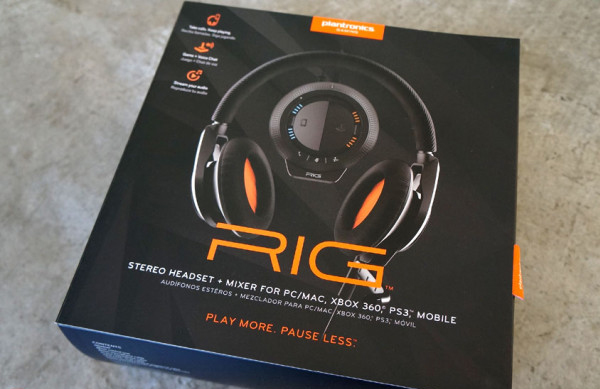 Listening to games, music, or videos with the Plantronics RIG is otherwise a delight. The audio has great equalization, with special attention clearly given to the bass end of the sound spectrum, which is delivered with force, and is distinct without distortion. This is ideal for gaming, and as a music headset, the RIG performs just about as well as the most popular dedicated headphones in its price range, although superior models can be had for less money. The only area that falters is in the highest trebles, though vocals and phone conversations are perfectly clear and crisp.
I should also note that the Plantronics RIG is not built for surround sound. For that, one would need to move over to Plantronics' USB-driven GameCom units. Still, directional isolation is very good for a simple analog stereo headset; Amnesia games have definitely been making me pause to look around the room while wearing my RIG over the last couple of weeks.
The big selling point of the RIG, however, is not its sound reproduction, comfort, or build quality. Although those aspects are important, and have not been neglected, Plantronics has really focused on the RIG's audio mixing capabilities. With the included hockey-puck-sized mixer, intended to sit beside you on a flat surface, you can control master volume along with the balance for game audio versus cell phone audio (or any other 3.5mm input source), and game sound versus game chat. There is also a switch that dedicates the microphone either to game chat or to your connected cell phone.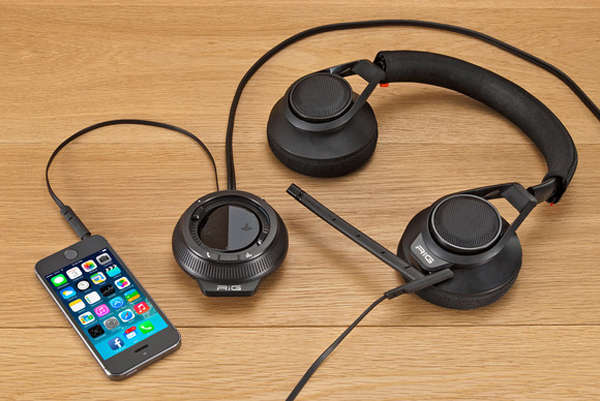 The concept behind this mixer is to be able to seamlessly blend outside audio, such as your own music collection, with your gameplay, and easily make and receive phone calls without ever leaving your games. In theory this sounds like a combination of lazy and obsessive, but in practice it's actually super convenient and practical, and it works wonderfully (so long as your cable hasn't shorted out *grumble*). The mixer connects to a PC via USB and a 3.5mm audio cable, and has options for both optical and RCA input from home gaming consoles, as well as a 2.5mm jack for connecting to the Xbox 360 controller.
So the Plantronics RIG isn't the clear winner of every category in which it competes — it lacks surround sound for the gaming side of things, and one can find equivalent or superior sound quality for less money in some dedicated music headphones — but as a single solution for gaming, music, and mobile use, with some really useful and intuitive mixing capabilities, the RIG is a solid bet. Or rather, it would be a solid bet, if its ribbon-style cables weren't susceptible to frustrating malfunction, frequently dropping incoming and outgoing sound.
At least there's a second cable included, though, which so far has been perfect throughout my testing. I'll be sure to get in touch with Plantronics about this issue and update my impressions in the near future.