Back at E3, we here at GamerNode had a ball playing PlayStation All-Stars Battle Royale against one another. There was a reasonable selection of characters back in June, but this month at New York Comic Con a much larger chunk of the game's final roster was readily available. I was lucky enough to snag four game sessions at Sony's booth, all with different characters, while also trying out two of the game's newest stages.
The best thing about All-Stars' maps is the fact that they pay homage to not just one, but two games from PlayStation past and present thanks to their ability to change over the course of a contest. The two maps I had the pleasure to fight in showcased intense action enveloping their backgrounds all while a four-way beat down went on in the foreground. The Dojo map, for example, begins in the famous location from Parappa the Rapper, but eventually the walls and roof are blown off by the four-legged mech from Killzone 3 as it brings about destruction and disaster to Parappa's hometown.
Meanwhile in the Stowaways map, inspired by the famous cargo plane scene from Uncharted 3, it's not Nathan Drake who inadvertently causes the opening of the cargo ramp and damage to the plane itself. Upon making your way to the ramp and cargo that hangs from the plane's rear to continue the battle, you discover that the aircraft has stumbled upon BioShock Infinite's Columbia and is caught right in the middle of a fight between the Songbird and a blimp run by the Vox Populi. All of this background action and the high level of detail in which it is displayed made every brawl I partook in a more exciting and visually stimulating affair than previously experienced.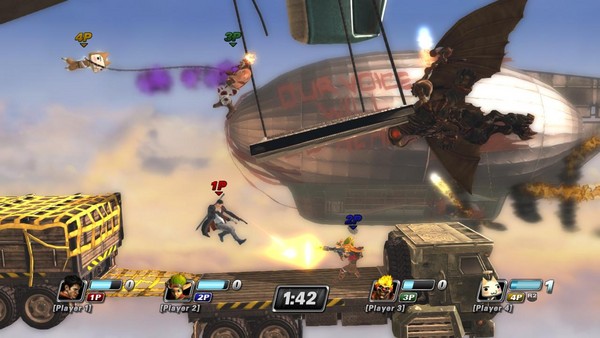 As engrossing as the maps and their aesthetic spectacles can be, they merely play a secondary role to the game's roster of characters. Taking a favorite PlayStation hero or villain and making them a part of a virtual thrashing is a dream come true, and I was able to put four of these big-time names to the test. First was Dante, Devil May Cry's wise-cracking demon killer. Living up to his reputation, the son of Sparda is a very well-rounded and fast-paced fighter. Several of Dante's attacks involve being up close and dealing long combos both on the ground and in the air. His level three special will transform Dante into demon form, freezing enemies in place for a free kill. Given his nature, Dante proves to be an easy-to-pick-up fighter who will no doubt be a favorite of button mashers.
The more I played with other characters, the more I noticed that All-Stars seems to have grouped up characters into certain archetypes that play in a similar fashion. Nariko of Heavenly Sword plays like Dante, while Jak is a long-range specialist much in the vein of Nathan Drake and Colonel Radec. Two other characters, Heihachi and Raiden, also play a style similar to one-another: the up-close brute with slow yet strong attacks. It was fitting to see Tekken's main baddie have this style, but for Raiden it was a disappointing surprise.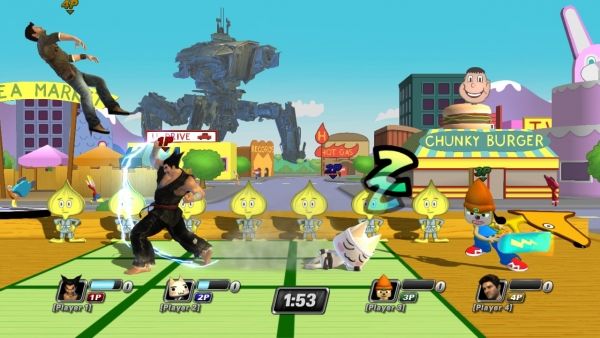 I was similarly disappointed with both Good and Evil Cole. The two versions play exactly the same, with the exception of the color of their energy attacks and outward appearance. Perhaps it wouldn't have been such a major letdown if they both took up a single character slot, but the fact they each have their own creates the possibility that some other member of the PlayStation library missed out for the sake of Mr. MacGrath getting special treatment.
The separation of characters into certain specialties means that players will need to know which of these archetypes the chosen character fits; simply, there is a slight learning curve. However, should those gamers decide to sit down and learn each character's skill set, they will no doubt hold their own against any opponent.
For those who want to test that theory, the chance will come when PlayStation All-Stars Battle Royale is released for the PlayStation 3 and PlayStation Vita on November 20.