When facing insurmountable odds in any situation, there are two approaches one can take: the "I'm going to give it my all even if I can't possibly win" train of thought, or the "well, it's impossible, so it doesn't matter how hard I try… let's just give 50%" idea. Even when the situation is impossible to overcome, there is far more honor in approach A than approach B.
Pro Evolution Soccer 2013 finds itself in a seemingly impossible situation. It's the other soccer game; the game of "futbol" that doesn't begin with a four-letter acronym. Konami knew that FIFA 13 would be on the market alongside PES 2013, and they knew that it would be an uphill battle to try and defeat EA's soccer juggernaut.
Konami had a lot on its plate, and when I booted up PES 2013 for the first time, I thought they would stand up to the challenge. The game's visuals shine, out-dueling FIFA 13 in every animation. Players run, shoot, pass, and tackle as realistically as I've ever seen in a soccer game. If the graphics are a sign of what's to come, I thought, I should be able to forget all about the other soccer game, and PES 13 will assume the soccer game throne. Unfortunately, what PES 13 offers in style it cannot match with substance.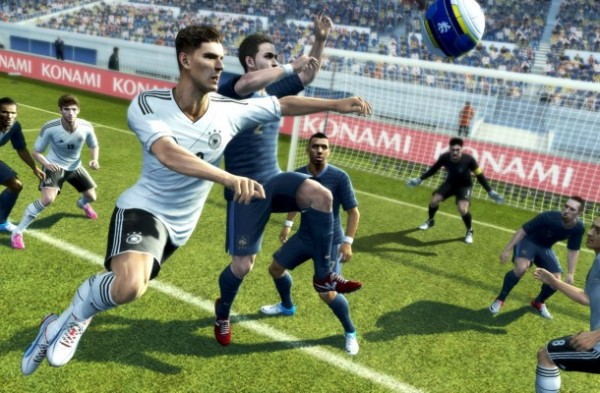 The overall experience lacks polish compared to its counterpart, starting with the control scheme. It's not that the control scheme is complicated, because on the surface it's not: run with the sticks, pass and shoot with the buttons, dash and choose players with the bumpers. Nothing soccer fans haven't seen before. In practice, however, controlling a game becomes far more complicated, and I'm not sure why it needs to do so. Every time I tried an automatic shot, my attempt would sail over the goal without fail. The opposing goalie wouldn't even have to move to block my shot; as soon as it left my player's foot, it was in the stands. I tried not moving the stick at all, I tried holding the left trigger and shooting… nothing would bring that ball down. What do I have to work toward if I can't score a single stinkin' goal?
The A.I. doesn't help much, either. Konami just can't seem to figure out the realism of soccer in its A.I., which often turns a normal match into an unbalanced war of attrition. Weird angles toward the ball, stealing the ball without even doing anything, impossibly angled shots defying the laws of physics and finding the back of the net… all of these things that would never been seen in real soccer happened to me in ONE MATCH. If I'm playing on the second easiest difficulty as a prominent Irish club team, there is no way I should be losing 3-0 to an African national team with fictional players.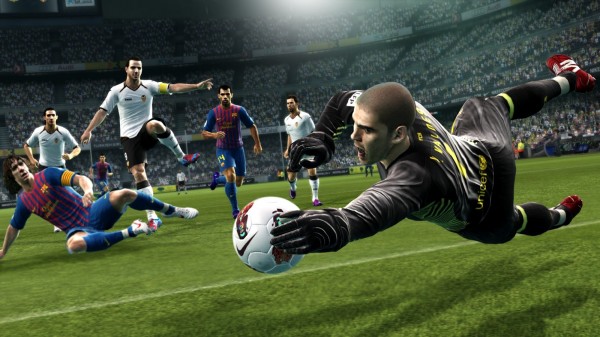 Those fictional players are another big detriment: while PES 13 does have almost double the number of national soccer teams, the club team roster is far smaller than FIFA's, and some leagues don't even have every team from that league. I'm sorry, but the game should not be able to tout the English Premier League as an inclusion when only Manchester United is selectable.
Having more national teams than club teams shouldn't be a bad thing, as more casual soccer fans will gravitate toward playing as their country's team than to a club team from the Italian Serie A league. However, creating a fictional roster of players (as 48 of the 81 national teams have) removes any of that familiarity immediately. Why would I want to play as an American team with no Landon Donovan, Clint Dempsey, or Tim Howard? Even more damning than that is the inclusion of a few "classic" European teams, which I assume are supposed to be powerhouse teams from years past. I'm perfectly fine with classic teams, but now when their rosters are fictional, too! The classic Brazilian national team loses its luster if there's no player on the field with number 10 on his back or "Pele" as his name. It doesn't work, even if the fictional characters are made to represent them.
Konami knew it had its work cut out for it with PES 13. They knew that FIFA was becoming a powerhouse, touting more recognizable faces and improving gameplay from year to year. They had a chance to take back the soccer reins from EA and re-establish themselves as the pinnacle of video game soccer. For whatever reason, Konami seems to have taken the "just give 50%" approach, and it's a damn shame. Overbearing A.I., weird controls, and a lack of realism make PES 13 the lesser of two soccer games.