Capcom had a surprise up its sleeve for attendees of the publisher's behind-closed-doors Resident Evil 6 presentation at E3 this year, leaving the GamerNode editors plenty impressed and ready to see more of the game.
While gamers were already well aware that Resident Evil 6 will feature multiple overlapping storylines to play through over the course of the game, E3 revealed that the RE6 will also include an online cooperative multiplayer component, in which players' games will actually overlap with other players who find themselves at the same point in the story. On a chapter-by-chapter basis, anyone playing the game while connected to the Internet can opt-in for cooperative play and be linked up with other RE6 players when the story dictates that characters cross paths.
In the E3 demonstration, Capcom showed a meeting between the teams of Leon and Helena, and Jake and Sherry. After some heated discussion, a massive, virus-infected monster showed up, leading to a four-player cooperative boss battle – something never before seen in a Resident Evil game.
The "Ustanak" creature seemed exceptionally deadly, eating up submachine gun rounds like candy, grabbing and lifting players into the air, and at one point strapping Jake into a cage-like apparatus on its back. Capcom representatives also noted that this particularly nasty beast will show up throughout the game, chasing certain characters like the Nemesis hunted Jill Valentine in Resident Evil 3. It really doesn't sound like a good time for them.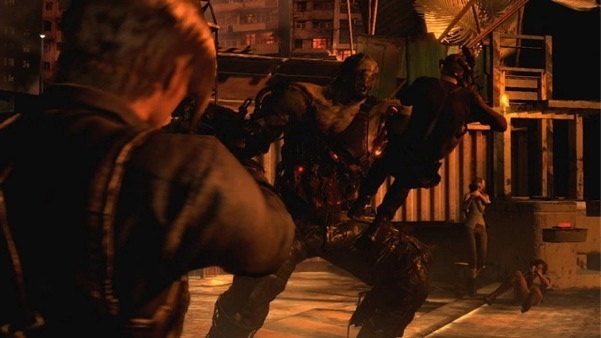 During this multi-phase battle, RE6's character mobility was shown off; players moved while shooting, dodged, rolled, and used a rapid inventory system that appeared as a drop-down menu overlay to select weapons and items. There were also a few slightly more complex cooperative tactics employed here. To finish the Ustanak, Leon had to act as a decoy while Jake navigated around the area to release the explosive gas tanks that would then be used to fell the biological monstrosity.
Perhaps the most interesting element of play Capcom showed off was the way that characters, and therefore players, would split up in the midst of co-op play. After a lull in the demo fight, Leon and Sherry, who were not paired originally, hopped a huge gate together, only to be interrupted by the Ustanak's return. We then watched Jake and Helena continue the fight on one side of the fence, while Leon and Sherry played a separate portion of the game, finally seeking out a bus to drive, partially ablaze, back through the gate and into the battle once again. Players separated like this will not know what's going on with their comrades until they reunite. One can imagine the tension of such situations, especially in a case where the boss character is strong enough to fight four players, let alone just two.
The demo ended with the temporary defeat of the Ustanak, and impressions planted firmly in our eager gamer brains. We're looking forward to playing together and apart when Resident Evil 6 arrives on October 2 for Xbox 360 and PlayStation 3, with a PC version to follow at a later date.