Welcome to the Saturday Smash-Up, a weekly recap of all of the new and exciting information from the week in Smash Pics of the Day. What am I talking about? Well, here's a primer:  Since the announcement of Super Smash Brothers for Wii U and Super Smash Brothers for 3DS back at E3 2013, project director Masahiro Sakurai has been posting daily updates on SmashBros.com, just as he did with Super Smash Brothers Brawl during its development cycle. The update is just a screenshot from one of the two versions, but Sakurai provides a small description of the screen on the Super Smash Bros Director's Room Miiverse page. Sometimes we see the announcement of a character (most recently with Diddy Kong on February 21st), other times it's just a goofy pose. Check back here every week for a week's worth of Smash updates, Sakurai musings, and Fanelli reaction.
So March officially came and went without a single character reveal, and I wondered what the heck was going on. After this week, there's a light shining at the end of this slog of minor news, but I'll get to that in a minute. First, let's look at some pictures.
Monday, March 31st, 2014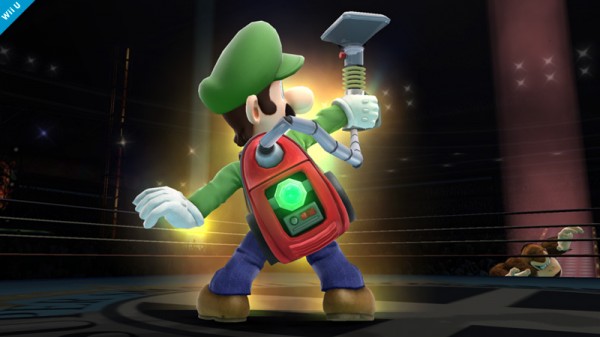 Sakurai: "Pic of the day. Luigi might be thinking, "Who would've thought I'd get to show off the Poltergust in Super Smash Bros.?!" Wondering if it's going to suck something in? Yeah, it probably will."
Editor's Thoughts:  I am 100% okay with this change. This should have been Luigi's Final Smash in Brawl, but they went with that weirdo Negative Zone thing that the trophy explained as a "reflection of the dark side he embraced in his brother's shadow." When? When did he become part of the dark side? Anyhow, hooray Poltergust!
Tuesday, April 1st, 2014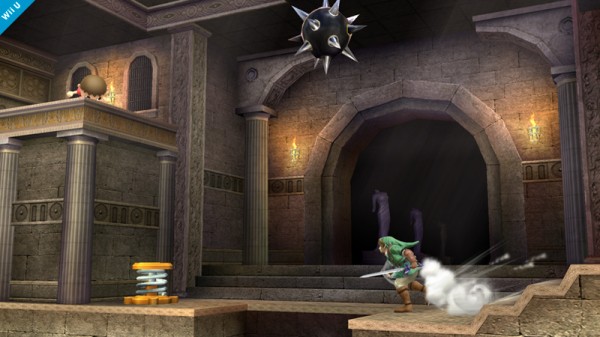 Sakurai: "Pic of the day. This may look like a side-scrolling action game, but it's actually one of the stages."
Editor's Thoughts:  That spiked ball and spring…could this signal the return of Stage Builder? It'd be awfully cool if we could build our own stages again…and it'd be even better if we could share those stages not only online, but between the two consoles. Maybe THAT's the connectivity Nintendo has eluded to…
Wednesday, April 2nd, 2014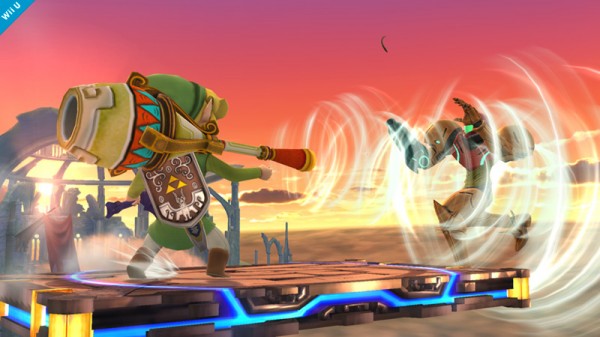 Sakurai: "Pic of the day. The Gust Bellows can blow opponents away with its powerful wind blasts. When someone drops it, though, the gusts run wild! Out of the new items, more than a few will be from The Legend of Zelda series. We'll take the most interesting and straightforward ones and reformulate them to match the Smash Bros. world."
Editor's Thoughts:  This makes a lot of sense, as Zelda has a TON of items to choose from. The Gust Bellows is an interesting choice, though I wonder what the whole "gusts run wild when dropped" thing means.
Thursday, April 3rd, 2014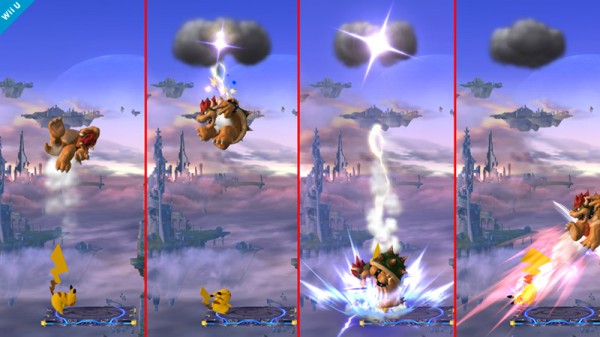 Sakurai: "Pic of the day. Pikachu's Thunder now starts off with a thundercloud that deals a Meteor Smash! From left to right, you can see this combo starting with Pikachu throwing the opponent upward, Meteor Smashing with the lightning strike, and then directly attacking. Foes can dodge, of course, so the attack won't hit consistently, but when it does, it sure feels good!"
Editor's Thoughts:  So one of Pikachu's best attacks now becomes even more potent by forcing anyone who hits the cloud straight into the main explosion? Air dodging just became a bit more difficult for this move, though now I guess just shielding will make the most sense. The tough get tougher!
Friday, April 4th, 2014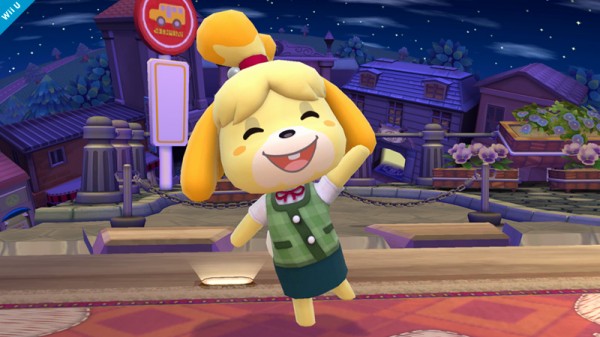 Sakurai: "Pic of the day. Hello fighters! I'll assist you with fresh-picked fruit from my town!♪"
Sakurai Miiverse Announcement: "Congratulations on your appearance Isabelle! I also have another important announcement. On 4/8, at 3 PM PST (8/4 11 PM UK time), we'll be airing a Super Smash Bros. Direct!! There will be all kinds of info about the new Smash Bros. games on this simultaneous global stream that will be delivered "directly" to you, so don't miss it! You'll be able to watch the stream from the official site (www.smashbros.com)."
Editor's Thoughts:  Oh hey Isabelle what's going on nice to see you HOLY CRAP SMASH BROS DIRECT ON TUESDAY. I didn't even get a chance to process that Isabelle, the dog that sat behind the desk in Animal Crossing New Leaf, will now be helping out in Smash via fruit production. First off, finally a healing Assist Trophy, but second, HOLY CRAP SMASH BROS DIRECT ON TUESDAY.
There you have it: this coming Tuesday, 6PM Eastern, 3PM Pacific, a Nintendo Direct devoted only to Super Smash Brothers. Sound the alarm, Smashers; our time has come!
That's all for now, but before we go, it's time for the Song of the Week! At the end of every week, I'm going to post a Nintendo tune that I'd like to see make it into either version of Smash (especially if My Music returns, WHICH IT SHOULD). I'll take requests for songs on the GamerNode Twitter page or on my personal one (remember the #SaturdaySmashUp hashtag!), so let's jam to some sweet music every Saturday.
So now that our minds turns to Tuesday, I can't help but think that a lot of veterans are coming this Tuesday. Wario, Yoshi, and most importantly, Ness. As such, gimme this awesome Earthbound track.
Until next week, Smashers!