Welcome to the Saturday Smash-Up, a weekly recap of all of the new and exciting information from the week in Smash Pics of the Day. What am I talking about? Well, here's a primer:  Since the announcement of Super Smash Brothers for Wii U and Super Smash Brothers for 3DS back at E3 2013, project director Masahiro Sakurai has been posting daily updates on SmashBros.com, just as he did with Super Smash Brothers Brawl during its development cycle. The update is just a screenshot from one of the two versions, but Sakurai provides a small description of the screen on the Super Smash Bros Director's Room Miiverse page. Sometimes we see the announcement of a character (most recently with the Smash Bros Direct Five on April 8th), other times it's just a goofy pose. Check back here every week for a week's worth of Smash updates, Sakurai musings, and Fanelli reaction.
I am so sorry for missing last week! I've been so busy, then I got crazy sick, and everything is just nuts. I owe you two weeks worth of Smash screens, and two weeks worth of screens is what you shall have! Let's go!
Monday, April 21st, 2014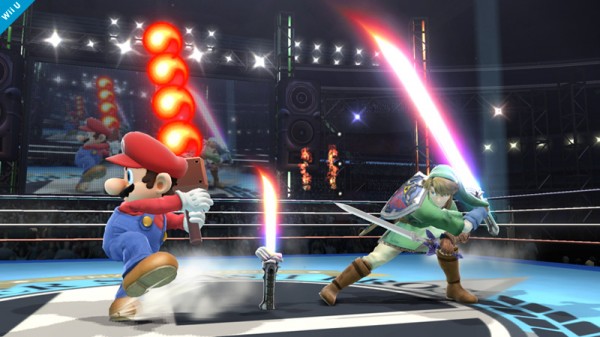 Sakurai: "Pic of the day. For the first time in the Smash series, Beam Swords will feature graduated colors. The attack item on the left is the Fire Bar. This is a peculiar weapon that becomes shorter after each swing."
Editor's Thoughts: DAT BEAM SWORD. Man that sword looks awesome. Also, the inclusion of the bane-of-my-existence Fire Bar as an item is genius.
Tuesday, April 22nd, 2014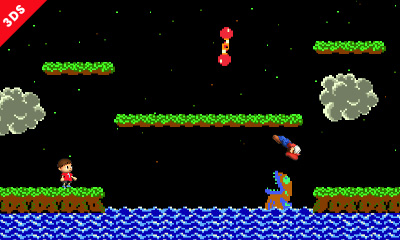 Sakurai: "Pic of the day. Here's a special stage exclusive to the 3DS version, Balloon Fight!! The stage loops on the left and right sides so you can walk off one side and appear on the other."
Editor's Thoughts: The classic stages, like this and the old Mushroom Kingdom stages, have always been favorites of mine. Being able to bring that classic look back to the forefront is awesome, and I love that this particular stage retains the "go off of one side, come back on the other" property of Balloon Fight. Looks like the only KOs are up or down!
Wednesday, April 23rd, 2014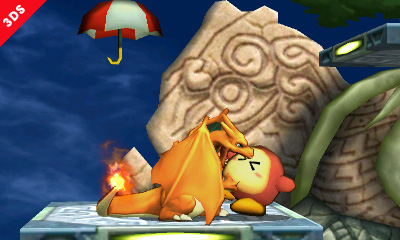 Sakurai: "Pic of the day. Don't eat him. You can't eat him."
Editor's Thoughts: Charizard is HAAAANGRY. I love when Sakurai tries to makes us laugh; it usually works on me.
Thursday, April 24th, 2014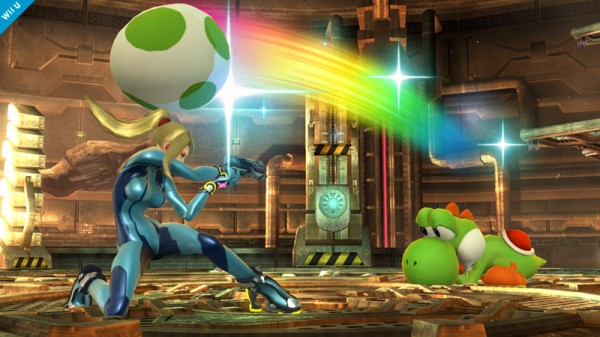 Sakurai: "Pic of the day. Yoshi's Egg Throw now leaves a rainbow trail, and we've improved the pose Samus strikes when she fires the Paralyzer. Every staff member is working hard as we brush up whatever we can."
Editor's Thoughts: Part of the fun when this game finally launches will be seeing all of the minute changes the team made to stuff like this. I've been in matches where those eggs get lost in the shuffle, so that rainbow will help be stay away from those things.
Friday, April 25th, 2014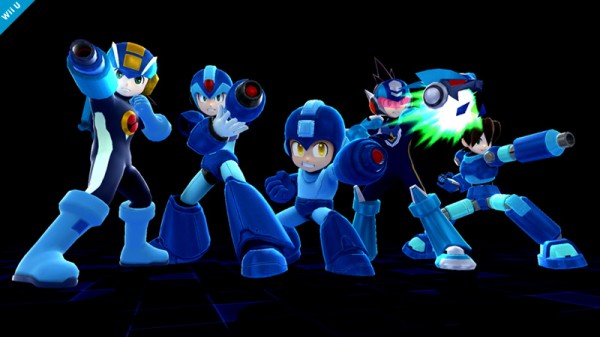 Sakurai: "Pic of the day. MegaMan.EXE! X! Mega Man! Mega Man Star Force! Mega Man Volnutt! The Mega Man legends, united."
Editor's Thoughts: HGGGGGGGGGGGGGGNNNNNNNNNNNN. Look everyone, my new desktop background. I'm sure I'm not alone.
Monday, April 28th, 2014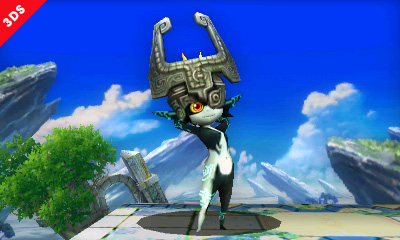 Sakurai: "Pic of the day. The Assist Trophy, Midna! This is the 3DS version. She's going to grab and throw things all over the place. Her uncontrollable, whimsical nature remains intact."
Editor's Thoughts: I thought for sure Sakurai would throw us a curveball and make Midna and Wolf Link a playable character. Alas, Midna is an Assist Trophy, and one it sounds like I won't want to stand close to if I don't summon her. That throw is potent.
Tuesday, April 29th, 2014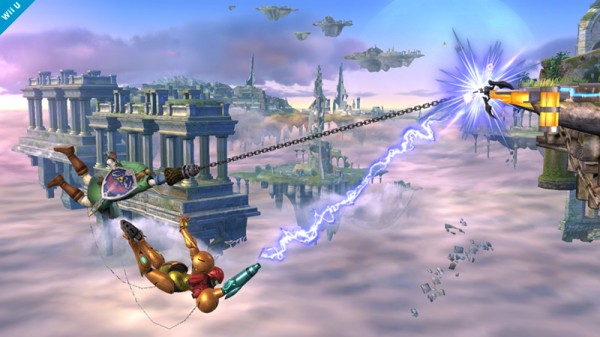 Sakurai: "Pic of the day. Tether recovery? Yes, you can! And from even longer range than before. Multiple fighters can latch on–who actually grabs hold is determined by the same rules as the standard ledge grab."
Editor's Thoughts: So not only has ledge-grabbing been changed, those changes apply to long-range tethering? Oh man…that could make for some INTENSE recovery battles on the sides of stages. I look forward to it.
Wednesday, April 30th, 2014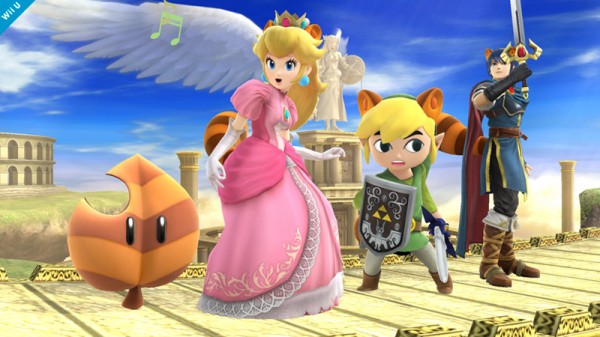 Sakurai: "Pic of the day. With the Super Leaf, any fighter can have ears and a tail. You can also float in the air by pressing the jump button. We're still figuring out whether you'll be able to attack with the tail…"
Editor's Thoughts: I like the floating idea, but if there's no attacking with the tail, what the heck is the point? Just gaining tanooki ears and the tail? Jeeeeeez.
Thursday, May 1st, 2014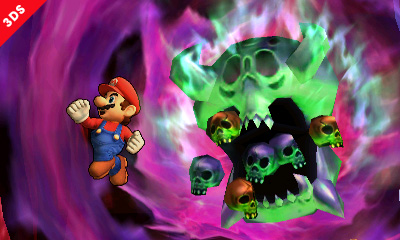 Sakurai: "Pic of the day. The menacing foe, Orne! It inflicts devastating damage–it's even more powerful than the Ultimate Chimera in the last game. RUNNN!!"
Editor's Thoughts: I assume this is a stage hazard for the Reset Bomb Factory stage, considering it's a Kid Icarus enemy. Why does it have to be MORE powerful than the Chimera, though? That was one-hitting everything it touched, so what happens here, we turn to dust?
Friday, May 2nd, 2014
Sakurai Pic 1: "Pic of the day. We didn't introduce ALL of the Assist Trophies in the Smash Bros. Direct. Here's Dillon from Dillon's Rolling Western!! He may rival Sonic in the art of rolling."
Sakurai Pic 2: "Pic of the day. This is his trophy. He may be an animal, and his buckles are definitely on the adorable side, but there's no denying he looks cool!! His Assist Trophy can even do things like a quick charge."
Editor's Thoughts: At first I thought Dillon would just roll around the stage, but the trophy description makes me wonder if he'll attack as soon as the trophy is broken. That would be an interesting twist. Either way, really cool to see a character from such a low-key game getting some face time. Could that mean good things for games like PushMo?
There's a lot to take in, it's two weeks' worth of screens after all, so look and enjoy, and I'll be back to normal next week!
That's all for now, but before we go, it's time for the Song of the Week! At the end of every week, I'm going to post a Nintendo tune that I'd like to see make it into either version of Smash (especially if My Music returns, WHICH WE NOW KNOW IT IS WHOOPEEEEE). I'll take requests for songs on the GamerNode Twitter page or on my personal one (remember the #SaturdaySmashUp hashtag!), so let's jam to some sweet music every Saturday.
I skipped a week, so you get two songs too! First I'm thinking of that Elite Four stage we saw in Greninja's reveal trailer, and while the X and Y battle theme played in the trailer, there's one other battle theme that needs playing too:
For the second track, I'm going back to Rainbow Road and hoping that if they mine music from every Mario Kart, this classic track from the SNES gets some play time:
Until next week, Smashers!