Welcome to the Saturday Smash-Up, a weekly recap of all of the new and exciting information from the week in Smash Pics of the Day. What am I talking about? Well, here's a primer:  Since the announcement of Super Smash Brothers for Wii U and Super Smash Brothers for 3DS back at E3 2013, project director Masahiro Sakurai has been posting daily updates on SmashBros.com, just as he did with Super Smash Brothers Brawl during its development cycle. The update is just a screenshot from one of the two versions, but Sakurai provides a small description of the screen on the Super Smash Bros Director's Room Miiverse page. Sometimes we see the announcement of a character (most recently with the Smash Bros Direct Five on April 8th), other times it's just a goofy pose. Check back here every week for a week's worth of Smash updates, Sakurai musings, and Fanelli reaction.
Nintendo took a beating in the press this week, thanks to their disappointing sales figures for the years 2013 and their weird stance on the Tomodachi Life scandal. However, the Smash Brothers site is still going strong, giving us plenty of new updates to discuss. What happened this week? Let's get to the updates!
Monday, May 5th, 2014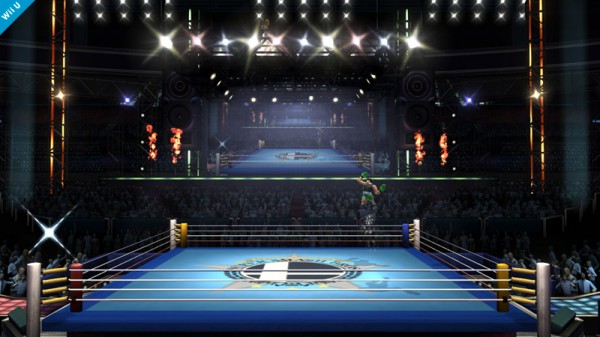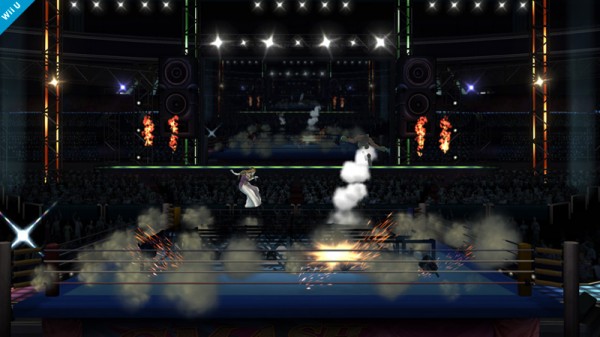 Sakurai Pic 1: "Pic of the day. You can get up on the lights of this special ring. It's a perfect secret hiding place."
Sakurai Pic 2: "And you can attack the lights and have them fall to the ground! That makes things dark. The lights are way up high, but even Little Mac can get up there by jumping off the ropes."
Editor's Thoughts: That's a neat little idea, being able to bring the rafters down on our opponents. That'll make fighting in the Boxing Ring that much more interesting, won't it? Just when you think you've won, someone drops the lights on you and you're toast.
Tuesday, May 6th, 2014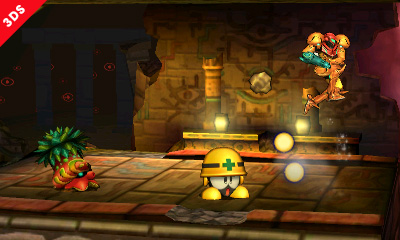 Sakurai: "Pic of the day. Members of the Enemies That Love to Hide Association, here are Octorok and Met. Calmly grab them while they're ducking."
Editor's Thoughts: Sakurai, you leave the ETLHA out of this, they're an honest group. Anyhow, I love seeing more and more enemies included in that Smash Run mode. It's nice to see the little guy get acknowledged for a change.
Wednesday, May 7th, 2014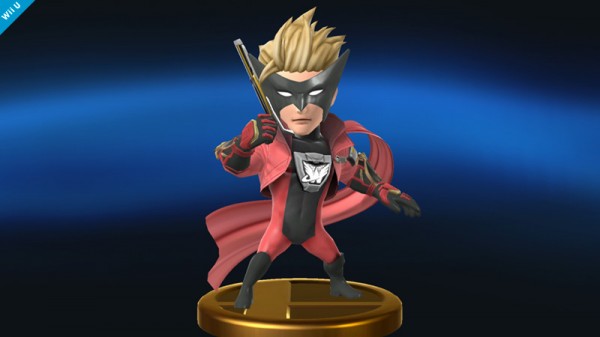 Sakurai: "Pic of the day. Fight! The Wonderful 100!! We also made trophies of some of the other Wonderful Ones."
Editor's Thoughts: Hm…it's cool that he's a trophy, but I really thought he'd have a chance as playable character, or at least an Assist Trophy. Oh well, sorry Wonder Red, maybe next time.
Thursday, May 8th, 2014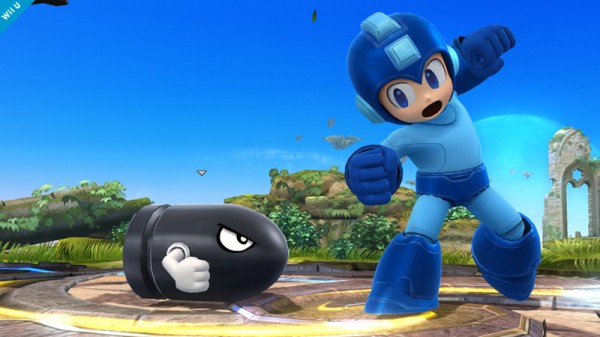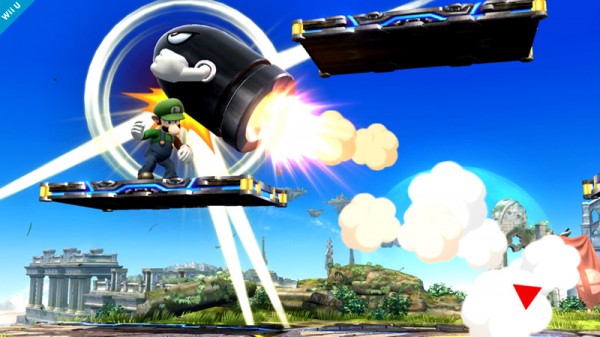 Sakurai Pic 1: "Pic of the day. Bullet Bill here is an item. Can you guess what happens when you use it?"
Sakurai Pic 2: "Answer: You turn into Bullet Bill and go full speed ahead!"
Editor's Thoughts: Here I thought that we could just throw the Bullet Bill and he'd explode on impact, but it seems Sakurai has gone the Mario Kart route instead. Touching the Bullet Bill turns us INTO the Bullet Bill! Pretty cool concept.
Friday, May 9th, 2014
Sakurai Pic 1: "Pic of the day. Uniting three parts will complete the legendary Air Ride machine…the Dragoon! It's back! But we didn't just leave it the way it was, and added some nice touches to the design of the targeting screen. It is, of course, in stereoscopic 3D on the 3DS."
Sakurai Pic 2: "Just the target screen felt lacking so here's a pic of the Dragoon itself. I wanna get on it. I wanna get on and ride it."
Editor's Thoughts: I also want to ride the Dragoon. That thing looks awesome, and that new targeting system will look fantastic in 3D. We still have to gather the three parts though…hm.
Some interesting little tidbits this week, particularly with the Bullet Bill item and the Boxing Ring lights able to be torn down Celebrity Deathmatch style. I'm beginning to wonder if we'll see any new veterans between now and E3, or if Sakurai and company will just save the surprises for the big show. Either way, I'm cool with whatever they want to do.
That's all for now, but before we go, it's time for the Song of the Week! At the end of every week, I'm going to post a Nintendo tune that I'd like to see make it into either version of Smash (especially if My Music returns, WHICH WE NOW KNOW IT IS WHOOPEEEEE). I'll take requests for songs on the GamerNode Twitter page or on my personal one (remember the #SaturdaySmashUp hashtag!), so let's jam to some sweet music every Saturday.
For this week's tune, I'm focusing on the Boxing Ring since it was featured on Monday. We all assume that the soundtrack from the NES Punch-Out game will be considered, and the Wii version has a good shot too, but I hope Super Punch-Out from the SNES isn't forgotten. This is a great track to fight to!
Until next week, Smashers!