Welcome to the Saturday Smash-Up, a weekly recap of all of the new and exciting information from the week in Smash Pics of the Day. What am I talking about? Well, here's a primer:  Since the announcement of Super Smash Brothers for Wii U and Super Smash Brothers for 3DS back at E3 2013, project director Masahiro Sakurai has been posting daily updates on SmashBros.com, just as he did with Super Smash Brothers Brawl during its development cycle. The update is just a screenshot from one of the two versions, but Sakurai provides a small description of the screen on the Super Smash Bros Director's Room Miiverse page. Sometimes we see the announcement of a character (most recently with the Smash Bros Direct Five on April 8th), other times it's just a goofy pose. Check back here every week for a week's worth of Smash updates, Sakurai musings, and Fanelli reaction.
You know, sometimes I think I have this game all figured out and WHAM an update hits and I'm thrown through a loop. I thought we'd be without new faces until E3, then Nintendo decides "let's give them a veteran, and better yet, let's make it someone NO ONE THOUGHT WAS COMING BACK." There's still plenty of curveballs to swing at, it seems. Let's look back at the week that was.
Monday, May 19th, 2014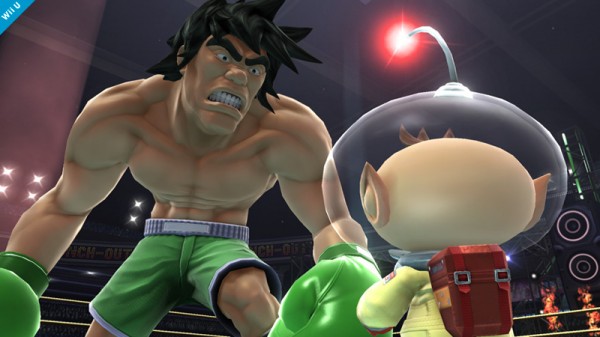 Sakurai: "Pic of the day. Under certain circumstances, the creatures on this planet appear to grow larger and go berserk. The Pikmin and I must be cautious lest we lose our heads to these beasts."
Editor's Thoughts:  That Sakurai is such a character. Seeing this pic makes me even more excited to play as Little Mac though…that Giga Mac is probably a BEAST.
Tuesday, May 20th, 2014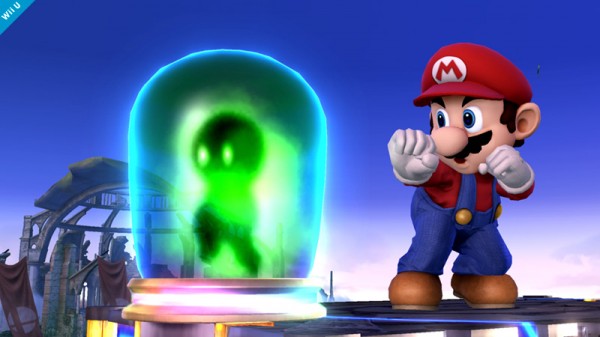 Sakurai: "Pic of the day. This is the capsule for the Assist Trophies. It may emit rainbow-colored lights, or even blink. Even if there's something like a Color TV-Game 15 inside…."
Editor's Thoughts:  This looks WAY cooler than the Brawl Assist Trophy. I don't even think there's a comparison. I like the rainbow-colored lights idea a LOT, plus this will make the item stand out more in a fracas.
Wednesday, May 21st, 2014
Sakurai Pic 1: "Pic of the day. The leg and arm positions of some characters will automatically be mirrored when facing left or right. Mario, for example, will have his chest shown in the foreground regardless of whether he's facing right or left. This was quite a tedious task, but thanks to it we can show the best features of each character even better."
Sakurai Pic 2: "Here's another example: in the previous games, you saw the back of Kirby's head when facing left. Now Kirby looks great from any angle."
Editor's Thoughts:  How much time went into doing this? I can't imagine the long hours spent mirroring each character. It sounds easy, but it can't be that simple, can it? Easy or not, this goes to show that no stone is being left unturned when it comes to minor details. This is a good sign.
Thursday, May 22nd, 2014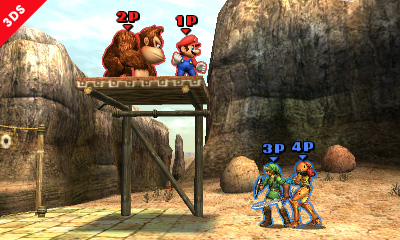 Sakurai: "Pic of the day. In previous games in the series, if you chose the red team in a team battle, your Mario would have been red. But now you can choose any color you want! The color outlining the characters will show their team affiliation."
Editor's Thoughts:  I rather like this idea. If you're going to have the outline anyway, why not play with that too? I wonder what teams will look like on the Wii U version, as there are no outlines there…
Friday, May 23rd, 2014
Sakurai Pic 1: "Pic of the day. Ike, the swordsman of magnificent strength, joins the battle!! Strike your foes down with his powerful smash attacks."
Sakurai Pic 2: "For this game, Ike's design is based on the hero that appears in Fire Emblem: Radiant Dawn. His sword deals heavy damage in Smash Bros., so this design suits him very well! Rest assured, he can use Aether as well."
Editor's Thoughts: Ike. IKE. I didn't think I'd see you again, buddy. You've…you've put on some muscle, haven't you? I guess carrying that giant sword around did you good. Great to have you back sir. I look forward to being moderately OK with you like I was in Brawl.
With that craziness now absorbed, it's time to once again press on to E3! News of a 90-minute developer roundtable with Sakurai about Smash at E3 means there's going to be more info than we can handle, just like the Smash Bros Direct, and I can't wait to hear it all. This is but the calm before the storm people, be ready!!
That's all for now, but before we go, it's time for the Song of the Week! At the end of every week, I'm going to post a Nintendo tune that I'd like to see make it into either version of Smash (especially if My Music returns, WHICH WE NOW KNOW IT IS WHOOPEEEEE). I'll take requests for songs on the GamerNode Twitter page or on my personal one (remember the #SaturdaySmashUp hashtag!), so let's jam to some sweet music every Saturday.
I sorta HAVE to pick a Fire Emblem song, don't I? Brawl did a wonderful job of introducing me to tracks I hadn't heard before, but this time I'm totally familiar with the newest Fire Emblem game Awakening (hence why I thought Chrom was coming instead of Ike). So this week, here's an awesome track from that great DS strategy game.
Until next week, Smashers!