Welcome to the Saturday Smash-Up, a weekly recap of all of the new and exciting information from the week in Smash Pics of the Day. What am I talking about? Well, here's a primer:  Since the announcement of Super Smash Brothers for Wii U and Super Smash Brothers for 3DS back at E3 2013, project director Masahiro Sakurai has been posting daily updates on SmashBros.com, just as he did with Super Smash Brothers Brawl during its development cycle. The update is just a screenshot from one of the two versions, but Sakurai provides a small description of the screen on the Super Smash Bros Director's Room Miiverse page. Sometimes we see the announcement of a character (most recently with Ike on May 23rd), other times it's just a goofy pose. Check back here every week for a week's worth of Smash updates, Sakurai musings, and Fanelli reaction.
Do you feel it? The biggest gaming show of the year is upon us! E3 2014 starts on Monday, and all of the big news that comes with it will soon be flowing through our eyes into our brains. What will that bring for Smash Bros? Characters, stages, items, no one knows, but one thing is certain: GAMEPLAY VIDEOS. From the Invitational Tournament to the deluge of inevitable "from the show floor" demos, there'll be a lot of Smash to take in. Before that though, let's look at what came through this week.
Monday, June 2nd, 2014
Sakurai Pic 1: "Pic of the day. Here's a new Wii U stage, Mushroom Kingdom U! It brings to life the worlds of New Super Mario Bros. U."
Sakurai Pic 2: "When Kamek casts a spell, the stage transforms drastically! That said, this is not what you would call a moving stage… …By the way, this stage will be playable in the demo version of the game for E3, a game expo that starts on June 10 in Los Angeles."
Editor's Thoughts: Two cool things about this: the fact that it transforms at will, and the fact that we'll get to see it in action come next week. I wonder what other transformations await us?
Tuesday, June 3rd, 2014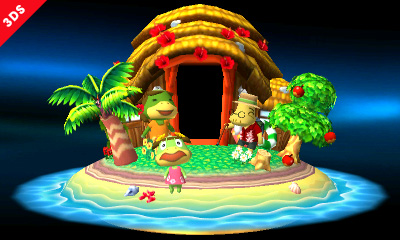 Sakurai: "Pic of the day. Some stages have been shrunk down and made into trophies, like this one of Tortimer Island for the 3DS version. I wish I could have a figurine like this in real life."
Editor's Thoughts: I'm with Sakurai here; I'd love to have that figurine in real life…perhaps as an NFC figurine…you damn tease you.
Wednesday, June 4th, 2014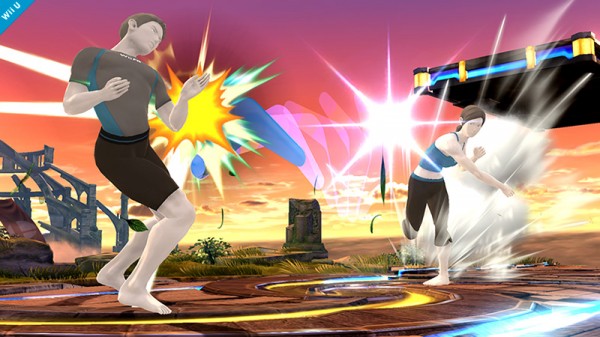 Sakurai: "Pic of the day. Here's a new item that we've thrown in–the boomerang. As you'd guess, it'll fly back into your hands after you throw it, and if you keep catching it, its attack power grows with each throw! However, opponents can nab the boomerang out of the air, so it might be an easier item to use in Smash Run."
Editor's Thoughts: I can't tell if that's the Boomerang from the Mario universe or from a Zelda game. I assume it's Mario because of the all-blue, no adornment look, but it could be the boomerang from Link to the Past!
Thursday, June 5th, 2014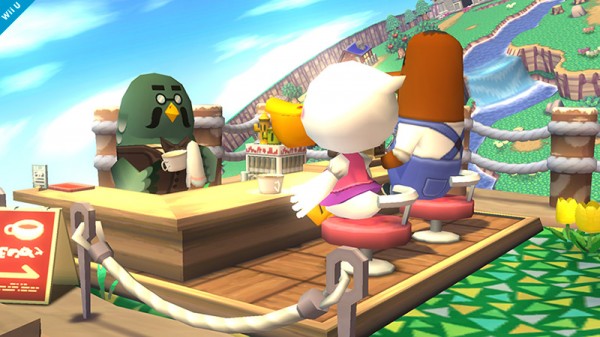 Sakurai: "Pic of the day. Brewster brings The Roost back to Smash Bros. Nothing beats watching a battle of famous fighters with a freshly brewed cup of coffee."
Editor's Thoughts: Replace "freshly brewed cup of coffee" with "freshly brewed craft beer" and you're speaking my language. Yes, I get that Nintendo can't mention beer. Yes, I still imagine it's beer anyhow.
Friday, June 6th, 2014
Sakurai Pic 1: "Pic of the day. Here's Ike, Marth and…a brand-new stage!"
Sakurai Pic 2: "We've added a familiar setting from the Fire Emblem series, the Coliseum. In the original game, this place is filled with both hope and despair. There is machinery in the ground that activates variable platforms."
Editor's Thoughts: I am in love with this stage. I love the way it looks, I love that it starts flat and can be built up into something else, I love it all. Good work with this Sakurai, I hope we get to see this in action next week too.
That choice of the word "figurine" is particularly interesting considering all of the NFC figure rumors running about Smash recently. It wouldn't be a stretch to consider if you think about how successful the Skylanders and Disney Infinity games are. We'll see next week!
That's all for now, but before we go, it's time for the Song of the Week! At the end of every week, I'm going to post a Nintendo tune that I'd like to see make it into either version of Smash (especially if My Music returns, WHICH WE NOW KNOW IT IS WHOOPEEEEE). I'll take requests for songs on the GamerNode Twitter page or on my personal one (remember the #SaturdaySmashUp hashtag!), so let's jam to some sweet music every Saturday.
That Mario U stage could use a song other than the normal New Super Mario theme song…something like this!
Until next week, Smashers! Enjoy E3!