Welcome to the Saturday Smash-Up, a weekly recap of all of the new and exciting information from the week in Smash Pics of the Day. What am I talking about? Well, here's a primer:  Since the announcement of Super Smash Brothers for Wii U and Super Smash Brothers for 3DS back at E3 2013, project director Masahiro Sakurai has been posting daily updates on SmashBros.com, just as he did with Super Smash Brothers Brawl during its development cycle. The update is just a screenshot from one of the two versions, but Sakurai provides a small description of the screen on the Super Smash Bros Director's Room Miiverse page. Sometimes we see the announcement of a character (most recently with Little Mac on February 13), other times it's just a goofy pose. Check back here every week for a week's worth of Smash updates, Sakurai musings, and Fanelli reaction.
After the megaton week for Smash news last week, I had expected a slow week this week. Until Friday it was, with more info on Little Mac and a new health item. Friday brought the second new face in as many Fridays. Who was it? Read and find out!
Monday, February 17th, 2014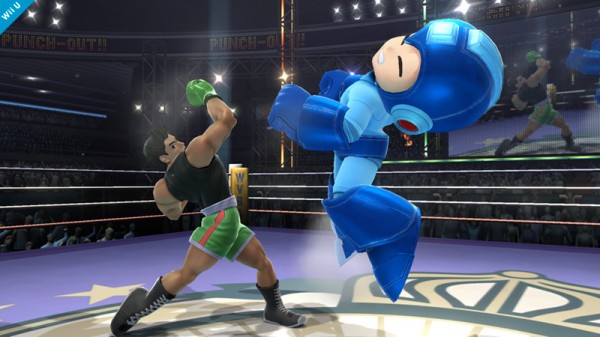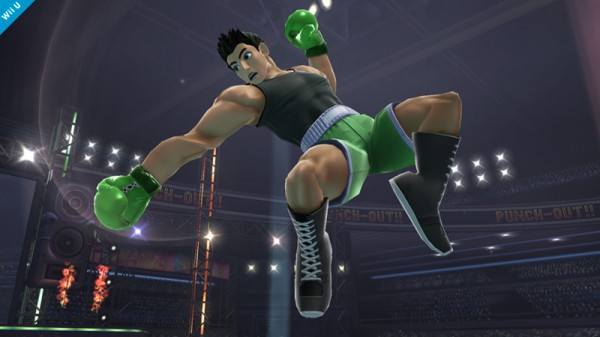 Sakurai Pic 1: "Pic of the day. Little Mac can deliver some solid punches while fighting on the ground."
Sakurai Pic 2: "…However, he's not the strongest fighter while airborne. Try keeping his feet on the ground and avoid being blasted into the air when you use him in battles."
Editor's Thoughts: Nothing here I didn't expect from the reveal trailer. Mac is a boxer, after all, so it would make sense that his forte would be staying on the ground and moving around. He's going to be one quick sucker in the right hands; I'd say he has very high competitive potential.
Tuesday, February 18th, 2014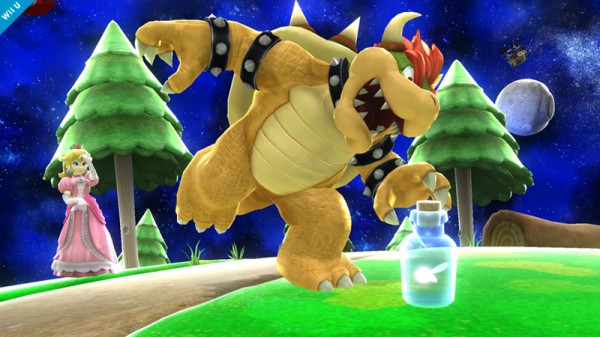 Sakurai: "Pic of the day. Hey look, a bottle!! This is a special item that can even heal fighters who have accumulated over 100% damage."
Editor's Thoughts: Apparently the Zelda franchise has cornered the market on highly effective health items. First the heart container, now the fairy in the bottle. The Maxim Tomato has healed 50%, the Heart Container 100%, so this Fairy…150%? 200%? I wonder if Sakurai anticipates fighters withstanding more damage than usual before a knock-out, hence making this item necessary…
Wednesday, February 19th, 2014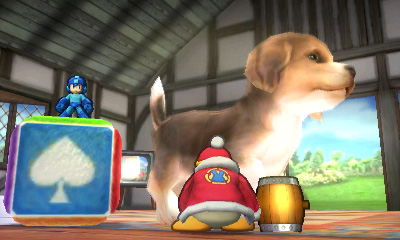 Sakurai: "Pic of the day. This dog is huge… Wait, no, the playable characters are small. The Smash Bros. series doesn't always stay true to scale."
Editor's Thoughts: Sakurai wrote that Miiverse post with his best troll face on. He's been hearing about "true to scale" forever, most recently from the arguments over Metroid's Ridley becoming a playable character. This proves what most already knew: Sakurai has full reign to make anyone or anything he wants fit into Smash in any capacity he wishes. Nothing is off the table.
Thursday, February 20th, 2014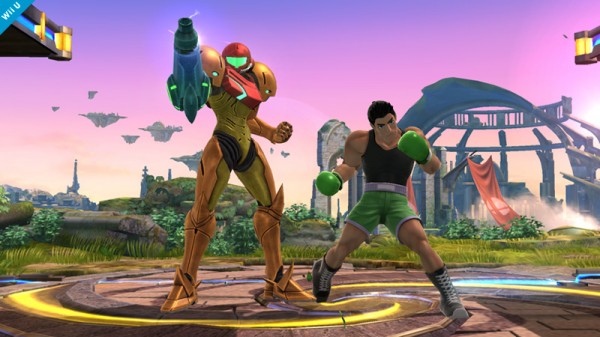 Sakurai: "Pic of the day. As shown in Little Mac's debut video, here is the height difference between Samus and Little Mac. He's used those mighty green gloves to punch out many challengers bigger than himself."
Editor's Thoughts: He certainly is "little," isn't he? I anticipate Mac being Smash's version of Wolverine from the Marvel fighters: fast, spry, and powerful. Though Wolverine never had a one-hit K.O. potential…
Friday, February 21st, 2014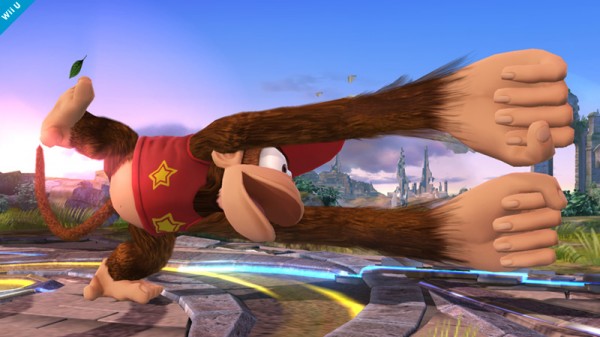 Sakurai: "Pic of the day. Donkey Kong Country: Tropical Freeze is out now in Europe and North America! …And to celebrate, Diddy Kong joins the battle!! We've increased Diddy Kong's flexibility this time. This picture shows how far his punches stretch during his strong side attack."
Editor's Thoughts: Heeeeeeeeeeeeeeeeeeeeere's Diddy! I had predicted this little chimp would have been the Thursday, February 13th daily update, as that was Tropical Freeze's release date in Japan, but then Nintendo had to go and plan a Nintendo Direct and reveal Little Mac and throw all of that out the window, so for the first time a character is revealed based on the American release date! Diddy was no surprise; there aren't many other viable candidates from the Donkey Kong franchise, so cutting Diddy would have been quite a mistake.
Another week, another new face! At this rate, the roster will be 60 characters strong by the time the game launches, and we all know that's not going to happen. We may not see another new face until Yoshi's New Island launches in March, because that green dinosaur is WAY overdue. Unless, of course, there's a new Nintendo Direct between now and then…
That's all for now, but before we go, it's time for the Song of the Week! At the end of every week, I'm going to post a Nintendo tune that I'd like to see make it into either version of Smash (especially if My Music returns, WHICH IT SHOULD). I'll take requests for songs on the GamerNode Twitter page or on my personal one (remember the #SaturdaySmashUp hashtag!), so let's jam to some sweet music every Saturday.
In honor of Diddy Kong, this week's track comes from my favorite Donkey Kong game ever made: the original Donkey Kong Country. Ask anyone what the most memorable stages from that game were, and I'd predict eight out of ten would say two words: Mine Cart. As such, here's the music from the Mine Cart Madness stages!
Until next week, Smashers!