Audio clip: Adobe Flash Player (version 9 or above) is required to play this audio clip. Download the latest version here. You also need to have JavaScript enabled in your browser.

Silent Hill games are built on mystery, confusion, and disorientation. Emotional discomfort sets in as Silent Hill targets the protagonist as its victim, and physical ineptitude heightens the felt oppression and malice in an ever-changing nightmare world. Silent Hill is the unknown and resulting fear. It's feeling lost and weak, at the mercy of horror, as a character who denies truth, questions reality, and must alter perceptions to open up to new understanding. Silent Hill is a veil of secrets, a history of torment, the occult. It's suspense, puzzles, words, numbers. It's revelation. It's psychosis.
Vatra Games understands Silent Hill. Downpour, for the first time since Team Silent left the franchise in 2004, gets it right.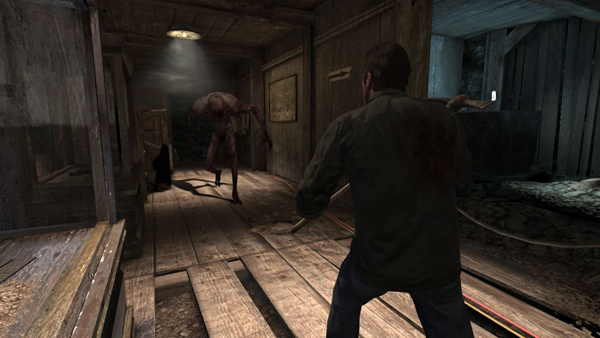 It's important that protagonist Murphy is only a man. He is a murderer and an escaped convict, but unlike most "heroes," he has no super powers and no special training. He suffers just like anyone else. The loss of his son has left him broken, and his greatest conflicts lie within the confines of his own psyche. He faces Silent Hill as an infant of understanding, and must learn from his rehabilitation there.
Silent Hill is presented in Downpour not only as a place of horror, but as a place of recovery. It's no coincidence that popular and recurring locales throughout the most significant entries in the franchise have been structures that connote sensations of specific stages of human development – schools, hospitals, homes, etc. In Downpour, Murphy explores a place where children grow, learn, and heal: St. Maria's Monastery orphanage and clinic. He also re-treads his own past in a center for criminal rehabilitation: Overlook Penitentiary. Rather than being a tourist in each of these locations – a feeling that has detracted from recent Silent Hill games – Murphy experiences internal growth that is thematically tied to his surroundings. Even in the Silent Hill Centennial Building, which falls outside of the classification of the other areas, Murphy discovers hints of the truth about his past, slowly peeling back layers, diving into the depths of his psychosis in order to remedy his afflictions.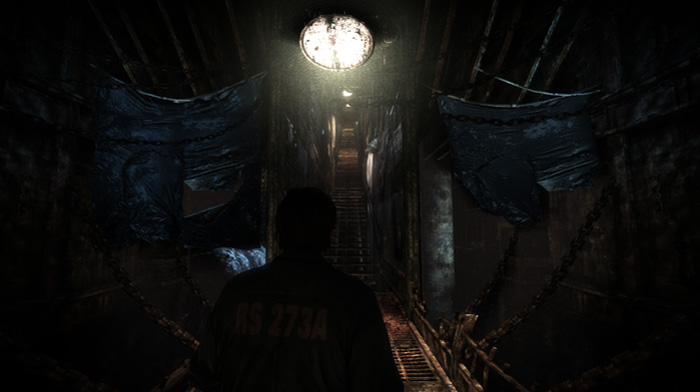 Startling visual effects and disorienting level construction weigh environmental instability on players – a state of insecurity that compliments the opacity of threats posed by hostile entities lurking in the fog of Silent Hill. Downpour frequently inspires flight over confrontation; the fragile, unreliable weaponry and Murphy's ineffective self-defense suggest that escape is sometimes the wisest option. It's all part of the process. The monsters Murphy encounters are projections of himself; he can fight some of his demons, but he's compelled to run from others.
Clarity is absent from Silent Hill. Along with its architectural abstractions, Downpour shrouds players in persistent darkness. Murphy first finds a flashlight, brightening the path ahead, then a black light, revealing secrets hidden beneath its surface. With each discovery comes new information: perhaps the solution to a puzzle impeding progress; perhaps the elucidation of a previously dim understanding of himself. Whatever the details of each exposure, discovery during this tenebrous expedition is ongoing and compelling.
The tactile qualities of Silent Hill games have never been impressive. Silent Hill: Downpour doesn't change this. Murphy neither scales buildings to leap across rooftops, nor dispatches waves of assailants with the precision of a sniper. He does, however, explore an unsettling nightmare world in the context of his psyche and his history – a sojourn of anima and enigma. This is almost everything it means to be a true Silent Hill game.