Welcome to the Saturday Smash-Up, a weekly recap of all of the new and exciting information from the week in Smash Pics of the Day. What am I talking about? Well, here's a primer: 
Since the announcement of Super Smash Brothers for Wii U and Super Smash Brothers for 3DS back at E3 2013, project director Masahiro Sakurai has been posting daily updates on SmashBros.com, just as he did with Super Smash Brothers Brawl during its development cycle. The update is just a screenshot from one of the two versions, but Sakurai provides a small description of the screen on the Super Smash Bros Director's Room Miiverse page. Sometimes we see the announcement of a character (most recently with King Dedede on January 10), other times it's just a goofy pose. Check back here every week for a week's worth of Smash updates, Sakurai musings, and Fanelli reaction.
Now I'm not sure what the hell has taken me so long to get on this, being GamerNode's resident Smash dude, but here we are! This is Week 1 of many in the Saturday Smash-Up, and I'm looking forward to talking Smash every single week. This week didn't have anything groundbreaking (except a giant hammer), though we did get a peek at the latest member of the Assist Trophy family. Here's the week in Smash!
Monday, January 13, 2014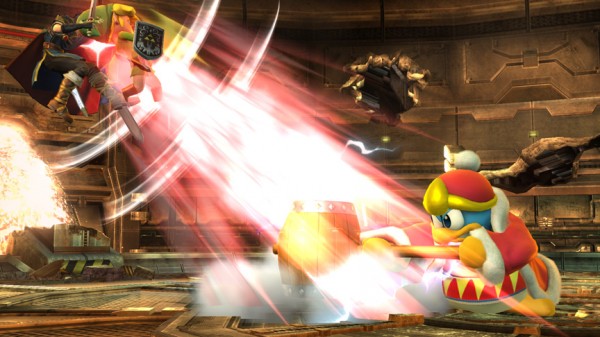 Sakurai: "Pic of the day. King Dedede uses one of the strongest side smash attacks in all of Smash Bros. Use this attack wisely in battles."
Editor's thoughts: As a Dedede user in Brawl, I can absolutely attest to the devastating nature of that hammer blow. My problem is the length of time it takes to actually strike. What good is power if the delivery is slow? I hope Sakurai sped this move up a bit.
Tuesday, January 14, 2014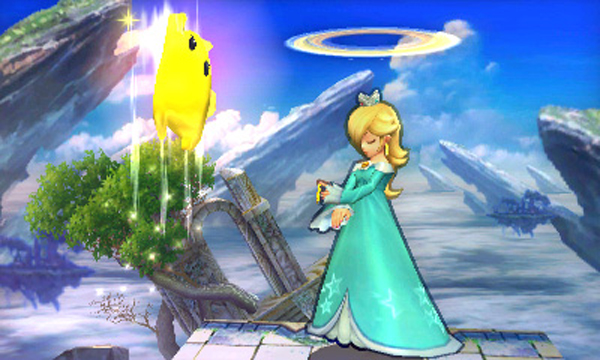 Sakurai: "Pic of the day. Rosalina and Luma's attacks are very different. This screencap shows Rosalina producing a Saturnian ring for her strong up attack."
Editor's thoughts: I never thought Rosalina would enter the fray, but now that she's here I'm more and more intrigued by her possibilities. Her intro trailer shows some pretty insane combos with her and her Luma, some fo them while they were facing different directions! This pic shows how one command produces two different moves, highlighting what could turn out to be the most complex character Smash has ever seen.
Wednesday, January 15, 2014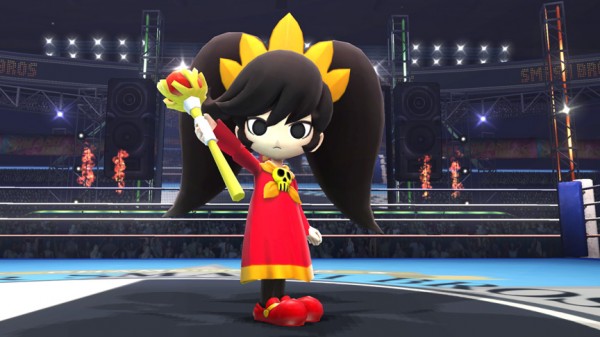 Sakurai: "Pic of the day. Who's the girl next door, living in the haunted mansion? You'd better learn my name because it's…"
Editor's thoughts: ASHLEY! The tiny witch from the WarioWare universe makes an appearance as what I'd assume to be an Assist Trophy, as she was introduced much the same way as Skull Kid was last month. What makes this even more interesting is the absence of Wario himself. Could we be getting the malodorous meathead soon? I'd like to think so.
Thursday, January 16, 2014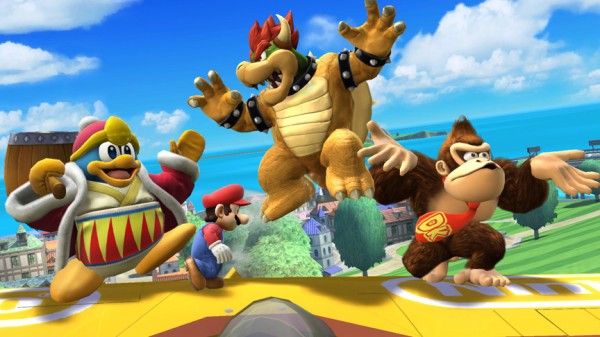 Sakurai: "Pic of the day. A group shot of the big guys. How much bigger are they compared to Mario?"
Editor's thoughts: Ah, a picture after my own heart. The three Smash-keteers shown here are the heavyweights, the hardest to knock off the stage due to their sheer mass. They do tower over Mario, don't they? Especially Bowser with his new, much more badass upright stance. There's literally nothing new in this shot, but man is it cool.
Friday, January 17, 2014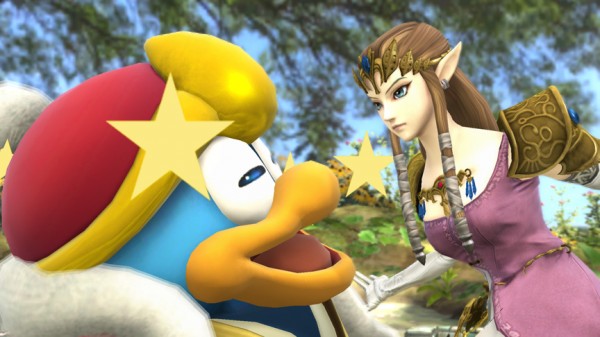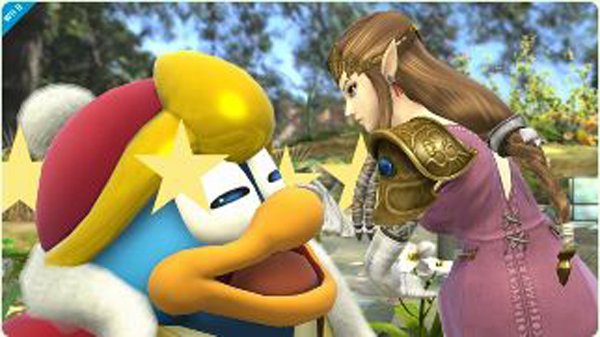 Sakurai PIC 1: "Pic of the day. Don't miss your chance, Zelda–King Dedede is knocked out."
Sakurai PIC 2: "Zelda: "Ah–soft and squishy.""
Editor's thoughts: This is a classic example of a goofy Sakurai post, perfect for a Friday morning with the weekend in sight. However, this may be the first time Sakurai dropped a second pic for the Miiverse crowd, which is a nice plus.
Those are the Pics of the Week! Next week bring five more days of screenshot Smashing, though I'd wager that a Nintendo Direct is coming next week. Why? Well, the January Nintendo Direct that announced Shin Megami Tensei X Fire Emblem, The Wind Waker HD, and other games aired on January 23rd (which so happens to be this writer's date of birth), and that date is this coming Thursday (AHEM). Don't be surprised if Wednesday brings another Nintendo Direct episode, and if it does look for some new Smash info there.
Oh! At the end of every week, I'm going to post a Nintendo tune that I'd like to see make it into either version of Smash (especially if My Music returns, WHICH IT SHOULD). I'll take requests for songs on the GamerNode Twitter page or on my personal one, so let's jam to some sweet music every Saturday. Use a hashtag! #SaturdaySmashUp
With Mario Kart 7's Rainbow Road revealed as a 3DS stage on Christmas Eve, the first Song of the Week is pretty obvious.
Until next week, Smashers!