Video games have come a long way in the past few decades. Once upon a time characters were no more than blocky abstractions. People were cubes, and bullets were smaller cubes. Later they became a handful of cubes – crude approximations limited by technology, but this was seldom ever a problem. As long as the ludic systems behind the cubes were sound, players were willing to fill in the gaps with their imaginations. Fast forward to today and virtual people are made up of cubes beyond count. We've reached the point where visual fidelity has become as much a part of videogames as the various control systems and mechanics that define them.
The same applies to the aural plane. The music cobbled together from a handful of available notes has evolved into orchestral magnificence and everything in between. I muse on these things because it makes me wonder: what is a video game? Is a video game merely to be judged by the veracity of its ludic systems, or is a video game a culmination of much more? The answer must surely be the latter, or so Sound Shapes would have me believe.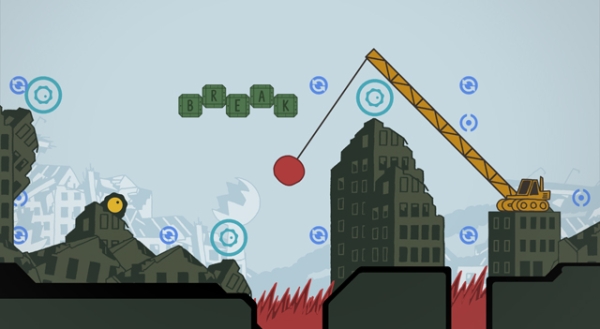 What is a video game if not the unification of visual art, music, the written word, acting, and the added spice of play? Sound Shapes might be a thoroughly unremarkable platformer in the strictest sense of the word, but it's also so much more than that.
It's telling that Sound Shapes doesn't have levels so much as it has songs. These are tactile challenges secondary to being pieces of music that the player gradually uncovers. The avatar used to explore these songs is an amorphous blob who can stick to certain surfaces. With the squeeze of a trigger, the blob will move faster, but can no longer stick to surfaces, and these are essentially all the game mechanics available. The goal is simply to move through each song, evading obstacles and collecting the floating notes that will unearth new sounds in the track.  A handful of simple mechanics frame the game, but Sound Shapes isn't about mechanics, it's about the sounds, the music, and the physical shapes in which those musical pieces are embodied.
The act of play itself is fairly mundane, but the audio-visual treat elevates the experience thanks to the match of artistic and musical contributions. Jim Guthrie brings his experimental indie jams together with the retro abstract stylings of Superbrothers (reprising their collaboration on Superbrother's Sword and Sworcery EP) for Corporeal. DeadMau5 and PixelJam get together for some techno-dance inside a ZX Spectrum game, while Beck and Pyramid Attack (possibly the best collaboration) turn out a handful of downright bizarre levels which simply have to be played to be believed.
And that's the underlying point of Sound Shapes. This kind of audio-visual collaboration wouldn't be possible anywhere else, in any other medium. Sure, once you get down to it, jumping around and sticking to stuff isn't all that engaging, but when a piece of music is erupting into physical form around me, I really can't find it in me to care. I begin to fully inhabit the song, learning to anticipate upcoming obstacles as they coincide with a snare thwack or lyrical lick.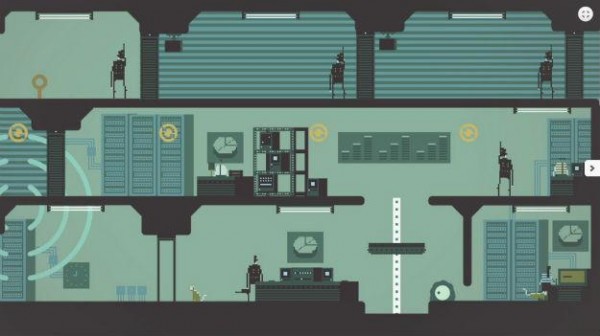 Sound Shapes is a short game, stretching across five "albums," each between three and five songs in length. A streamlined level editor allows me to place objects and sounds from the campaign songs, and share them effortlessly with the community. A way to extend the life of the game is appreciated, but I can't help but feel that no musical Frankenstein the community creates will be as whole an experience as what is already on offer. Like replaying a favorite song on your MP3 player, I've gone back to Sound Shapes plenty of times, just to have these experiences again.
So, what makes a good videogame? After playing Sound Shapes I'm less inclined to say that engaging mechanics need be part of the equation. Sound Shapes doesn't sell itself as a game in the traditional way we often talk about games. Sound Shapes is a series of songs woven into physical levels for you to explore. I get to hang around inside the song, hitting more notes, coaxing the piece into evolution, and marvelling as it takes physical form around me. Play isn't an act of joy in itself, but a means to a musical end.