I haven't stopped believing in Kinect's concerted gaming potential. A game like Flower, not "casual" or "hardcore" by any stretch, but captivating, clever, and moving, has the listless corners that would fit right into Kinect's approximation controls. From Software did not make that game, or any other type of Kinect game that respects the limitations of the hardware. Rather, it made a cumbersome mech shooter, pairing some essential functions of the game with Kinect's camera controls while leaving the aiming and shooting to the precision of two joysticks. Xbox controller integration can't make up for the unplayability of this hardcore Kinect game.
Steel Battalion: Heavy Armor does have the marketing pitch to sell. "First hybrid controller-and-Kinect game! Intense first-person mech combat! Homefront's story!" And as the successor to Capcom's 2002, 100+ button peripheral-aided mech fighter, Steel Battalion, the combination of tactile and motion controls seems like a natural progression. It likely will be for the developers who learn that the Kinect, like the Wii Remote and the PlayStation Move, shouldn't be burdened by the weight of floating a shooter mechanically.
From Software, despite all the nuance and restraint of Dark Souls' design, stubbornly crams a boatload of Heavy Armor's primary mechanics into the cramped, sweaty virtual cabin of a VT, a walking tank with five exploitable vulnerabilities and one viewport the size of a jail cell window. On the right is a console that controls the interior exhaust fan, headlights, and (what else?) self-destruct. Also on the right is the crank to engage the engine (after it's been started by wanton AI), a handle to pull down a blast shield, and Parker, one of the more racially offensive stereotyped caricatures in recent gaming memory. On the left is a lever for engaging engine overdrive, a console with grainy (see: useless) exterior maps, a co-pilot, and the engine boy. Directly in front is the viewport (the default view is of the cockpit) and two switches to switch ballistic rounds, and directly up is the periscope, one of the few saving graces of Heavy Armor.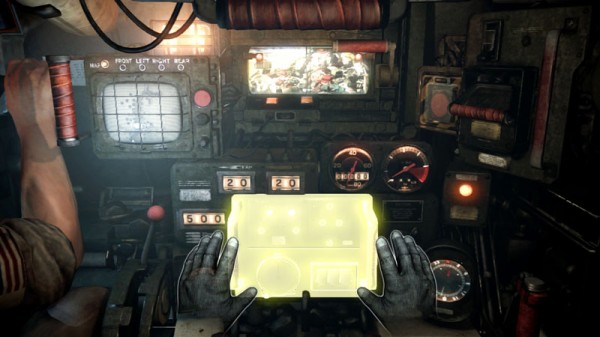 That's everything players are commanded to manipulate without the aid of a controller. My attempt at mastering the VT was, it seems, like many others'. Grabbing the wrong lever, turning when trying to use the periscope, pushing back from the viewport unexpectedly, and getting waylaid by enemy fire into a hopeless loop of fan activation, blast shield deployment, and death. After playing for around eight hours, I began to learn how to find the mechanical cheese at the end of the maze, so to speak, but even then the maze continued to change depending on the amount of sunlight in my living room. Sunlight, by the way, is now a huge problem for video games.
I don't think I can adequately express the kind of frustration a game as broken as Heavy Armor engenders, so I'll summarize the experience as an joyless mess of flailing limbs and curse words. To be extra sure of this, I had three other gamers (folks who have already mastered the complex inputs of multiple generations of game controllers) try to play a single level in Heavy Armor. They all quit after five minutes.
Let's assume, then, that somehow I were able to dance this game's left-hooved dance, and each level past the second didn't take me at least four tries. In the midst of combat, Heavy Armor briefly introduces new Kinect mechanics mid-level and trusts me to figure out the appropriate movement response.
"Oh no, that Uncle (apparently derogatory term for invading Korean forces) just threw a Steil grenade into the cabin of the VT! Lunge at it, I guess! Awesome, I just grabbed the grenade, opened a base hatch, threw the grenade out, and closed the hatch in time. Thank god I lunged!"
"Well crap, another Uncle is stabbing my co-pilot, and now I'm holding a gun for the first time. Pull the trigger, I guess! Wait, Kinect can't detect that movement and my co-pilot is dead. I should have lunged!"
And for all of this, my reward is one frustrating level after another. Shoot the enemy VT, get flanked, restart the level, shoot both enemy VTs, run out of time, try it all again. To call this exercise joyless doesn't do it justice.
What Heavy Armor nails, intentionally or not, is the claustrophobia and cumbersome vehicle management of driving a complicated war machine. Having never driven a tank before, I can't speak to its similarity with that task, but it instills a sense of constant stress and in-game fear, a good portion of which is the product of unnavigable combat systems, highlighted by a vague exterior threat. The argument of whether or not that is a valuable virtual experience is another debate entirely (see Tom McShea's battle with EA).
My response was one of unpleasantness and motion sickness, which sums up Heavy Armor well. Yeah, that's really it.