Everything has come down to this. All of the choices Lee has made reach fruition here in The Walking Dead: Episode 5 – No Time Left. I have to make amends, settle old scores, make drastic decisions, and go through an emotional gauntlet in this incredible conclusion to Telltale Games' masterful adaptation of Robert Kirkman's comic book series. If there was ever any doubt in Episodes 1-4 about how this title would all shape up in the end, it's gone now. The Walking Dead is, without question, a 2012 Game of the Year favorite.
SPOILER WARNING: While spoilers are avoided for Episode 5, this review is based on the player having played all previous episodes. As a result, there are spoilers from those episodes below. You've been warned.
To say that No Time Left is an emotional roller coaster may very well be one of the biggest understatements of the year. With a herd of walkers covering all of Savannah, Lee bitten, the group standing on the edge of a knife, and Clementine in desperate need of salvation, tensions have never been higher throughout season one of The Walking Dead. It rides on such a high that even the "down time" scenes are rife with emotion, and because any given moment might be Lee's last, there is a stirring desperation to make things right by everyone who has survived along with Lee and Clem.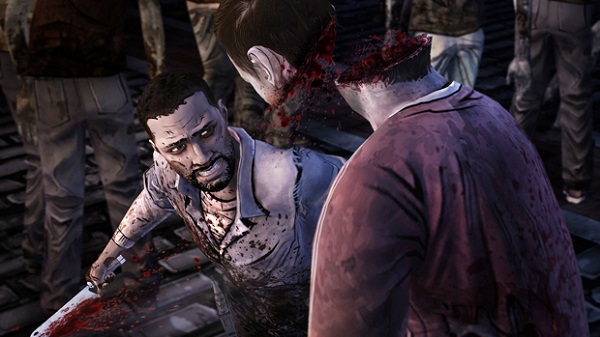 This sense of finality made me connect far better than in previous episodes with the entire remaining cast, including Christa and Omid, who I really couldn't have  cared less for in Episodes 3 and 4. My favorite arc between characters, however – aside from Lee and Clementine, obviously – was that of Ben and Kenny, which only occurred because I thankfully saved Ben in Crawford. Their animosity reaches a high point in No Time Left, and when all is said and done, the duo have a remarkably fitting payoff that makes you appreciate all the time you've spent getting to know them. It just goes to show that whether in video game, comic, or TV form, The Walking Dead property is always about the characters first, zombies second.
It's these connections that put me in just about every kind of emotional state possible in just a short, two-hour span. No Time Left has the power to make me angry, worried, hopeful, happy, depressed, sad, distraught, disturbed, remorseful, and everything in between. There are campaigns in many games that last 30 hours and don't give me half of these feelings. For Telltale to do it in such short a time is an absolute triumph.
But these emotional connections could never be so strong if it weren't for rock-solid voice acting, and, as always, this game has it in spades. The performances by everyone in the cast, including that of the mysterious voice in the radio – who is finally revealed – are spot on. It would be no surprise to me if gamers start recognizing the names Dave Fennoy, Melissa Hutchison, Gavin Hammon, and others in future titles. The soundtrack is equally impressive, with wonderful string-led pieces that pull on the ones connected to my heart.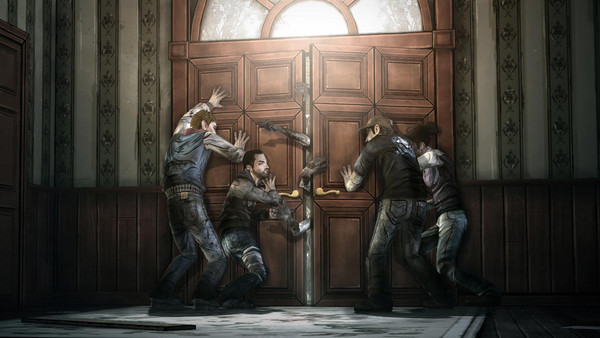 Of course the game's mechanics have remained the same, but there's more action thrown in to show the desperation of Lee and the gang's situation. It's actually a welcome increase considering that there are still plenty of dialogue sequences present to remind players of what's truly important in this game. The quick-time events are also more plentiful and intelligently designed to enhance high-tension segments.
Ruminating on The Walking Dead: Episode 5 – No Time Left, I cannot come up with anything I find to be a misstep. I literally have no complaints about any aspect of this finale. Some may argue there weren't enough divergent paths or endings, but in a narrative so direct and so invested in its characters, the choices were far more about how they interacted with one another over different outcomes. With that and everything else featured in Episode 5, Telltale knocked it out of the park. I can't wait to see what the studio has in store with Season 2; perhaps they'll even have some GotY trophies to motivate them.