My nameless rider rarely speaks in Trials Evolution. Being thrown from one ramp to another, he occasionally lets loose a wild cry of unbridled joy, or whoops enthusiastically as he catches some sweet hang-time. That's all there is: pure, uninhibited delight as I traverse each track and navigate each obstacle. Trials Evolution can at times seem impossible. It's about wringing out increasingly adroit manoeuvres from atop a dirt bike – about being a little better.

Trials HD is a success because it feels precise. The inputs are simple, but they allow me an astonishing amount of nuanced control; an amount of dexterity that's needed to pass the daunting obstacles. They're never insurmountable, though. Finding out how to pass them, and bending those accurate controls to my will, is the pleasure in Trials HD. Locked inside a warehouse with an endless array of hurdles, it's just me, the guttural roar of the engine, and my skill. Trials Evolution is the same as its predecessor, but it throws open the doors to the dusty warehouse and takes me roaring up sky-ramps and riding through Gothic castles.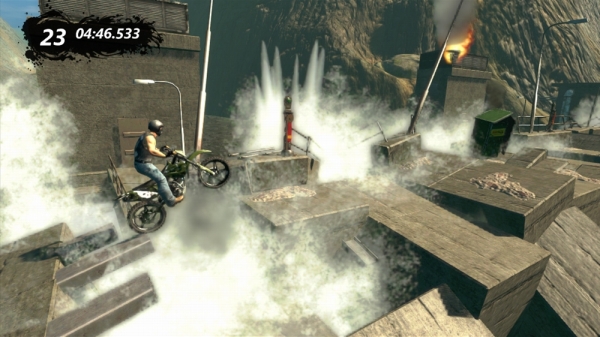 I'm thrown off a vertical ramp and straight up into the air, and the camera pulls back slightly as I catch some sweet hang time, bike and rider vivid against a blood-orange sunset. Trials Evolution does a fantastic job of supplying varied backdrops against which to race. There are levels here that draw inspiration from as far as Christopher Nolan's Inception, or fellow Xbox LIVE Arcade hit Limbo. A nuclear plant begins a meltdown as my bike screeches off the starting line. Ancient stone colossi paw at me from watery depths. Artillery shells send up plumes of sand all around me as I wrestle my bike up a beach. None of this strictly alters the core of the game, of course, but the visual variety is there to make each challenge a little more memorable.
Trials Evolution offers a handful of advanced tutorials and steadily unlocks new courses, plotting a smooth difficulty curve, but eventually the game will become almost unbearably difficult. Almost. The game is harsh, but fair, and forces me to take responsibility for my mistakes. Sometimes it can seem outright impossible, but a complete absence of in-course loading times continually coaxes "just one more go." I send myself back to one of the liberally spaced checkpoints, throw my bike at the problem, and keep going until I tear across the finish line in a blaze of euphoria (and usually explosions.)
Trials Evolution is about trying to do better than last time. It's about squeezing out a little more grip and momentum each time. A marker on each race indicates my past progression and I become motivated to beat it. Beating my own times, and slowly mastering each track to earn the gold or platinum medal, can become an obsession. Yet the sheer, visceral joy of the controls makes doing this enjoyable. When bettering myself becomes boring, persistent leaderboards invite me to beat  friends as well, and their ghosts spur me onward to further revisits.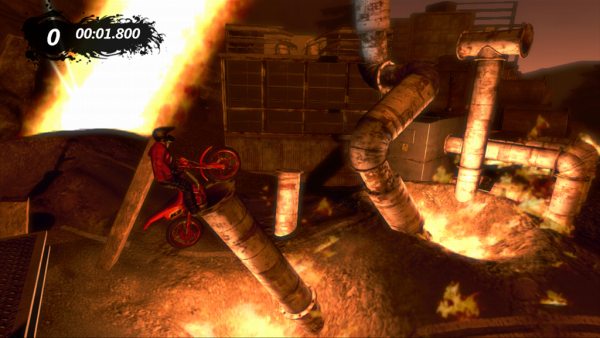 Skill games preserve the compulsion of the main races, but harness the physics engine in amusing new ways. How long can I ride without shifting my weight? How far can my rag-dolled rider trapeze for? There's a metal ball on a curve of track mounted on my back; let's see how far I get before losing it. The skill game selection seems lacking compared to Evolution's predecessor, but a powerful editor and online community-track hub expands the game indefinitely. The amount of user-created content is already staggering and imaginative. Local and online multiplayer rounds Trials Evolution out into an impressive package. The trials are never-ending, but neither are the thrills.
It is utterly flawless control and the ability to keep on trying that makes Trials Evolution compelling. The inventive environments, multiplayer, skill games, and editing functions are merely a pleasant garnish. When boxes are stacked high and my only means of surmounting them are a slither of ramp and all the hustle I can muster, Trials Evolution invites me to keep trying until I succeed. Adrenaline, sweat, and sheer conviction power me over the games obstacles, even when the trials become devious, to a powerful sense of satisfaction. Trials Evolution asks a lot, but it makes giving it easy.