Mixed martial arts is an interesting sport. While it may look like two men beating each other senseless, it is a competition with more complexities than non-fighters realize. A fighters must not only rely on his own skill set, but must be able to visualize his opponent's plan of attack and adapt accordingly. Boxing, wrestling, jiujitsu, sambo, and more are all styles that a given fighter may run into in a match. There's a ton to plan for, and after the match there's a ton to learn from.
THQ is a perfect parallel to a standard MMA fighter. The company had released two previous UFC games, each showcasing MMA unlike any other game had before. Both games exposed the sport to new groups of people, most of whom (including me) were converted from "MMA ignoramus" to "MMA fan."
However, the games seem to take on the complexities of mixed martial arts. Some features were over-complicated to the point of mass frustration. The career mode, for one, coupled mind-numbing stat maintenance with an excess of downtime between fights. Performing a successful submission took more effort than climbing Mount Everest. What initially seemed like a cakewalk quickly evolved into something that gamers just didn't want to suffer through.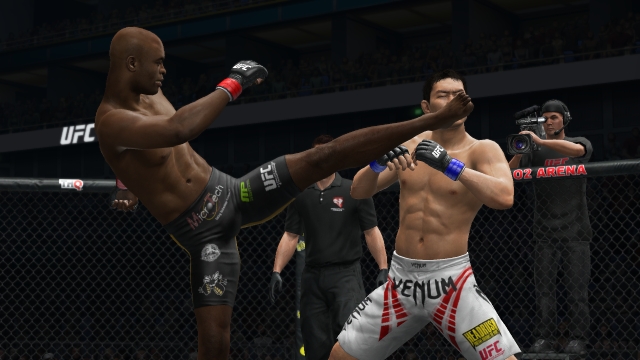 Like a good fighter, THQ had to prove it could learn from previous mistakes and adapt its franchise to be a winner. With UFC Undisputed 3, the company accomplished that goal in highlight-reel knockout fashion.
UFC 3 still presents the same exciting, true-to-TV fighting action. Players press the same buttons to strike and take down opponents in the same fashion as before, but new tweaks have been added to the formula and other aspects of the game have been improved beyond measure.
Fighters will now utilize the cage during a fight, most notably using it to return to a standing position from the ground. When a foe is "rocked" and falls to the ground, the player can continue to pummel his opponent as they fall. My favorite new addition, though, is the ability to sway and avoid attacks while in a position of ground defense. Not having to take all of those guaranteed strikes will surely help my win/loss record.
The improved combat makes for a much easier time spent in the Octagon. Simple transitions allow players who couldn't figure out the ground game in UFC 2010 to finally have a chance when laying on their backs. Submissions now have a wheel-like minigame where the attacker must keep his bar over the defender's bar for a brief period of time.
Both of these aspects are far easier now, and I'm living proof; I've achieved more wins by submission in my brief time with UFC 3 than I ever had in BOTH previous games combined. However, it's not just the in-fight features that have seen improvement; everything about UFC 3 is far and away better than its predecessors.
Career Mode has seen the biggest improvements, as tedious stat tracking has been replaced by interesting mini-games and improved sparring. I was able to fight 4 whole matches in a half- hour, whereas UFC 2010's Career Mode would need double the time for the same amount of action. The online play is enhanced as well, as I played a good three to five matches with zero lag at all.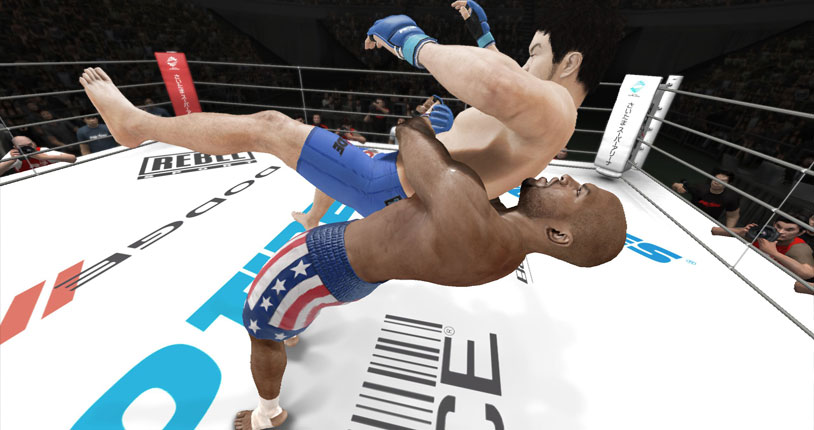 The improvements from its predecessors are noteworthy enough, but it's what UFC 3 brings to the table for the first time that will get fight fans frothing at the mouth. For the first time, players can utilize Pride rules for their fights, replacing the Octagon with a standard square ring and allowing for more brutal fighting techniques while in battle. Pride is a whole different beast from normal UFC bouts, so players will need to learn the ins and outs quickly in order to succeed.
Perhaps most notable in UFC 3 is the attention to presentation. Fighters will now enter the ring as they do on television. The addition of live-action video gives players more to look at and breaks up the monotony of staring at menus. Career Mode's videos in particular, like the "First MMA Fight" video with Sean "The Muscle Shark" Sherk, grabbed my attention right away. Not every game has fully filmed, fully edited live-action video to accompany play, but THQ and Yuke's performed masterful work on them here.
Truth be told, the core gameplay hasn't been radically altered. Like a seasoned fighter, keeping to what works and changing what doesn't is essential to a career's continued success. If an opponent finds a weakness to exploit and it isn't fixed, that person will walk away the victor.
It seems THQ has gotten the memo, because UFC 3 is a bonafide knockout.