The scene starts off with the camera to the back of well-built man in a red shirt and baseball cap as he prepares for his upcoming match of the evening. He adjusts his armbands, throws on his dog tags, and grabs his World Heavyweight Championship belt before heading out of his locker room. John Cena is greeted by his backstage security guard and starts up a friendly conversation to him about his kids before making his way to the entrance ramp.
Upon going through the curtain as his music blares through the arena, the camera stays behind Cena as he gets the crowd riled up. He returns to the center of the ramp, raises his hand to his forehead to deliver his signature salute, and is suddenly jumped from behind by the Celtic Warrior known as Sheamus. This is the moment where the player learns that he or she has been swerved. There will be no playable John Cena in WWE '12's Road to WrestleMania mode. Instead, players start off by taking the role of the man to who will put him through a spotlight. It's a great little twist that Cena haters will be sure to get a kick out of.
This isn't the Road to WrestleMania that you're used to. THQ has streamlined the entire mode. You will watch a segment, go straight into whatever match or out-of-ring shenanigans the story puts you in, and then straight to the scene that ends the show before being brought right into the start of the next one. There is no exploration, no menus, no walking around aimlessly in the backstage area looking for trouble, and quite frankly the mode is much better for it. There's no tedious mucking about, the game brings you straight into the action.
The story used in RTWM is also a very interesting and innovative take for the mode that hasn't been done before in any WWE game. Players will take the role of three different wrestlers over the course of 18 months, spanning two WrestleManias. You start out as the villainous Sheamus, who takes out John Cena as a message that he wants the World Heavyweight Championship. As soon as his story is complete, the next bleeds perfectly into it, as the player will then assume the role of Triple H as he embarks on a quest to beat Ric Flair's record for most world championship reigns.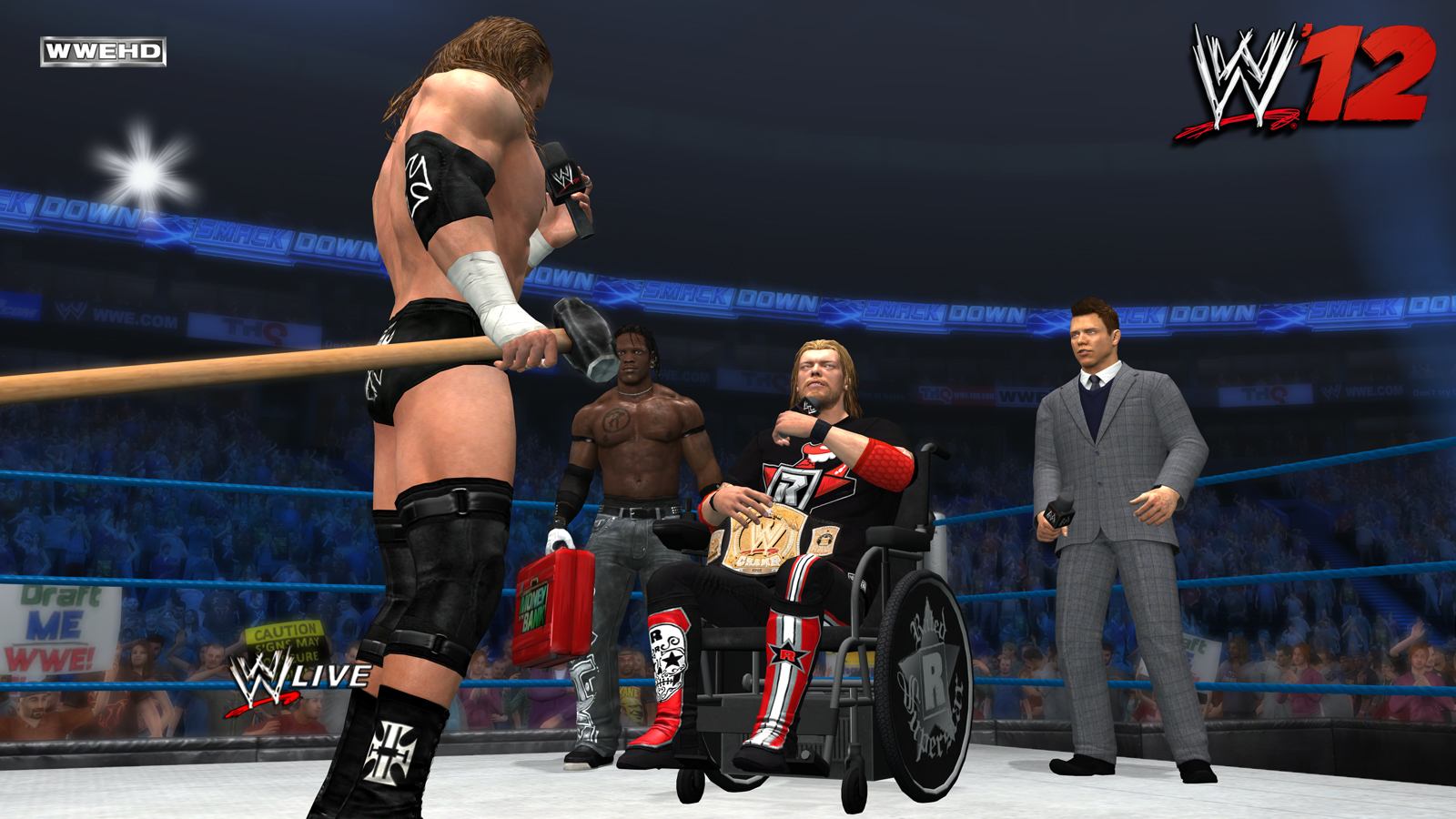 Once Triple H's part is over, in comes NXT rookie Jason Cass, who will be a custom create-a-superstar. (Get it? Cass = CAS + s) Cass is voiced by former Ring of Honor great/FCW prospect and current Total Nonstop Action Wrestling talent, Austin Aeres, which is a great treat for any wrestling fan familiar with grapplers from outside the WWE. The player's goal as Cass will then be to make an impact in WWE, prove he belongs, and maybe snag the WWE or World Heavyweight Championship while he's at it.
As for the actual core gameplay of RTWM, it also features something brand new to the mode. While the player will take part in full matches that will require a pinfall or submission to continue the story, a fair portion of the actual wrestling segments will have objectives that the player must complete in order to move the storyline forward. This is done by doing things such as weakening opponents to a certain state or bringing them to a certain location inside or outside of the ring. Once that is done, the player is given a prompt to press the Y button. Doing so will initiate a cutscene and progress the story.
Though it may feel like a bit of a cop out or robbing of the player's freedom to win a match, it actually makes a ton of sense and fixes one of the issues that RTWM used to have: lack of continuity. If you aren't supposed to win the match, or be interfered with during it, how much sense does it make then for you to actually win? Not much. Now with the objectives and prompts, players will be right where they're supposed to be and in the exact moment of a match when the scenes to follow actually make logical sense.
Some may think that this new approach to RTWM is a bit of a cheapening and limiting of player choice. However I would argue that this actually allows the mode to fully realize its storytelling potential; and not to spoil any of the details on what will take place in the narrative, but players should not be disappointed with what THQ has cooked up. Besides, anyone looking for freedom, choice and creativity will have it in Spades in the new WWE Universe mode, which has received quite the facelift thanks to a new momentum meter, create-a-show that can have an entire CAS roster, and create-an-arena. Unfortunately I only had time to play around for a bit in the updated mode's menu, but what I saw and got to tinker with looks to be a huge amount of fun and a great way to inject more thought, choice, and creativity to the game.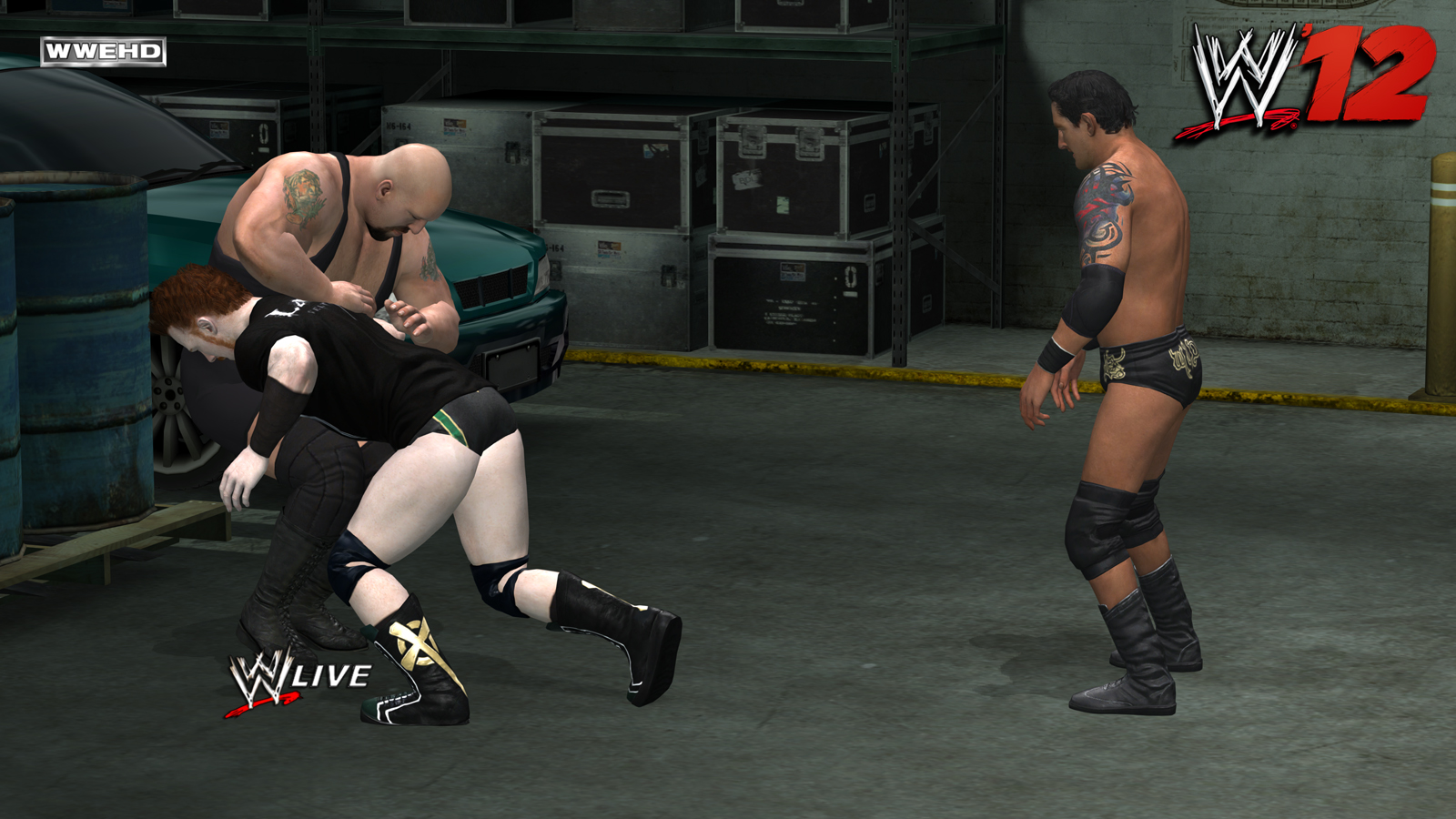 Breaking down the gameplay itself brings first an analysis of WWE '12's new controls. Though the system felt quite confusing and startling at first given my years of attempting to master the more complicated controls of the SmackDown vs. RAW series, once I got a hang of it I found them to be far simpler and superior than its predecessor. Now with a single, simple button each for attack and grapple and more fluid animations, moves can be pulled off much quicker and look more authentic than ever before.
The new damage factor in the game is also improved from previous iterations. At one point I was playing as Sheamus and he had taken a beating to his left leg. Not only did he hold it in pain, but hobbled as he walked and couldn't run at full speed because of his hampered muscles. That extra bit of attention to detail helps to bridge the gap over to realism and make the player give even more thought towards targeting a specific area of the body during a match.
Gone in WWE '12 is essentially any sign of a heads-up display in order to give each competition that feel of actually being on TV. The only prompts that will present themselves during a match will be for signatures and finishers, which will be shown under a superstar's feet, reversals that appear above the head, and the mini-games for lock-ups, pinfall kickouts, and Breaking Point submissions. Though it is a nice way to remove clutter from the screen and enjoy what's going on, it can be tricky trying to figure out how close you are to unleashing a signature or finishing maneuver.
Although the majority of my experience was quite positive, I did happen to experience two issues with what is apparently the release build of the game. One featured me as Sheamus kicking the air while on the top turnbuckle because my opponent, who was out cold on the canvas, was too close to the corner I was in. The other happened when I tried to pick up Cody Rhodes, once again as Sheamus, near the barricade outside of the ring. Both models started twitching as if running into an invisible wall by their heads, which were against the barricade, and then completed the animation in a choppy manner. Neither one really broke the experience, caused a loss, nor forced me to restart the match, but they are something of note. Hopefully THQ will be able to identify the source of the problem with at least the latter of these two and be able to fix it in a post-release update.
When it came time to put down the control and end my session, I walked away feeling very satisfied and actually excited about THQ's upcoming series reboot. With a ton of new additions to the WWE Universe, a much more streamlined and story-centered Road to WrestleMania, and improved controls, it certainly looks to be a great start for the new direction of the main WWE videogame franchise. You'll be able to judge for yourself by stepping in the ring with WWE '12 when it hits stores this November for the Xbox 360 and PlayStation 3.