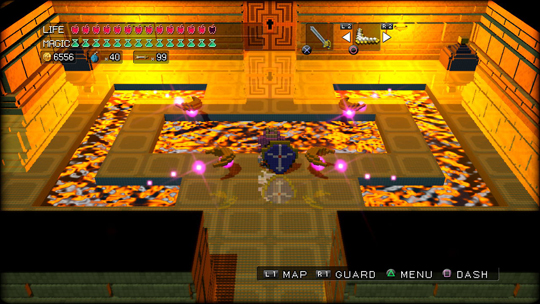 It's not uncommon for modern videogames to pay homage to the great masterpieces of previous generations, and after a web demo session with U.S. publisher Atlus for 3D Dot Game Heroes, we sure are happy that they do.
From Software's 3D Dot Game Heroes is an action-adventure title that puts players in control of The Descendant of the Legendary Hero, sent by the king of Dotnia to recover the age-old magical blade from its woodland resting place and use it to recover the sacred orbs that keep the land at peace. To do this, the new hero must travel to all corners of the world and vanquish the monsters of seven puzzle- and monster-filled dungeons, collecting new items and equipment to help him along the way. For those who still can't draw the parallel, a small fairy will join our adventurer and assist in whatever ways she can.
Yes, you guessed it. The game borrows heavily from the Legend of Zelda franchise, specifically the Nintendo Entertainment System's The Legend of Zelda, and it looks great doing so. After the historic exploits of the Legendary Hero, the King declared that Dotnia take a step into the future, and make the jump from classic 2D into the third dimension. The game captures this concept magnificently. The world and characters look like traditional 8-bit graphics that have literally sprung up out of the 2D plane and filled out into 3D space. Everything in Dotnia is made up of colored cubes and uses simple, low-frame animations as a parody of the pixelated sprites of yesteryear. But even though the visuals (and catchy, bleepy-bloopy soundtrack) scream, "throwback," it's not difficult to see that 3D Dot Game Heroes makes very good use of the PS3 hardware with things like shadows and reflections, particle effects, and all of the technical trappings of the current generation.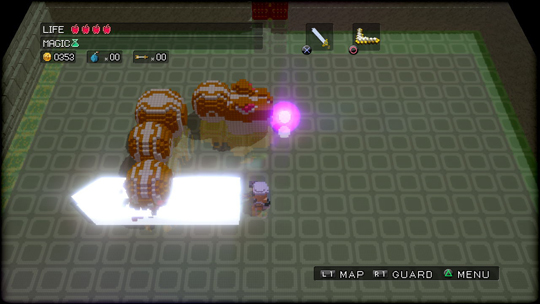 Before jumping into the game, which is expected to last anywhere from ten hours into the twenty-something range depending on the side quests undertaken, players will have the opportunity to create a custom hero in the game's editor. The cubic grid allows players to place the 3D-dot building blocks along the x, y, and z axis, cutting, pasting, and adjusting colors as they see fit. Each character is allowed a custom, seven-color palette, which is quickly and easily swappable to perfect the hero's look, and will require seven variations for animations such as walking, attacking, and celebrating newfound treasure. These designs will be fully tradeable via USB upload/download, and Atlus is planning a 3D Dot Game Heroes website where players can exchange their creations online. Unfortunately, this functionality will not be tied directly into PSN, and the multi-step sharing process will involve a trip to the computer. Of course the game disc will offer a very healthy selection of default characters to choose from, as well… including Santa Claus.
From there, players will pick one of three slightly different classes — one with stronger magic, one a better swordsman, and one in between — and set out on the journey. It is impossible not to recognize the similarities to The Legend of Zelda and A Link to the Past: The camera defaults to a familiar, almost-top-down perspective. Secondary weapons, which are mapped alongside the attack button, include a boomerang, bow, bombs, and other time-tested equipment. A row of red hearts apples represents the player's health, with green ones for magic displayed below. The hero's sword grows and becomes more powerful (sorry, no projectiles) when his health is filled to its maximum capacity. A special item will allow for fast travel from point to point on the world map. There are many more similarities, as well; the feeling of the classic franchise just oozes out of this game.
That's not to say that there is anything wrong with this fact; from what we can see so far, there is plenty about 3D Dot Game Heroes that is fresh and unique. First, the game has a clever, humorous, and nostalgic script. It looks to be entirely self-aware, and the writing extends the 8-bit homage from Zelda across that entire era of gaming. One of the most exciting aspects of the game will undoubtedly be anticipating the memories Dotnia will drum up next. Even the loading screens, which an optional install will all but eliminate from the game, feature Dot-ified renditions of over 100 classic pieces of videogame box art, many of which are new for the North American version. We saw a handful of them and played a little game of "guess the box art" during the demo. It was a good time. Other little Easter eggs are sprinkled throughout the game world, and minigames based on tower defense and Breakout, as well as a twitch-response dash race, will allow players to take a break from the main adventure whenever they like.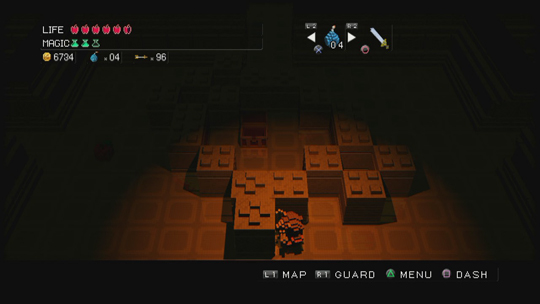 In terms of the main gameplay, the dungeon's puzzles will not be limited to the same old tricks players have grown accustomed to over the years. Atlus assures us that the puzzle-heavy design includes many that are only possible as a play on this game's particular art style. They've also confirmed that all of the dungeon bosses can be revisited and re-slain. About 24 swords are included in 3D Dot Game Heroes, most of which will require extra player initiative to locate, and all of which will have differing attributes and special characteristics that will make them unique. The blacksmith can provide upgrades to the hero's sword, as well. He can widen or lengthen the blade, improve its spin and piercing attacks, increase its damage output, etc. Alternatively, the hero may choose to simply beat his enemies to death with a magic book that captures them in the game's bestiary. And when all is said and done, there will be two new difficulty levels, and a New Game + mode to enjoy Dotnia all over again.
3D Dot Game Heroes is scheduled for release on May 11th, exclusively on the PlayStation 3, with a classically low price tag of $39.99. Keep an eye out for GamerNode's full review as that date approaches, and look forward to what promises to be a great fusion of old and new in 3D Dot Game Heroes.