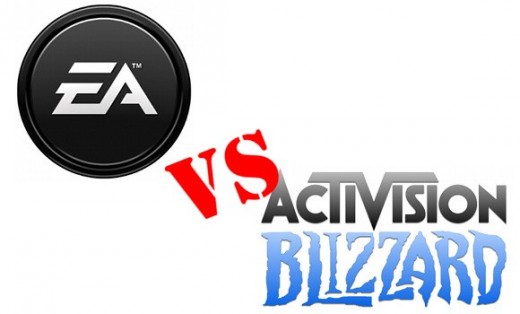 Earlier this year the videogame industry was thrown into a bit of chaos when Jason West and Vince Zampella, at the time heads of Call of Duty developer Infinity Ward, were fired by Activision for breach of contract. West and Zampella responded by filing a lawsuit against the publisher and forming a new studio, more Infinity Ward employees left the company and sued Activision, and Activision reacted by filing a counter-suit with West and Zampella.
The story has been quiet every since West and Zampella announced that their new studio, Respawn Entertainment, had reached an agreement to have Electronic Arts exclusively publish their games. But with the year almost over, it appears that Activsion wants to take the last shot as the publisher has announced today that it has asked a federal judge to add EA to its counter-suit against West and Zampella. The two biggest publishers in the industry have now officially gone to legal war with one another.
The cross-complaint claims that EA interfered with West and Zampella by inducing the duo to break their contracts with Activision, form a new studio, and join forces with the publisher.
"Starting as early as July 30, 2009, Electronic Arts and [West and Zampella]–with full knowledge that the executives were under contract and legally committed to Activision for more than two additional years–conspired to set up an independent company," read the cross-complaint.
Activision continued by claiming that it wasn't just any EA executives trying to lure West and Zampella away, it was the company's big guns.
"The unlawful conduct came from the highest levels at Electronic Arts, including EA Chief Executive Officer, John Riccitiello, and Chief Operating Officer, John Schappert, with direct support from the high-profile talent agency, Creative Artists Agency, and even a former member of Activision's Board of Directors and former Activision lawyer," the cross-complaint claimed.
It goes on to allege that the publisher engaged in shady dealings with West and Zampella that eventually led to a secret meeting via private jet between the pair and Riccitiello, with the help of CAA. The duo later admitted to telling the CEO that they were still under contract with Activision for over the next two years.
The other target in the suit is Harold Brown, a former board member of Activision and attorney who represented West and Zampella at the behest of CAA. Activision claims that Brown was brought in by CAA in order to cloak the negotiations between EA and West and Zampella under a client-attorney privilege in addition to his prior knowledge of Activision's incentive practices.
An e-mail scan dated August 19, 2009 from CAA agent Seamus Blackley to Zampella read, "[Brown] was the one I mentioned in the context of taking a look at your deal as a sanity check. So I mentioned to him that there might be a big developer who'd want someone good to take a look at an agreement, wink wink, and he was VERY INTERESTED."
The new suit also digs even further at West and Zampella. It alleges that the two developers began to act "in a manner that was in breach of their contractual and fiduciary obligations to Activision," as a result of their negotiations with EA. It is believed that this behavior included Electronic Arts being provided "confidential and proprietary Activision information," as was alleged in the original counter-suit.
"West and Zampella made exceedingly aggressive demands to Activision to enrich themselves at the expense of Activision's shareholders, including that they be permitted to 'spin out' from Activision, set up their own independent company and produce games on terms that were far less favorable to Activision than the terms of West's and Zampella's existing exclusive employment agreements that…had years left to run and for which they received tens of millions of compensation," claimed the suit.
The most shocking of all this behavior comes from allegations that West and Zampella turned on their former Infinity Ward employees during this time. Activision claims that the duo are the very reason why many current and former employees of the studio suing Activision for compensation don't have their money.
"West and Zampella's self-interest in executing their secret plan to leave Activision corrupted their judgment so fully that they actually attempted to damage the very Infinity Ward employees they purported to lead," contended the suit. "In July 2009, West and Zampella were asked by Activision management to provide the names of the Infinity Ward employees that should receive millions of dollars of Activision stock grants in connection with the development of a Wii version of Call of Duty 4: Modern Warfare. West and Zampella adamantly refused."
The suit continues to claim that this was not a one-time incident.
"Again, in October 2009, when Activision planned to include Infinity Ward in its annual equity grants, West and Zampella refused to provide Activision with a list of the names it needed of the Infinity Ward employees that deserved awards of valuable stock and options," Activision alleges. "In responding to the President and CEO of Activision Publishing concerning the equity grant, West wrote, 'You can give all the options to Vince and I… ,' thereby depriving their own Infinity Ward employees of additional compensation."
Regarding compensation for damages, Activision is seeking $400 million from EA, West, and Zampella, "including profits Activision would have made but for EA's interference, costs incurred in rebuilding the affected studio, and damages suffered as a result of delays and disruptions." The publisher is also looking "to recapture compensation previously awarded to its faithless executives," to unseal documents that have been deemed confidential, and to keep EA, West, and Zampella from benefiting from their allegedly illegal actions. It is not known whether or not this would include the very existence of Respawn Entertainment as one of those benefits.
Electronic Arts has since responded to the lawsuit in dismissive fashion.
"This is a PR play filled with pettiness and deliberate misdirection," stated EA vice president of corporate communications Jeff Brown. "Activision wants to hide the fact that they have no credible response to the claim of two artists who were fired and now just want to get paid for their work."
[GameSpot]