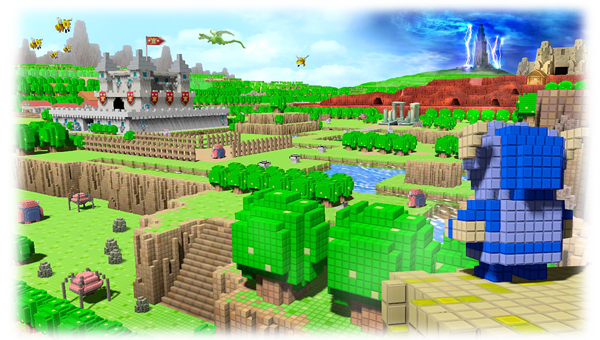 Atlus USA, publisher of unique and interesting games such as Demon's Souls, Odin Sphere, and the Shin Megami Tensei series announced today that the company has licensed the rights to publish From Software's 3D Dot Game Heroes in North America. The game will be released on May 11, 2010 for the PlayStation 3 at a MSRP of $39.99.
If you're unfamiliar with this little slice of re-imagined gaming nostalgia, 3D Dot Game Heroes is the perfect love letter to 8- and 16-bit action-adventure fans, and it looks and plays like a three-dimensional, yet still pixelated Legend of Zelda game — I mean identical. From the drawn-back, overhead view, to the blippy, bleepy, adventurous tunes, to the quest "to gain the power of the six sages and the six orbs that protected the kingdom of Dotnia, which now stands on the verge of destruction," this thing screams old school.
For more on 3D Dot Game Heroes, check out Atlus USA's brand new website, and then go mark your calendars… I did.