Robot Ninja Monkeys have invaded New York City! Not in a video game, but in real life!
On Wednesday, March 14th, GN had the opportunity to sit down with Olivier Thijssen and Fabian Akker of Ronimo Games during their visit to NYC for some hands-on time with their upcoming multiplayer online battle arena (MOBA) game, Awesomenauts.
Like other action real-time strategy games or MOBAs, Awesomenauts is primarily a competitive multiplayer game in which two teams wage a small-scale war with each another within a closed arena, each player controlling a significant, hero-like character. Unlike standard MOBAs, Awesomenauts is a 2D platform-based game viewed from a lateral perspective rather than from overhead. The goal: to simplify the genre and make it more accessible to a wider range of players.
From what I could tell from my time with Awesomenauts, the team is on the path to achieve those goals. Already, it is evident that the game will be easy to jump into, highly engaging, and loads of fun.
Awesomenauts pits players in three-on-three battles in any combination of local, online, or AI-controlled characters. A single player can compete in a series of matches with nothing but bots as allies and adversaries, or two friends in the same room can team up with a buddy in another state to take on three complete strangers via Xbox LIVE or the PlayStation Network. And if anyone wants to quit or join, the drop-in, drop-out netcode makes the transition seamless, with no lobbies or waiting to play a match.
During each match, players must destroy a series of turrets on the way to their enemies' base, which is the ultimate target to score a victory. Like other MOBAs, small drones will continually spawn on either end and fearlessly march toward the center of the battlefield, attacking opponents to inflict minimal damage, but mostly to act as cannon fodder and draw the fire of unfriendly turrets while the players bring the pain.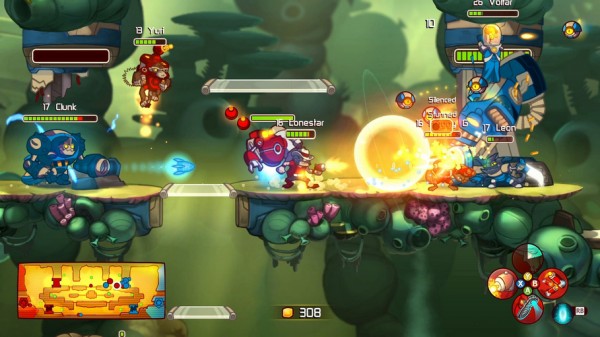 At this time, Awesomenauts includes six highly stylized player characters with differing abilities and combat tactics. From the classic tank, to the ranged specialist, to the telekinetic drone commander with a brain-jar for a head (yep, brain in a jar), there looks to be quite a variety of play styles in the battle arena at any given time, especially considering only one of each character is allowed on each team. Ronimo does expect to add additional characters to the game as time goes on, though.
Each character comes equipped with four basic skills: one platforming ability, a shooting attack, and two special techniques that must be purchased with money earned during each and every match. In addition, building experience through play earns players new upgrades, which either improve one of these basic skills, or provide a general enhancement, like added health or speed. Before each match, 12 of each player's total stock of upgrades are selected to be purchasable during play, similar to collectible card game players' pre-selected decks. Solar, Awesomenaut's currency, is earned by killing opponents, minions, and turrets, or by simply happening upon it in one of the game's arenas, of which there are currently three.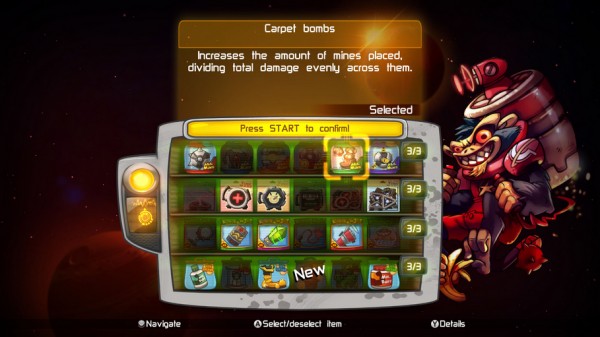 So far, the game seems like a fun and easily accessible competitive game that will keep play lighthearted… or perhaps fiercely competitive. The adaptation of MOBA gameplay to a sidescrolling platformer perspective seems like a smart choice to attract players who may not yet be ready to dive into the current MOBA offerings. That said, Awesomenauts vs. League of Legends is probably not going to be a direct competition.
Awesomenauts will make its landing on PSN and Xbox LIVE on May 1st and 2nd, respectively, with a potential later release on Steam. We're looking forward to it.