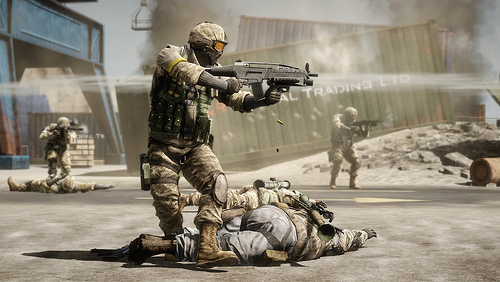 A recent PlayStation Blog post written by EA DICE Associate Producer Gordon Van Dyke chalks up another victory to PS3 gamers by revealing the multiplayer beta for the upcoming Battlefield: Bad Company 2 will be exclusively available on the PS3 beginning November 19.
The beta contains a solitary map, "Africa Harbor", that showcases the "Rush" game mode in which players battle over equipment crates. The map highlights fluid transitions between vehicular and infantry combat by featuring an assault on a military outpost followed by intense street-to-street fighting through an industrial harbor.
Interested in joining the fray? While each country will have differing methods of accessing the beta, North American players will be able to get the beta through pre-ordering the game from certain retailers, or by browsing gaming websites such as GameSpot or IGN for a giveaway of some sort. Of course, the simplest option would be to participate in the PlayStation Blog contest that will be held in a few days.
For more info, screenshots and an announcement video, head on over to Playstation Blog's website.